Glimpses from Tarun Tahiliani's showcase at FDCI India Couture Week
The Telegraph was there to witness The evolution of 'India Modern'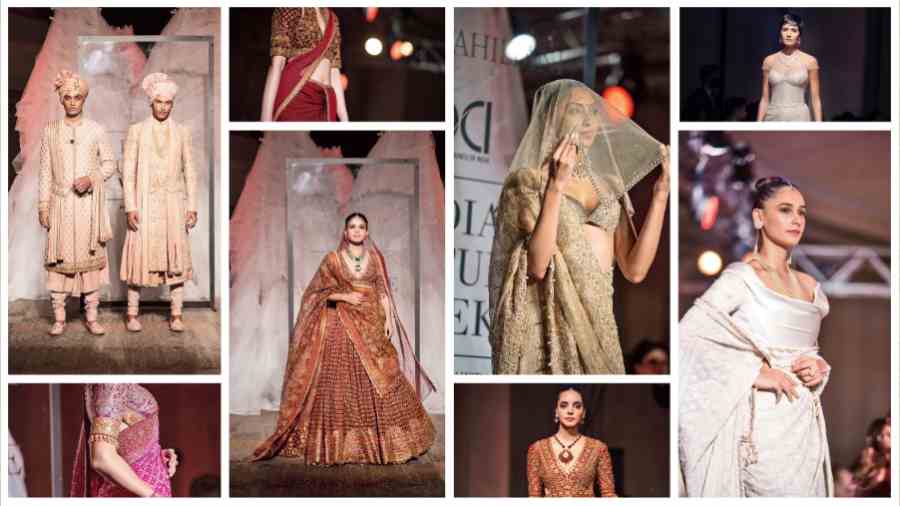 ---
Published 26.07.22, 03:15 AM
|
---
As guests gathered in their seats to watch Tarun Tahiliani's opening showcase for FDCI India Couture Week at Hyatt Regency, Delhi, I overheard someone seated behind me say how "nobody does corsetry like TT" — and I turned around to nod to the stranger in agreement. As the lights dimmed and in walked the first few models dressed in ivory, adorned in ethereal chikankari, you could not just marvel at the craftsmanship but also the silhouettes that Tarun has so famously always made a case for — chic and comfortable for the modern bride and groom.
The setting for the show was the Mansion banquet that was transformed into a meandering ramp around the guests so that everyone got to see the clothes from close quarters. The Painterly Dream, no matter how surrealistic it may sound, was a physical tribute to the strong legacy of India's craftsmanship as motifs on most of the designs were hand-painted and then some were given more texture with added embroidery. Lehngas in multiple hues, long jackets over lehngas, sindoori saris, menswear with crisp tailoring, the TT studio's iteration of the very wearable and not overwhelming veil were shown. "The modern TT muse is someone who is up and about, doing things and doesn't want to be weighed down by their clothes. They are fun and want to have fun at their own wedding," said Tarun as I caught up with him. He asked one of the models to walk up to us as I admired the intricate craftsmanship on her lehnga — and it was so light that it was almost translucent. That's TT in 2022 where form, fit and design are not weighed down by discomfort.
The showcase also saw a collaboration with Goenka India jewellers that showed some stunning pieces on the models. Apt for the opening show of India Couture Week that is back to its physical format after a couple of years, Tarun set a worthy precedent for modern Indian couture, even if bridal, where comfort, craft, form, fit and design co-exist in harmony.
Pictures: Courtesy of the designer