Calcutta experiencing resurgence in residential sales
Affordable housing is key for a city like Calcutta, says Merlin Group Md Saket Mohta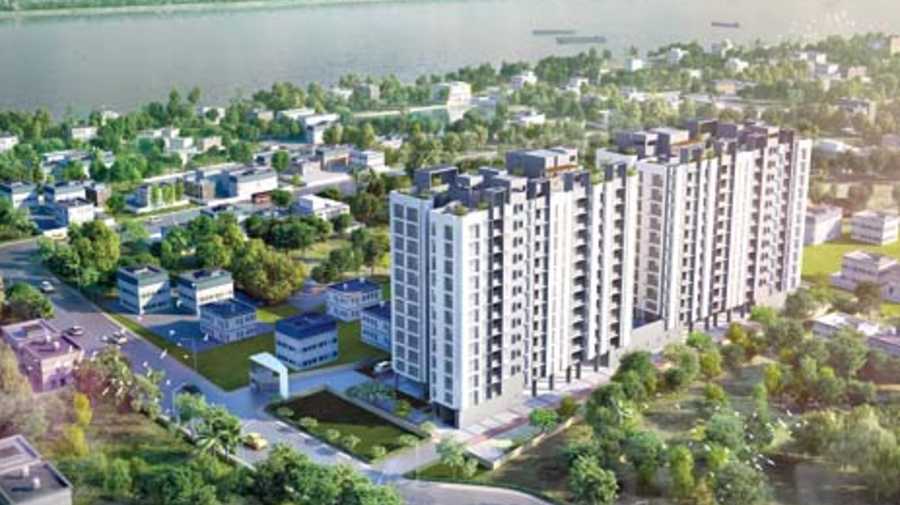 Gangotri is an affordable housing project by the Merlin Group in Konnagar
---
Published 30.07.21, 12:03 AM
|
---
What are the prospects of affordable housing in Calcutta?
Real estate has the potential of becoming the engine for economic growth in West Bengal and could be instrumental in post-pandemic economic revival. This could be led by affordable real estate, which is the predominant segment in the greater metropolis area. It accounts for over 60 per cent of the real estate units sold every year and now accounts for 52,000 units per year of the inventory. In recent years, West Bengal has seen a growth of around 10 per cent year-on-year in this sector and the growth of the affordable segment has been even higher.
The pandemic had brought an unprecedented paradigm shift in our way of living. Work from home has become a reality for many and, therefore, the value of owning one's home has become much more important for several families. This has contributed to the increased demand for residential real estate in major cities across India. However, homebuyers always prefer to purchase property developed by reputed brands.
Calcutta is one of the most affordable real estate destinations in the country when compared to other leading cities in India. Developers launch projects according to the demands of the buyers in different pockets of the city and the peripheries. In the first half of 2020, around 50 per cent of projects were launched in the affordable segment (in the price range of below Rs 40 lakh) and 43 per cent were launched in the premium segment (Rs 80 lakh to Rs 1.5 crore) and 13 per cent were launched in the luxury segment (Rs 2 crore and above) as per one report by Anarock.
The residential sales in Calcutta started to show resurgence, especially during Q3 2020 and Q4 2020; and Q1 2021 saw many developers reporting the prevalence of a positive homebuyer sentiment. However, with the second wave of the pandemic unfolding in Q2 2021, residential real estate demand was again impacted.
Sales of homes costing less than Rs 50 lakh continued to dominate the overall residential sales volume in Calcutta with a 63 per cent share. Homes costing over Rs 1 crore constituted about 13 per cent of all sales during this period, a rise when compared to a 7 per cent share in H1 2020.  Though the high-end segment too witnessed a revival in demand, showing homebuyer preference for spacious homes, the affordable housing segment still rules the roost in the Calcutta residential market.
The city's affordable belt predominantly has come up in Howrah, E.M. Bypass, Narendrapur, Rajarhat, New Town, Behala-Diamond Harbour Road, Joka, Rajpur-Sonarpur-Baruipur and other fringe areas in northern Calcutta, Barasat and Madhyamgram. Projects that are ready to move in or nearing completion have seen good traction from homebuyers as plenty of affordable product options are available from reputed builders.
Behala-Diamond Harbour Road-Joka: Calcutta's realty hot spot seems to be promising again as the Majherhat Bridge has risen from the rubble and presently is operating in full swing.
Merlin Group is coming up with a real estate project, Merlin Next, in the affordable housing category in Behala. It offers 132 lifestyle apartments in twin towers. Located near Behala Chowrasta, the project offers easy access to transport facility through road and the upcoming metro as well. The twin towers of luxury apartments also boast of a rooftop open-air swimming pool. Kids can enjoy the play area and their own pool.
There has been a growing demand for residential apartments in the entire stretch of Behala as people aspire to live in a secured gated community with modern amenities. After the completion of the Tala Bridge next year, developers will  start looking for land parcels for constructing projects. Other fringe locations such as Garia, Sonarpur and Baruipur have also witnessed traction in sales for rightly-priced products.
With residents' club, open space, jogging tracks, and the best of amenities, the area today is dotted with lifestyle projects from developers who give credence to the concept of modern living. We at Merlin are coming up with our residential project — Oikya — near Baruipur railway station in the affordable segment, priced between Rs 13 and Rs 25 lakh. Amenities include a residential club, Utsav, an amphitheatre, senior citizen's park, a mini cinema hall, children's park, gardens and much more.
What changes in consumer preferences are you seeing?
The pandemic has brought in a significant change in homebuyers' behaviour. While people living in rental accommodations have started looking for properties that fit their budget, consumers with higher income level are looking for their second home. Here, their priority is space as they are looking for the comfort of spacious homes. The new-age buyers who are buying their first homes are choosing integrated townships or gated communities. We are designing our new projects with work-from-home features like study room, business centre and co-working space.
Covid-19 has made people realise the importance of living in a pollution-free and healthy environment. Now, homebuyers want to invest in societies that provide healthy amenities along with increased green cover. Sports and fitness activities will also form an important part of the daily lifestyle. In-house farming concept to produce organically edible products will be adopted by conscious communities.
What are the challenges to delivering a good project within budget despite a cost push?
The price point of the housing projects has not gone up despite the fact that input costs of raw materials like steel, cement, aluminium have gone up exponentially. The additional burden of GST on the developers has increased the cost of construction. The wage of labour has also gone up. The entire labour cost component has risen due to the maintenance of labour camps, enforcing health and hygiene requirements, mass vaccinations of work force, and the usage of personal protective equipment (PPE). This includes additional incentives for labourers living in villages.
Still, reputed developers are trying to provide value for money to the homebuyers. Our emphasis lies on clearing the inventory at this time.
However, this is the right time to invest in affordable and overall residential real estate with home loan interest rates at their lowest in 50 years and the reduction in stamp duty and circle rate and non-upward revision of price of real estate in last couple of years.