Snapshots from a nostalgic celebration of FRIENDS
Held at Park Street's Olterra on August 7 (National Friendship Day), was a one-of-a-kind event in the city themed on the popular '90s American sitcom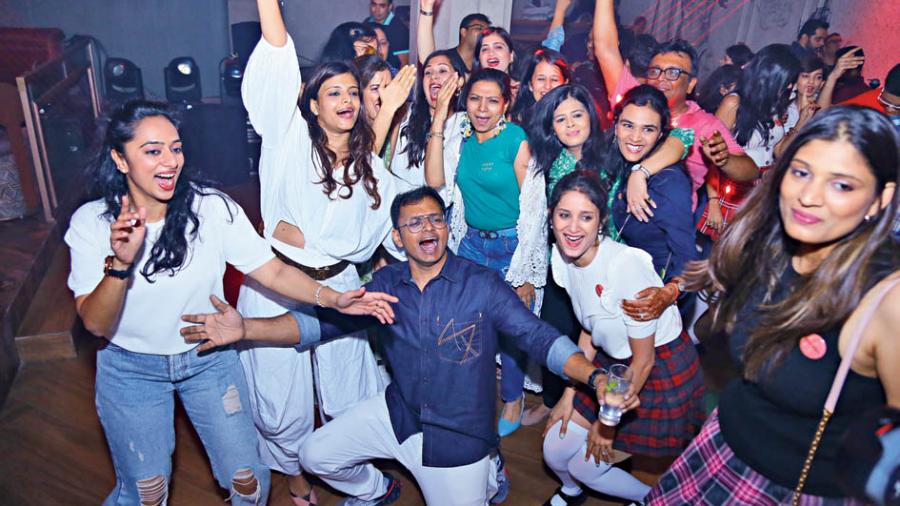 It was friends' day out and guests had a fantastic time partying to Bollywood songs.
---
Published 22.08.22, 03:23 AM
|
---
FRIENDS, in association with The Telegraph, held at Park Street's Olterra on August 7 (National Friendship Day), was a one-of-a-kind event in the city themed on the popular '90s American sitcom FRIENDS. To celebrate the spirit of Friendship Day, it transported real-life friends to nostalgic days of their school and college lives by recreating the sets of the sitcom. Hosted by the youth wing of the Confederation of Indian Industry (CII) known as the Young Indians, the event was all about relaxing with friends and creating new memories while revisiting the old ones. The floor of Olterra was buzzing with happy vibes as the committee went all out, sparing no effort to make every person who attended the event feel like they were visiting the actual set of the series. Every corner was tastefully detailed, starting from Monica's kitchen with the purple walls to the foosball table at Chandler and Joey's apartment. Tablecloths and coasters were monogrammed with pictures of the characters and badges were available with the characters' names, making it the perfect set up for the FRIENDS fandom. Apart from creating this curated themed experience, the upbeat tunes, specially crafted cocktails, and delectable food added fuel to the party spirit.
"From our school and college days, FRIENDS has always been the most loved show. The idea was to get the city people to drop in with their groups of friends and get together to relive the best moments of their lives on the occasion of National Friendship Day," said Vaibhav Soni, chairperson of the Young Indians organisation. On The Menu The chefs at Olterra laid out a great feast complete with sushi boards, delicious Chinese, Asian and Italian dishes, as well as a live salad bar and pasta counter accompanied by cocktails and mocktails.
Pictures: Koushik Saha