We used to be so poor that rice was a luxury: Nalini Bera
Nalini Bera has been writing about the backward spaces of Bengal and its people for over four decades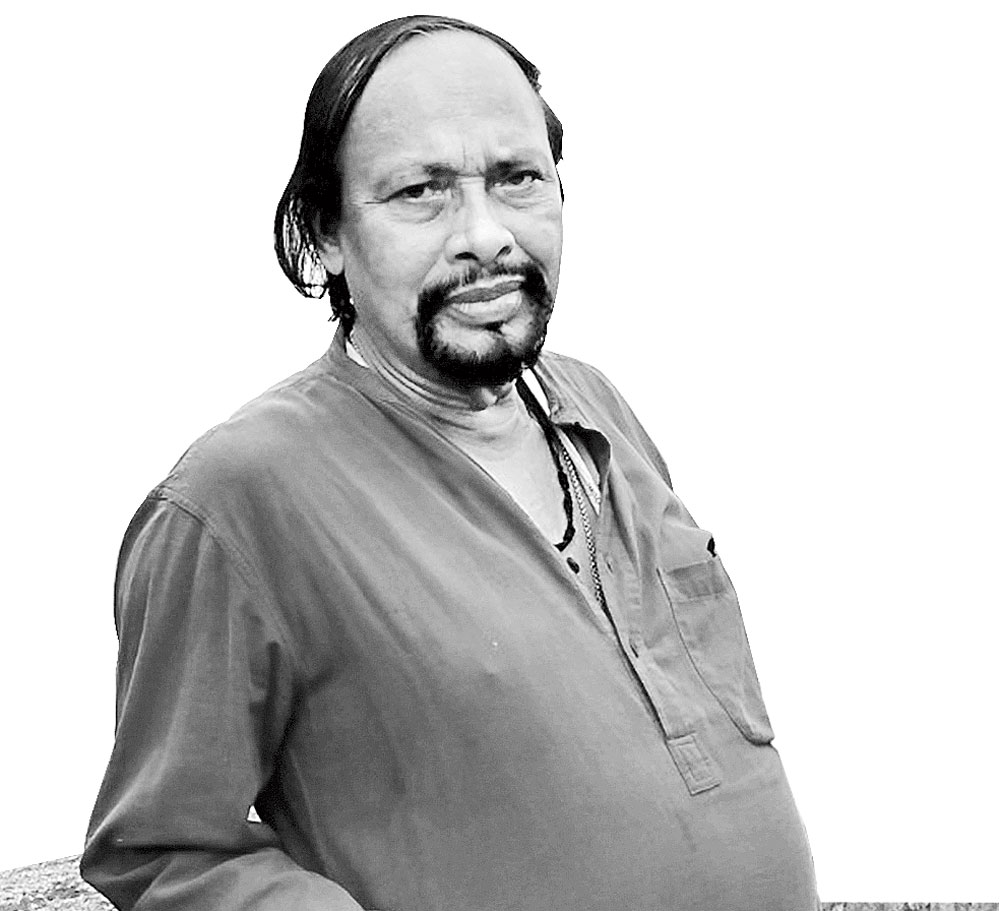 ---
---
Nalini Bera was awarded the Ananda Purashkar in 2019 for his novel, Subarnarenu Subarnarekha. The work is important for two reasons. First, it tells the stories of the most backward people of Bengal — Shabars, Lodhas, Santhals, Kamars, Kumors, Bhuinyas, Bhumijas and so on. (The award citation read: "You have re-discovered the non-Aryan India that remains buried in apathy and neglect.") Second, it has revived the tradition of riverine epics in Bengali such as Padma Nadir Majhi, Hansuli Baanker Upakatha, Titas Ekti Nadir Naam, Ganga and Teesta Parer Brittanto.
Bera, a writer for the last four decades, has over two dozen novels and hundreds of published short stories. I always wondered what the storyteller looked like while reading his works. After several botched efforts to meet him, I finally got myself an appointment one Sunday. And there I found him, on the top floor of his four-storeyed house in Howrah surrounded by ponds and patches of green.
The writer's study overlooks the Second Hooghly Bridge. As study-rooms go, this one too is stacked with books, trophies, shields, only all of it is topsy-turvy. Bera is sitting in a cane chair and I take another one in front of him. The air is filled with the pungent odour of pesticides. The mobile phone rings incessantly. In between, I get a disjointed narrative punctuated with profuse apologies, the gist of which is — termites have destroyed his collection of books, the pest control people are at work, but his wife is not in town to handle this situation which is fast spinning out of his control.
As for the phone calls, says Bera, "It's so embarrassing. Ever since the award I have been getting countless requests to attend felicitation programmes. I can't refuse, especially those calling from my native village. Then there are requests from smaller publications to contribute short stories, poems."
Bera was born in a remote village called Bacchurkhoanr in West Midnapore, one of the poorest districts of West Bengal. Bacchurkhoanr literally means a shed for calves. It is located at the trisection of Bengal, Odisha and Jharkhand, on the banks of the Subarnarekha.
Bera recalls his childhood there. He says, "I am a Kumor [potter] by birth. We used to be so poor that rice was a luxury for our family of 31 members." Most of the year, Bera and his siblings had to survive on leto (soup made of baked tamarind seeds and dried mahua flowers) or gheto (a soup of boiled corn seeds). He adds, "Our tribal neighbours were poorer; they lived on wild tubers such as alu tunga, wild fruits such as kend, kasha, and snakes and monitors."
It is ironical that Bera became an officer in the Food and Supplies Department of the state government after he qualified in the state civil service exams in 1978. He says, "I was supposed to look after the public distribution system." Before his retirement, five years ago, he had risen through the ranks and become director of the department.
The experience of his growing-up years in a backward village amidst abject poverty imbues Bera's literary creations. He says, "Unlike most upper caste writers in Bengali, my stories are mostly based on my lived experiences, pain and suffering." To illustrate his point, he talks about Advaita Mallabarman's Titas Ekti Nadir Naam in which the writer explores the life of fishermen on the banks of the Titas as an insider. In comparison, I point out that Manik Bandyopadhyay's portrayal of boatmen in Padma Nadir Majhi misses some of the finer nuances, as the writer never lived with them. Bera thinks highly of Bibhutibhushan Bandyopadhyay and Tarashankar Bandyopadhyay. "Bibhuti babu's Aranyak is a pioneering novel with a very feeling narrative about non-Aryans or tribals. Tarashankar's Hansuli Baank or Kobi depicts subaltern characters with accuracy," he says. Both are works of empathy sprung off first-hand experiences.
Subarnarenu Subarnarekha is not an autobiography but the central character is called Nalin — or Lalin, as pronounced by the unlettered villagers. Says Bera, "You'll find bits and pieces of childhood and scores of people in the novel. But I have let my imagination wander in the folk elements and myths of the village."
This book opens up to the urban Indian a hitherto little-explored geography and its even less-explored people — how these people struggle to make ends meet, yet never lose the spirit or the sense of humour. The lyrical narrative brings to life the arid beauty of the Chhotanagpur plateau and its ancient character. The personnas speak in a strange haturey or pidgin tongue — a mix of Bengali, Odiya, Kurmali and Santhali. "I use this language in my stories or else you won't get the look and feel of the place." To make things easier for his readers, Bera has added a glossary in the latest edition of the book. Currently, Bera is busy penning the next two parts of the novel. He says, "It is not a small story. It needs to be a trilogy."
Bera is indebted to his grandmother and father for his storytelling skills. He recalls how the former would regale her retinue of grandchildren with folk tales on dark nights. His father was a kathak thakur, a teller of tales who recited the Ramayana, the Mahabharata and the Srimad Bhagwat in the village temple. Says Bera, "He actually sang those hymns. I still remember how I woke up on winter mornings swaddled in a kantha and hear him sing — Hey Gobindo harey… kripa koro."
Bera starts to sing the song himself as he narrates his life's story. The lyrics nudge him down memory lane, at which point tears start to roll down his cheeks. He says, "My father used to keep the pages of the scripture wrapped in a red cloth." The red cloth revealed its treasures to Bera when he was a boy of 10. He reminisces, "A newly married cousin secretly got Vatsayana's Kamasutra from the weekly market. We children devoured it voraciously and the punthi was passed around the village surreptitiously." The curious boy turned out to be a brilliant student.
Bera went to school in Rohini, four miles from his home. He says, "We had to cross two rivers on the way to school. During monsoons we had to skip classes as the dirt-tracks were inundated." In Subarnarenu Subarnarekha, Bera describes how his village used to get isolated at the peak of monsoons after jhop baan or flash floods. He writes, "It was complete isolation from the rest of the world. We'd become total outsiders for those few days."
Despite being a good student, he remembers one incident of discrimination he had to face when he visited a classmate's home. "After dinner no one was ready to pick up my plate as I was from a lower caste. They forced me to go out to the pond that winter night and clean the plate," he says.
The 67-year-old talks about how he had witnessed the upper castes — Mahajans and Jotdars — exploit villagers. According to him, the tribals — Shabars and Lodhas — were encouraged by them to steal and commit other crimes. He says, "The Mahajans bought the stolen goods from the tribals and offered just a bit of food in exchange."
Such discrimination and exploitation by the upper castes inspired him to join the Naxal movement while he was in college in Midnapore. But after an incident of bombing in the college laboratory, many of his college mates were arrested. Bera barely escaped. Years later he resumed higher studies in Jhargram College. He says, "I realised that our plan to organise a coup and change India into an egalitarian society was a mistake. This works in small Latin American countries, but not in a big country like ours. Also, there was little public support for the violent methods of the rebels."
He regrets that little has changed in his village and its surroundings despite decades of Communist rule in Bengal. "People get subsidised rice and some of the backward caste villagers get to be members of the panchayat. But all else is much the same." He starts to talk about someone he calls his Santhal Didi, a long anecdote about how she walked barefoot all her life through the rough country.
Bera bought her a pair of slippers when he started earning money from tuitions. He says, "Years later when I went to see her, she was still slipper-less, her feet bruised. When I asked her what had become of the pair I had given her, she ushered me into an airless hut and brought out a bundle. And there, wrapped in many many layers of cloth they lay." She had told him, "How could I have worn your gift on my soiled feet?" According to Bera, at that moment it had seemed to him those layers of cloth mimicked the layers of history of a non-Aryan people.
To do his bit for many others like his Santhal Didi, Bera has used the entire money of Ananda Purashkar to create a trust for the women in his native village. He says, "The annual interest will pay for scholarships for a girl child and maybe the healthcare of some ailing woman."