Asha, the police dog
A cadet of common pedigree but rare distinction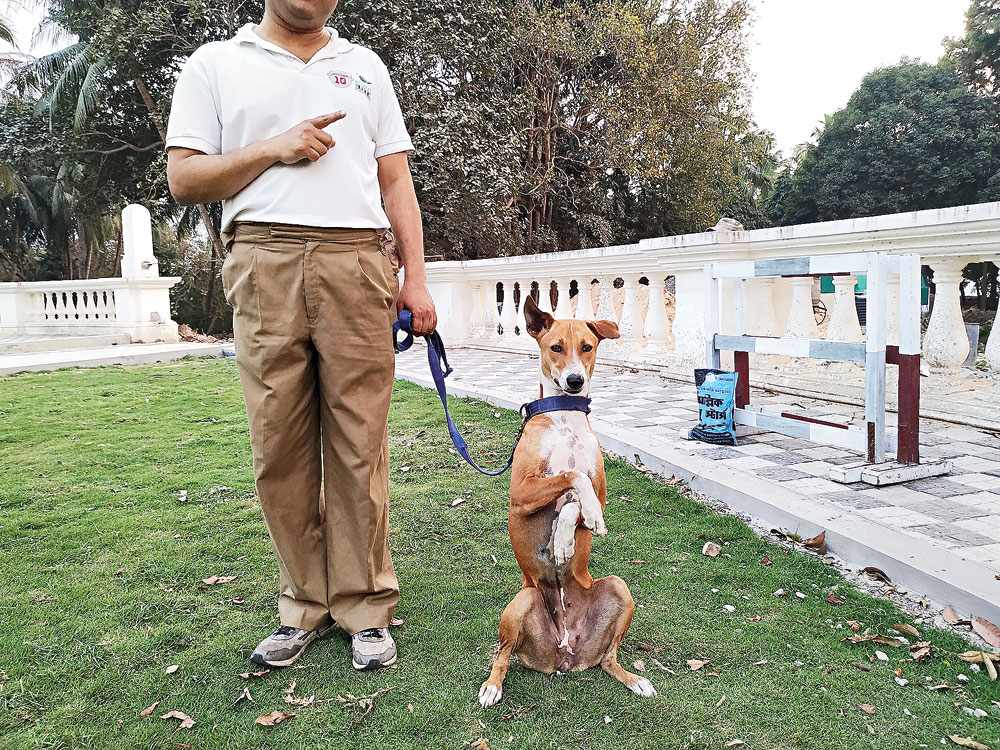 ---
---
The aromatic kebabs had no impact on her, neither did the crisply fried chicken. Asha's undoing was the innocuous plate of Horlicks biscuits. The sharp commands of her handler, Soumendra, remained unheeded and she darted biscuitwards. Indeed, there was no telling that this canine is the most trained and obedient member of the Calcutta police force.
Asha was picked up from North 24-Parganas' Barrackpore bazaar when she was five months old. After being vaccinated and treated for the injuries she had suffered on the streets, she was adopted by the police force and subsequently trained for police duty.
The Canine Training Centre of Swami Vivekananda State Police Academy initiated an experiment about a year ago to see if a mongrel could be trained to be a police dog. It was the initiative of IPS officer K. Jayaraman, who was then the director of the police academy.
In 2017, the Indian Army had drafted a dog of indigenous breed called the Mudhol hound for guard duty. The hound was initially bred by the Ghorpade kings of the erstwhile princely state of Mudhol — it now falls in north Karnataka. In the 1920s, Turkish and Persian dogs were cross-bred with mongrels.
The Mudhols are known for their endurance, stamina, sharpness and agility. They are disease-resistant and can live through harsh tropical conditions. Mudhols also have a keen vision.
Back to Asha's story. Asha is now a star athlete among all the police dogs in the city, easily jumping over four-foot high obstacles, heeding her handler, saluting and snapping to the heels at the sharp call of commands. Says DSP Dog Squad Sajal Mandal, under whose supervision Asha is being trained, "We started training Asha as an experiment and found her as receptive to training as the German Shepherds and the Labradors."
Long-limbed and lithe, Asha, with her tapering muzzle, is a natural athlete. She effortlessly jumps over high obstacles and bounds over the rolling grass. With a shiny brown coat and ears cocked up always for her master's commands, Asha sits on her hind legs with her fore legs crossed as if she were sitting in her parlour for a chit chat. A trifle nervous, her eyes dart about as her audience claps in appreciation.
"She is still a little panicky when she sees too many people. This is because of the abuse she suffered on the streets during her time spent there," says Mandal.
After Asha was picked up from her mother's side, she was nurtured and cared for. "A lot of reassurance was needed to convince her that we meant no harm. Once she was used to the protected life, we began her basic training," says Soumendra.
She was familiarised with her surroundings and her trainers at first and then the basic obedience training began. Next, she graduated to advanced training, sniffing out gunpowder and explosives.
Today, when she and Bruno — a German Shepherd drafted with the Biddhannagar Police — do the sniffing drill together, it is not difficult to tell that they are equals, breed notwithstanding.
The Canine Training Centre, however, is not looking to train more dogs like Asha. "It is true that street dogs can be trained and will be much cheaper to acquire and maintain than the German Shepherds, Labradors and Golden Retrievers, but they cannot work in a crowded place."
The centre along with the Kolkata Police Dog squad are always on the lookout for pedigreed pups. The pups have to be registered with the Kennel Club of India, their pedigree must be established. Says Mandal, "They are checked by our vets before we adopt them."
He adds, "Dogs like Asha fear crowds, while police dogs are required to work in railway stations, bus stations and other such crowded places."
Asha is sitting beside her handler sedately. Her ears go up at the sound of her name and is suddenly all attention. Mandal adds hastily, "But they can perform well in deserted places. They can do everything German Shepherds and Labradors can do."