Miss England Bhasha Mukherjee on yearning to be on the front line in the healthcare sector
'This is a war.... I think my time would be better used if I was back home (in the UK)'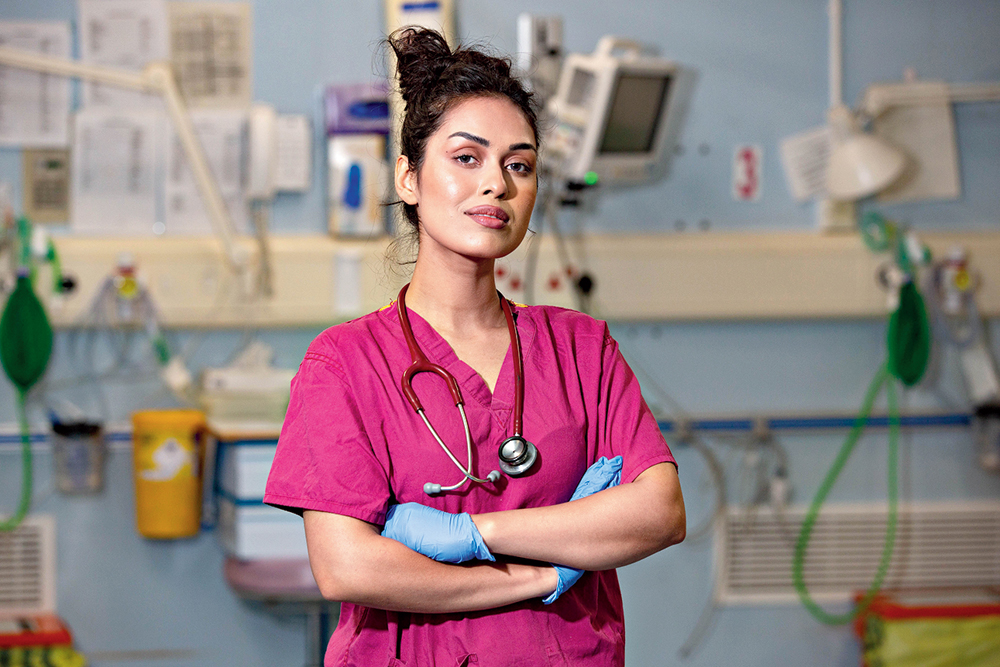 ---
---
She speaks with conviction. What, however, bowls us over about Bhasha Mukherjee is her tremendous clarity of thought. A junior doctor and the reigning Miss England, all of 24, thinks like a soldier, ready to fight the Covid-19 pandemic, shoulder to shoulder with her colleagues back home in UK. Only if she could. When The Telegraph spoke to her on Sunday, Bhasha was stuck in her south Calcutta pad where she has family. She shares her story with The Telegraph.
When did you come to India?
I came to India on March 1 and I came to Calcutta on March 21 after my flight back (from Delhi) got cancelled. I was supposed to be coming to Calcutta on March 21 anyway, but given the curfew and everything, I decided to go back to the UK one week early. Obviously that didn't happen. (She left India on Tuesday morning).
All of us are really anxious. What is your state of mind right now?
The thing is day to day. I have been in self-isolation for seven days. When you are spending that much time on your own in your room, all sorts of thoughts come to your head. My only thing is that I am a part of the healthcare sector and I am so proud of the healthcare systems across the world... the service they are delivering at this time. It is a feeling of... 'I want to be part of that'. I am a junior doctor myself and all my colleagues are basically at the front line. This is a war.... I think my time would be better used if I was back home.
Of course the sense of anxiety is definitely there. The first few days I couldn't sleep properly because things were changing so rapidly in terms of the changes that the government was enforcing. There was no knowing when I'll be able to get back home. There still isn't, essentially.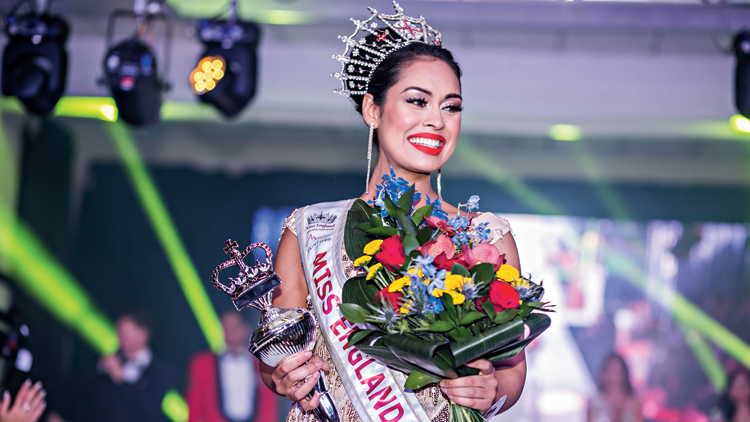 How are you coping with it?
It is a little bit of getting used to it... going from fast-paced lifestyles to sort of bringing it down and spending that time with myself. I am reading a book… I haven't read a book in years actually. Properly, so to speak... I have lost the patience to sort of do that. Ironically, it is Around the World in Eighty Days (Jules Verne). What an irony of fate.
Yesterday, I finally got to see my grandma whom I haven't seen in four years. I finally got to see her face-to- face, even though I had to keep a two- metre distance.
Do your parents live here too?
No, no. They have been living in the UK for many years. My mom came with me as a chaperone for my humanitarian trip in India. And thankfully, we could complete majority of the charity work I was here for. Unfortunately, she is stranded in Delhi. She is living in a family friend's house. I am a little worried about her. I am at least with family, she isn't.
I am originally from Calcutta. I became Miss England and there was supposed to be a charity welcome party that was organised for me. There were hoardings all over Calcutta which had to be brought down. My aunt had planned her own party at home. All that had to be put on hold. It is unfortunate, but it is humbling at the same time. I was expecting to walk in, maybe wearing my crown, having the same reception that I have had in the other states... they greet you in India with garlands and flowers... I am grateful that I am safe.
How often do you get the time to come to Calcutta?
I have been in medical school (University of Nottingham Medical School) for the last seven years. Life has been so busy back home. The last time I was here was in 2016.
Tell us about becoming Miss England...
I had been modelling as a hobby/part-time job. Actually my mom had signed me up for Miss India in 2015. I was in medical school then and the requirement was to give up a whole month to come to India and participate. That would have hampered my studies. So, I didn't go ahead with it then. As time went along... one of the magazines (Asiana magazine) I was working with had a tie-up with Miss England. It took about two years to convince myself to do Miss England. I went with no expectation obviously. I competed in Miss World... I got a lot of travel opportunities... really fortunate... I have been to Africa, Turkey, India... I was supposed to go to Pakistan, Mauritius, Bangladesh, Sri Lanka... so, lots of humanitarian work coming my way... that's what I had been planning for the rest of my year, actually.
In India, I have been to Varanasi, Amritsar, Jalandhar, Udaipur, Delhi, Faridabad, Patna, and now Calcutta. But now I want to get back to work (at Pilgrim Hospital, Boston Lincolnshire). I can't be more proud of being a part of this particular sector, the health sector. I can't wait to get back home to join my colleagues on the front line.
Recently I was talking to one of my colleagues and I came to know that they are having to do night shifts now. That's not something that we do... the more senior doctors usually do that. They really are under a lot of stress.
What are the Bengali things you like doing?
Don't laugh! My go-to pleasure when I need something to cheer me up, I watch '90s Bengali movies like Boro Bou, Chhoto Bou! I am eating rosogolla almost every day! That has always been my favourite thing about Bengal.