'I do not sing to entertain people. I sing views'
Dalit activist and balladeer from Maharashtra, Sambhaji Bhagat, on a cultural poisoning afoot in India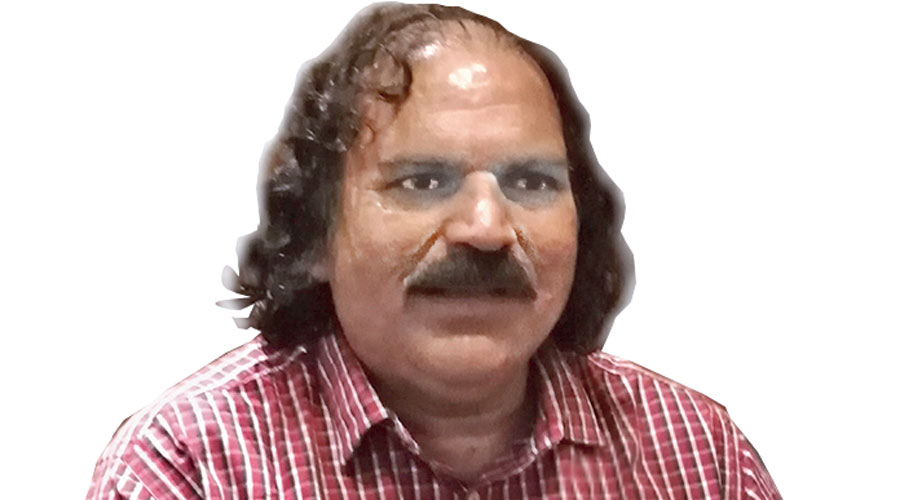 ---
---
I am a cultural politician, says Sambhaji Bhagat. At the time of this interview, the Dalit activist and Marathi folk singer is in Calcutta for the Seagull Peaceworks. He continues, "I don't mean to say I am ignoring politics, but I am not a hardcore politician. Through my work, I want to spread the message of peace and prosperity among people. My medium is culture, my work, my writings."
The theme of the Peaceworks conference is "The Idea of the Indian Constitution". Bhagat looks relaxed despite a hectic morning. He tells me he feels buoyed by the audience response. "These are informed people. They know the subject and hence the interaction is quite lively," he says as we settle down in a largish conference hall in south Calcutta's Tollygunge Club.
This is Bhagat's second visit to the city. The first time was in 1986-87, when he was still a student. The city has changed immensely, he remarks. The conversation turns naturally to the general state of affairs and Bhagat says, "The way the face of the country is changing every day, it is quite alarming." He continues, "We call ourselves a democratic country, yet the way things are now, we are slowly moving towards a society that is grossly infested with fundamentalist ideas and fascism. It is quite sad." His shoulder-length locks sway as he shakes his head from side to side and makes his point in an even, raspy voice.
Bhagat is 60 years old. In his teenage days, he became a member of a Rashtriya Swayamsevak Sangh shakha, but quit after two years.
He says, "It was 1975. I had been arrested during the Emergency and put behind bars. I was in Class X then. I was released only because I was a minor."
After his Class XII exams, he moved to Bombay [now Mumbai] from Pune and eventually joined Ambedkar College. He talks about how it was the centre of the Dalit movement. "The Dalit Panther Movement was phasing out, but I found books, thousands of them, paintings on the walls of hostel rooms, poems. I read and absorbed. I read Marx. I spent six hours reading every day. The more I read, the more I realised that I was on the wrong side. I was supporting the wrong people. I quit the shakha," says Bhagat unabashedly.
"I cannot change my past and I do not deny it either. I believe the best thing a person can do is to learn from his or her mistakes." He proffers with a smile.
Bhagat was born in a village named Mahu in Maharashtra's Satara district. His mother used to work as a daily labourer in the fields and his father was a cobbler. "I am the first graduate not only from my family, but also from my village," he says.
As Bhagat tells it, his mother did not encourage him to study. Instead, she was rather pleased when he found early employment — as a waiter at a hotel in Panchgani. Says Bhagat, "But my seth [the hotel owner], a Muslim, made me join school. He was a very nice man." At college, he found yet another benefactor in his principal. There was no stopping Bhagat after this — neither academically nor as an activist.
He says, "I chose to be a cultural politician because it is through culture, and culture alone, that people have tried to harm us." He talks about the "cohesive force" at play during the independence movement and immediately after it. A force that brought people together. "Jaati, dharm ko baaju mein rakh ke, Bharat ka achchhe nagarik banke rahenge... Keeping aside caste, creed and religion, we will come together as good citizens. But now there is a force trying to destroy everything," he says.
I have heard his song Inki Soorat Ko Pehchaano. It goes: Hitler ke saathi, janaazon ke baaraati/Poochhte nahin insaan ko kaun hai tu/Poochhte hain, dharam aur jaati... Inko dhyaan se dekho re bhai..." I quote the lines back to him and ask nothing. Bhagat smiles a melancholy smile and says, "I am aggrieved at the game that has been played against the people of India. Our culture, our history, all of it has been interpreted wrongly and used against us."
He does not say it in so many words, but it is not difficult to understand what he is out to do — he is trying to use his music and his compositions to spread the message of harmony.
Bhagat says in hushed tones, "People have used our culture as a slow poison to break the fabric of our society." The first assault on that fabric, according to him, was when the concept of upper caste and lower caste was created and used to divide us. He adds, "Now, the second level of politics is at play. They use terms such as deshbhakti and raashtravaad. This will have to stop... The makers of our Constitution have created a constitutional value system to keep these things at bay. We have to stop people from misinterpreting our cultural and social set-up; our constitutional value system."
From speaking impassionedly without pause, he suddenly alters pace. This time, he speaks slowly, measuring each and every word, "It is a very, very slow process. There is no shortcut to it. Hum prajaasattaa ke bal par ek culture khadaa karnaa chaahte hain... nahi hai, par hum khadaa karnaa chaahte hain... Based on our democratic principles, we would like to create a culture of unity... it is not there at present, such a culture, but we would like to create one."
Bhagat is a balladeer who travels to the nooks and corners of India to convey his message. He believes in connecting with people. But now, when the digital medium is catching up, does he find his style cramped? He leans back in his chair, folds his hand and replies, "We use whatever medium is accessible. After all, there are mobile phones in the hands of the lower middle classes and working classes. The immediate emotional response, however, is to be found only in a concert."
I have seen videos of Bhagat's performances where he does not stop at singing. He also engages at length with his audience on social and political issues. He now tells me, "I am not an entertainer. I do not sing to entertain people. Main vichaar gaata hoon... I sing views."
Head bowed, he looks at the ground intently, as if trying to arrange his words and then starts to talk again. "I am not talking of any one political party," he says. "Not the BJP, not the Congress but it is the general trend of politics that is worrying. It is a slow poison. It is not like that of Hitler where he would torture people in a gas chamber. This is psychological warfare. They will kill us from within." The situation is quite grim, he hammers home, "They will poison your mind, your heart, they will ask your name, if you are a Hindu or a Muslim, a Bengali or a Maharashtrian. They will divide people."
He seems to think that in the process what will happen is when Hindus are pacified, Muslims will come together, when upper caste people are encouraged, Dalits will get consolidated. "They will kill all ideologies, kill our history. That is the post-modernist understanding," he says wringing his fingers. And it's a wrap.
Têtevitae
1959: Bhagat is born in Satara, Maharashtra
Education happens in spurts, across geographies — Satara, Panchgani, Bombay
1973: Starts professional life as a hotel boy in Panchgani. It is the owner of this hotel who later funds his school education
1981: Is drawn to street theatre and participates actively
1984: Completes BEd from Bombay University
1986: Gets involved in the Narmada Bachao movement
1989: Starts career as a teacher in Bombay's Sadhana Vidyalaya and has been teaching there since
1994: Stages his first proscenium theatre, titled Ballad of Flour Mills
1999: Joins the Ambedkari Jalsa Vidrohi movement, a socio-cultural movement
Becomes the state coordinator for the cultural platforms Reading Cultures and Kala Utsav
Currently composes folk ballads that voice concerns of Dalits