On the zero line between Tripura and Bangladesh
A fence doesn't obstruct connections on either side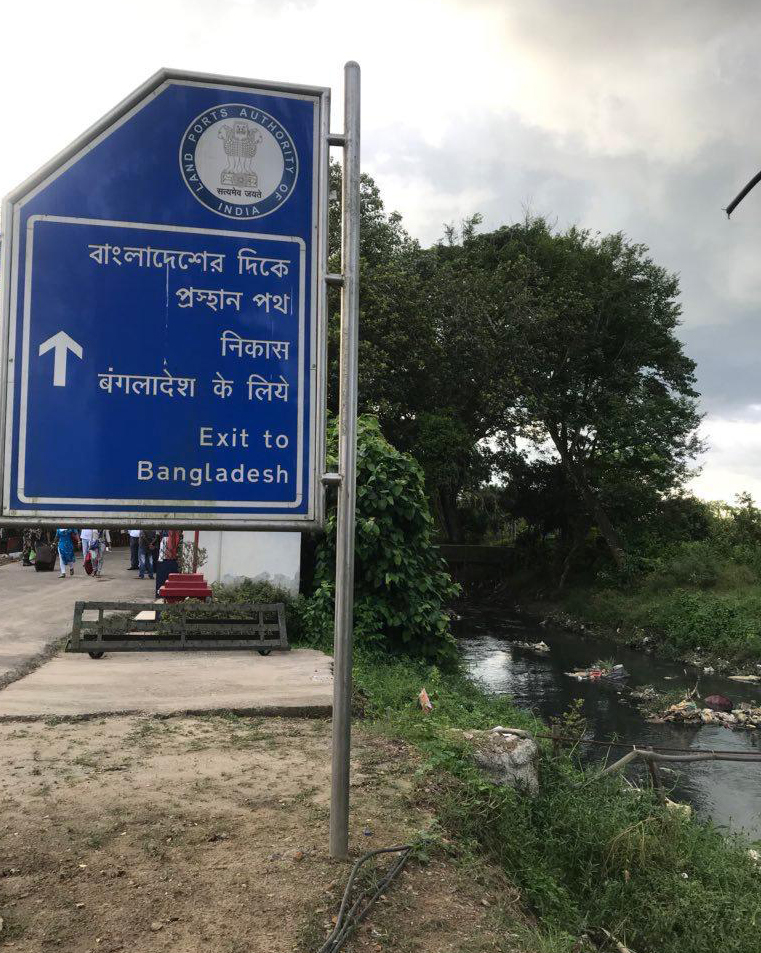 The Agartala-Akhaura border, where the filth of Swachh Bharat flows into Bangladesh
Image: Sonia Sarkar
---
Published 17.11.18, 08:37 PM
|
---
Food and culture, people and gods, history and heritage, there is more than one thing enforcing the India-Bangladesh connect in general and the Tripura-Bangladesh connect in particular. In fact, so closely connected are we that at the Agartala-Akhaura border, barely six kilometers away from the palace, the filth of our swachh Bharat flows into Bangladesh through a canal.
After a three-day tour of this northeastern state, I am sitting at the departure lounge of the Maharaja Bir Bikram Airport, waiting for my flight. At this point, India's fastest mobile network has given up and my phone picks up signals of Robi Axiata — the cellular network of Bangladesh. It reminds me how the moment I stepped on the zero line at Kamlasagar, my smartphone had flashed: "Welcome to Bangladesh!"
Once again, I remember Joy's words — opportunity, obstacles, no eggs. And that's when it occurs to me that he was bluffing all along. How do I know? Because to begin with I am no Aquarian. The realisation and the subsequent relief sweeps over me. I won't have to deprive myself of my routine fix of sunny side up, after all.
His dark skinny fingers clutch the barbed wires. The tips of his fingers move up and down, as if to some inaudible melody. His body swings left, and then right, and left again, but his eyes remain fixed on me. In his accented Bengali, Mohammed Joy tries to convince me that he has mastered some lessons in astrology from his kabiraj (ayurvedic practitioner) father.
He tells me, "You are an Aquarian. You are very close to getting a new opportunity but there are hurdles. To clear the hurdles, stop eating eggs. To know more, you must call up my father." He insists I take his father's phone number, accept his visiting card. But our man in uniform stops me. "Nahin, Madam, yeh allowed nahin hai… This is not allowed, Madam." 
We are on the zero line in Kamalasagar, 28 kilometres from Agartala town. The BSF jawan with the prominent Adam's apple keeps a firm gaze on me to ensure I don't walk up to Joy. But Joy, who is from Brahmanbaria in Bangladesh, is not ready to give up. "My father solves problems of many Indians. He can help you too," he boasts. Joy's words make me laugh out loud. In India, the government would have us believe that Bangladeshis are the real problem today. 
Here, in Kamalasagar, Indians and Bangladeshis meet every Sunday "officially" to buy and sell sarees, cosmetics, vegetables, fruits and more. (For some, this border haat or bazaar is also a place for reunion with relatives from across the border.)
A common grievance of the locals is that the much-raved-about ilish, or hilsa, of Bangladesh is not available in this weekend bazaar. That, however, doesn't mean you cannot savour the delicately flavoured ilish of Bangladesh elsewhere and anywhere in Tripura. The small restaurants on the Sonamura border claim they get their ilish from Comilla in Bangladesh, only seven kilometers away. The waiter at Hotel Shankar in Agartala, in his accented Bengali reminiscent of Joy's, says the restaurant sources its ilish from river Padma, the pride of Bangladesh.
The ilish has made me digress. The moot point I am making is this — Tripura's connect with Bangladesh goes beyond fish.
Apparently, the idol of Tripura Sundari, the presiding deity of the state, has come from Chittagong, also in Bangladesh. During the 2018 Tripura Assembly elections, local BJP leaders appropriated Tripura Sundari to garner Hindu votes. After winning the elections, they attributed their victory to the goddess. (Mind you, Bangladeshi migrants were dubbed termites by party president Amit Shah.) And this Diwali, the state government organised a two-day religious extravaganza at the Tripura Sundari temple, apparently to "restore" the cultural identity of the state.
The new chief minister, Biplab Kumar Deb, too has a Bangladesh connect — his parents belonged to Chandpur in Chittagong, though he was born in Tripura. The newly-built museum at Ujjyanta Palace, one of the former abodes of Tripura's Manikya kings, has a separate section on the 1971 Liberation War with special emphasis on the contribution of the people of Tripura to the movement.