Dreams die first
The war over walls in Tagore's Visva-Bharati is metaphoric, and, truth to tell, it is nothing new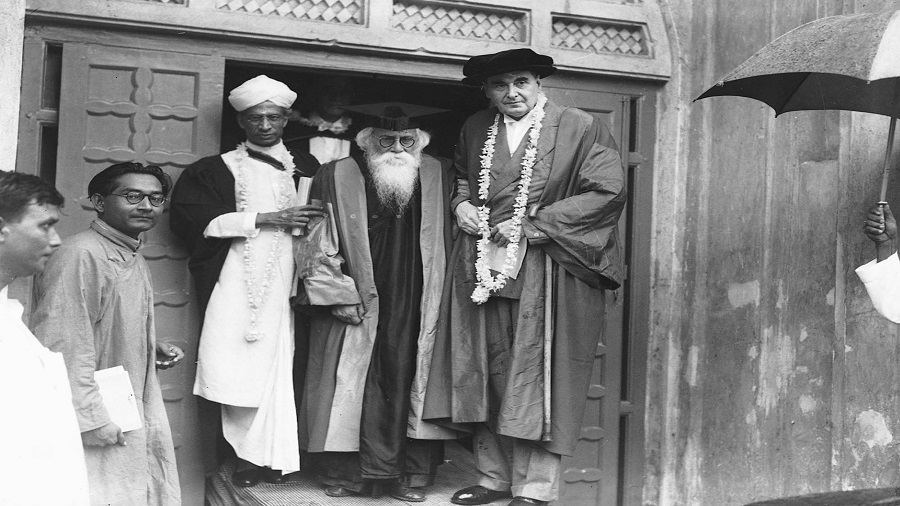 ---
Published 30.08.20, 12:48 AM
|
---
On Republic Day this year, a second-year undergraduate student of history at Visva-Bharati was expelled from the Purba Palli Senior Boys' Hostel for videographing vice-chancellor Bidyut Chakraborty's speech. Wall. Soon after, a student from Bangladesh received a "leave India" notice for posting anti-Citizenship Amendment Act protest photographs on social media. Wall. The erection of a boundary wall on the Poush Mela grounds. Definitely wall. Another one coming up inside the campus, near Sangeet Bhavana. Nine-foot wall.
Visva-Bharati alumnus and singer, composer, painter and former teacher of musicology at Sorbonne, France, Sharmila Roy Pommot says, "I mingle with the young. I notice there is a fear to voice their views. It is sad."It is. To think the world over, Rabindranath Tagore is known for the lines, "Where the mind is without fear and the head is held high/Where knowledge is free/Where the world has not been broken up into fragments by narrow domestic walls...," but in his own dream-yard a dystopia is assuming shape.
Roy Pommot, who is one of those end-to-end Visva-Bharati products — first batch of Ananda Pathshala, student of Patha Bhavana and Kala Bhavana — shares an anecdote from her schooldays. She says, "A classmate, a boy, slapped a teacher. Now, according to ashram rules, five students were to sit in judgement and decide the measure of punishment, in the presence of teachers. The boy, who was also our friend, was passionate about sports. We ruled that he be not allowed to play for a whole year." Roy Pommot adds, "I have an idea how my friend would have felt had the punishment been awarded by a teacher. But the punishment possibly became a lesson for life as it came from some of his own."
The anecdote has nothing to do with walls, or maybe it does, but it does illustrate what a long way Visva-Bharati has come from what Tagore imagined it to be. What a long way, and in what direction too! 
Nemai Sadhan Bose, who was the vice-chancellor in the 1980s, writes in his 1991 book Bhagnanir Visva-Bharati that Tagore was aware that ideological walls were silently coming up in the institution of his creation. Bose writes, "He refers to these in 1934, but accepts them as part of the natural process. Tagore says, 'When I am not there, whatever emerges from the combined thinking of many minds will be the natural truth. What will be artificial is if any one person imposes his ideas and directives. The praandharma is to embrace all contrarian views and forge ahead'."
One does not want to dare a metaphor to explain a poet's imagination and yet like flowers to a tribute, only a metaphor will do. Visva-Bharati is a lot like a cell. A cell, as in the smallest unit of life, of random morphology, throbbing with mysterious workings, floating in cytoplasm, born of a hunger of the Universe, vital, possessed of the ability to multiply and become something beyond itself.  
Visva-Bharati was born in 1921, three years after World War I had ended. Says Uma Dasgupta, a historian and biographer of Tagore, "He was suffocated. He was not a free citizen in colonial India and on top of this, the war bothered him. He embarked on a world tour in 1916 as soon as he was allowed to travel. Nations cannot physically meet, but Tagore wanted that their people meet. He wanted to build a centre where the likeminded who were repelled by territorial and aggressive nationalism could come together and learn about each other's histories and cultures." She adds, "Visva-Bharati was his way of conflict resolution."
The term Visva-Bharati means different things to different people. Some use it interchangeably with Santiniketan, a neighbourhood in Bengal's Birbhum district. Some use it to refer to the university. Others extend the term beyond the institutes and centres of higher learning to embrace all the schools. Almost no one will use the term to mean Sriniketan — also known as the Institute of Rural Reconstruction — but the association remains. Lonely Planet describes it as "a nerve centre of Bengali culture". VC Chakraborty has referred to it as "Birbhum's only industry" in a letter dated July 4, 2020. To Roy Pommot, it is a "vidya-samabay" or cooperative education. "Tagore's own expression," she points out. And nearly everyone in Bengal can tell it is the name of the new political flashpoint in the run-up to the 2021 Assembly elections.
Tagore himself called it "a grand idea, which having assumed a modest form, has arrived in our ashram".  
Visva-Bharati is possibly each of these, their sum total and more.
Visva-Bharati burgeoned. From what fourth-generation ashramik, Tagore researcher and assistant professor at Gushkara Mahavidyalaya Sukalyan Chanda says, it was a frenetic growth. He says, "There was Vidya Bhavana for scholarly research."
He quotes a 1927 annual report that lists study in Vedic, Sanskrit, Pali, Prakrit, Avesta, Tibetan, Buddhism, Jainism and Medieval religions. Shiksha Bhavana was then set up to train students for Calcutta University exams [in the initial years, there was a degree granting arrangement with CU]. Says Uma Dasgupta of Tagore's effort, "He need not have done it, but he did it."
Roy Pommot talks about her takeaways from the place — the open relationship between teachers and students, the approach to any thing or subject — beginning with a sense of history and journeying to an open ending, shot through with analytical thinking. She asks, "Do you know that in 1921, Gurudev had over at Visva-Bharati (French Indologist) Sylvain Levi? Levi taught Sanskrit and his classes were compulsory for all. Even Gurudev and Kshiti Dadu (Sanskrit scholar Kshitimohan Sen) attended his class."
Sanjeeda Khatun arrived from Bangladesh in 1954 as a master's student. She remembers the strictures of ashram life. "Walking barefoot, it was painful," she says. She recalls the gathering of foreign students at the home of her local guardian, poet and essayist Annada Shankar Ray. Shyamal Chanda, who was a student in the mid-1960s, says, "I realise that Santiniketan has made me secular." Sudripto Tagore, batch of 1985, talks about the "natural environment". "It teaches sensitivity," he says. Shikha Majumdar, who did her master's in history in 1999, says, "I remember the lal maati (red earth), the pathways lined with sonajhuri trees on either side. They filled me with a sense of freedom."
Abhinandan Sen from the class of 2007 brings up the issue of an increasing number of "external students". He says, "Earlier, five students in a class of 30 were outsiders; now the ratio is 50:50." There is a hint that the altered student composition has resulted in a dilution of ethos. Mohammed Badshah Alam, a 2016 graduate, says, "Walls have come up everywhere… There was a time when we could freely walk into the university, we could use the roads and shortcuts. Even in 2013, the Sangeet Bhavana did not have a gate. Now there are gates everywhere."
If you must understand why any physical wall is inimical to the very idea of Visva-Bharati, the answer lies in the nature of the university complex.
The herring-shaped map on the university website has coloured dots denoting university and office buildings scrambled across large tracts of yellow representing the many acres that constitute the Visva-Bharati complex. At the herring's mouth is Sriniketan, one of the dots on its tail is Vinaya Bhavana, the teachers' training centre. Below the head are Pearson Palli, Andrews Palli, Sripalli, further down there is Ratan Palli, Aban Palli, still further down there is Purba Palli — all residential areas. Rabindrasangeet exponent Santidev Ghosh's house is in Sripalli right in front of Sangeet Bhavana, Kshitimohan Sen's house is also there, painter and sculptor K.G. Subramanyan's house is in Purba Palli.
In a 2011 article published in Anandabazar, Nobel laureate Amartya Sen writes, "Visva-Bharati's right to the land is undeniable and the university authorities' need to safeguard it is perfectly legitimate. After the theft of Tagore's Nobel medal, the need for enhanced security is natural." The economist then asks, "But will these ugly concrete walls serve the purpose? Is there really a case for having high walls that will disrupt the cadence of ashram life? And wall in learning?"
Ashramik Subir Banerjee shares a copy of a 2010 letter to the then Prime Minister Manmohan Singh. Signed by aggrieved ashramiks, it reads, "Tagore had distinguished Visva-Bharati by two core features, one, the institution will mingle with nature and environment in a boundless way and second, it will interact with its human surroundings…" The letter draws attention to the fact that the high walls obstruct vision, passage of light and air, impede movement of vehicles, fire brigade, etc. Following this, the then Bengal Governor M.K. Narayanan conducted an enquiry and among other things stipulated a permissible wall height. No one says anything about looking into the reduced influx of foreign students, identifying areas of new research, a robust exchange programme or other things academic.
After Tagore's death in 1941, the walls multiplied. In his 1994 book Shesh Paranir Kori, scholar Hirendranath Dutta writes, "Santiniketan was the first attempt at establishing a more or less egalitarian society in India. After Tagore, Santiniketan had to journey in the footsteps of others. Tagore's Visva-Bharati became a central university in 1951. Soon after, cracks appeared in Tagore's egalitarian experiment." He said cracks, you might hear walls.
According to Nemai Sadhan Bose, the biggest change Visva-Bharati had to grapple with was politicisation. He writes, "Whenever a new VC is appointed, his political affiliation becomes the point of discussion and scrutiny, more than his academic and administrative merits." Another wall.
From the sound of it, Visva-Bharati also walled itself out from the world. "There was growth if you mean additions to departments, but was it taking forward Tagore's vision, I cannot say," asks Supriyo Tagore, erstwhile principal of Patha Bhavana and great grandson of Tagore's second brother, Satyendranath. He continues almost stoically, trailing off in places, "As Visva-Bharati grew it became unwieldy, overcrowded… It was meant to be a meeting place of the East and West, a place of research. When Tagore was alive, a lot of people came from all over to study and to teach, that could not be sustained."
Young researcher Sukalyan says, "There are continuities and discontinuities."
To be noted — by all and wall.