Visva-Bharati 'sorry' on Tagore, soft on mela
Pressure from the Centre and the BJP may have made the varsity change its mind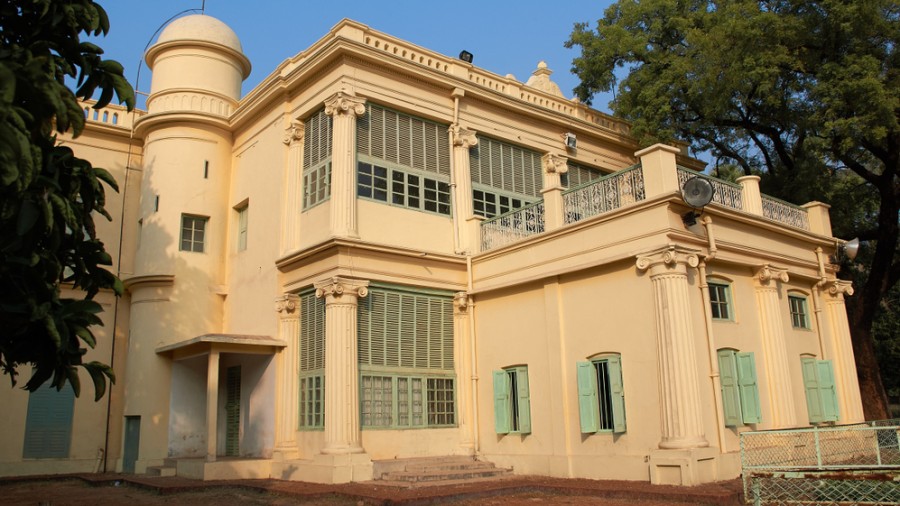 ---
---
Visva-Bharati on Friday said it was "sorry" and "wounded at heart" if anyone was hurt by vice-chancellor Bidyut Chakrabarty's comment that Rabindranath Tagore was an "outsider" to Santiniketan.
The central varsity also toned down its stand against the Pous Mela. It said the Visva-Bharati and Santiniketan Trust were "not opposed" to Pous Mela and its place in the Bengali sentiment.
Sources said pressure from the Centre and the BJP, which do not want to hurt sentiments attached to the fair head of the Assembly elections, made the varsity change its mind. The construction of a wall on the mela grounds had triggered the latest controversy.
The expression of regret was made in a news release issued by the central university's officiating public relations officer Anirban Sircar. The release followed an online meeting the varsity officials held with teaching and non-teaching staff over the institution's "current situation" in the wake of protests against a proposed wall on Pous Mela grounds.
The release sought to explain the context of the "outsider" comment.
"Tagore was an outsider — many people were hurt by this comment published in the news media. If anyone is hurt by this comment — we are sorry and wounded at heart," the release said.
"We are wounded at heart as we can't accept the distorted explanation of this universal truth. The summary of our comment is that Gurudev and his father Maharshi Debendranath Tagore were not residents of Bolpur or Birbhum. They spent much of their time in Calcutta. They are outsiders in that sense of the term."
The VC in his "special missive" on the central university's website on August 22 had said: "Gurudev Rabindranath Tagore was an outsider himself; had he not taken a liking to the area, Visva-Bharati wouldn't have evolved. Besides Gurudev Tagore, his colleagues — who paved the way for Visva-Bharati to develop as a hub of knowledge creation and dissemination — all came from outside Bolpur."
The description of Tagore as an "outsider" had ruffled many feathers in the varsity's fraternity and led to a wave of criticism on social media.
Some politicians, including a few from the BJP, also condemned Chakrabarty's comment.
Many teachers, staff and old timers associated with Santiniketan and Visva-Bharati did not buy the latest apology and explanation of the central university.
"I don't know what his (the vice-chancellor's) vision and logic are. I can only say that Tagore can't be identified as an outsider by any logic," said Supriya Tagore, a descendant of the Tagore family and former Patha Bhavana principal.
Some also criticised the VC for not apologising publicly but choosing to say sorry and justify his logic to brand Tagore as an outsider through a news release issued by an official.