'Tis the season to be merry
The traditional Christmas feast has its unique features in different parts of the world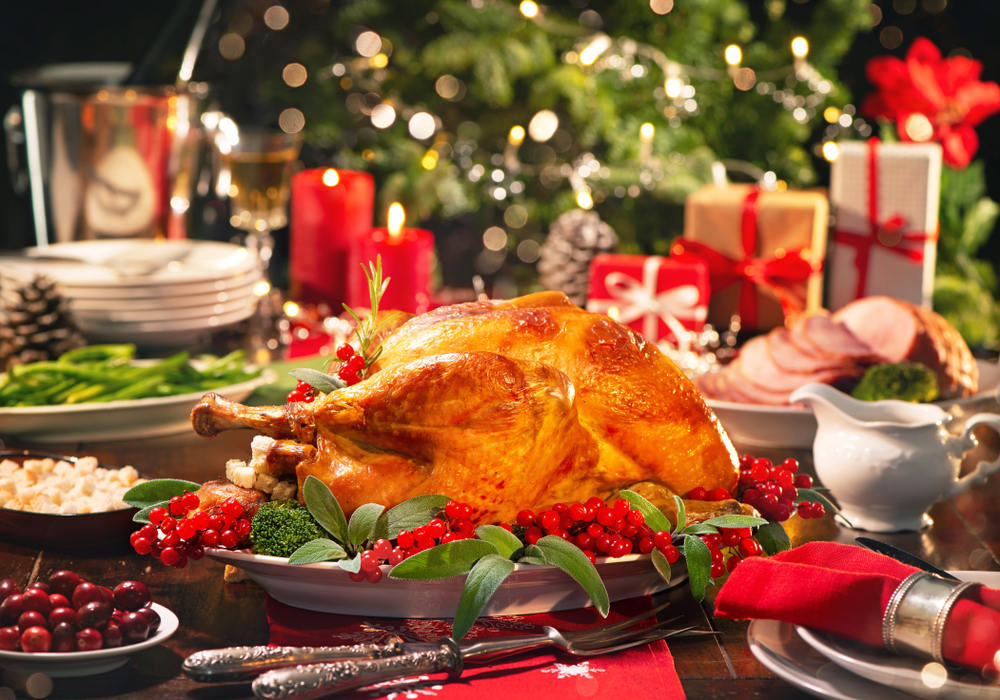 The turkey is at the centre of the traditional English Christmas feast
Shutterstock
---
Published 30.11.19, 02:22 PM
|
---
So there's no reason that many of you might not be rather nonplussed about what I am doing writing a Christmas article so early. Well, for beginners — and let this bit of information set up the stage for the impending write-up, where I intend to share some extremely interesting snippets of erudition on Christmas — let me tell all of you that we are well in the Christmas season already, and by a few weeks.
Not really going into the pagan and Christian nitty-gritty, in most parts of the world the Christmas 'season' starts immediately after the observance of Halloween. So, effectively, from the first day of November. While you suddenly feel the 'merriness' of the Yuletide creeping into your mortal self and wonder how you'd make up for the lost weeks, let me be your guide and see how we can maximise of what is left of it.
Let's begin by steadily drowning ourselves into some of the most famous food traditions associated with the most celebrated festival on earth, some off-the-wall, others somewhat idiosyncratic while some rather predictable. This write-up — and this also marks my one year of immensely gratifying experience writing for this publication — is about the Christmas food traditions in various parts of the world.
If there is any time to have this information, it is now. After all, soon we will get busy eating and, for some like me, cooking, and maybe the food traditions in other parts of the world will inspire us in planning our own feasts and potluck probables in this season of the mirthful celebrations.
Japan
I was thinking of which country to start with, and what better choice than one that I thought was the most far-fetched Christmas food tradition of the lot, and I am not even exalting. While the rest of the world is cooking themselves silly, procuring the Christmas turkey, fretting over puddings, snow peas and sausage, the most efficient country in the world does what it should, efficiently — it eats junk food! Believe it or not, it is a Christmas tradition in Japan, although a fairly recent one that the families get together over, well, Kentucky Fried Chicken!
This is true, every year an estimated 3.6 million Japanese families celebrate their Christmas with chicken and KFC restaurants report a sale of more than 10 times of the regular during the Christmas season and if you do not book weeks, sometimes months in advance, be prepared to stand in serpentine queues known to have run into kilometres.
While many among us will make our own judgements about the culinarily insensitive inhabitants of the Nippon, the fact seems to be that Japan, with less than one per cent Christian population, never had any remarkable Christmas traditions and the Americans seized the opportunity just the way they knew it. They came out with Chicken Buckets and an extremely innovative marketing plan that saw the Japanese link the holiday getting together with eating KFC, and so it stuck. In any case, there is no one else that eats fried chicken as a Christmas feast, and our respects must go to the Japanese, they've always been different from the rest!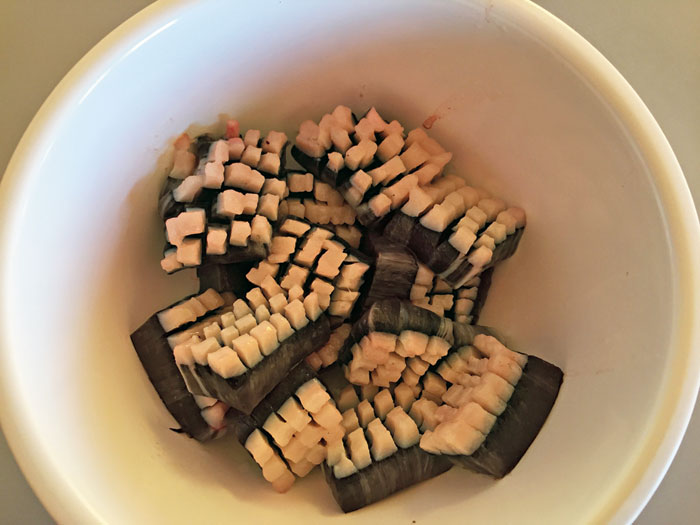 Greenland
From a small island country to the biggest island country. Apparently, the Greenlanders love their seafood, quite expected of a country with the sea on all sides, but slightly differently, to put it subtly. It is a widely practised Christmas food tradition in Greenland to eat strips of whale blubber (tough whale skin and fat) during Christmas. If it wasn't enough of an unusual tradition, this delectable delicacy is meant to be swallowed whole since it is, obviously, not easy to chew.
Known as mattak (in picture), this food item is eaten along with another stunning culinary gem — the kiviak. Kiviak is a delicacy made out of a type of sea bird known as an auk, commonly found in Greenland, which is wrapped in a layer of seal skin and left to ferment for several months before eating. I don't really want to be sounding disparaging here, but if I find myself in Greenland ever, I am certainly travelling out of the country for Christmas. Poland
In Poland, the Christmas table is often laid down with one empty chair, meant for the Lord or for the 'lost wanderer', who might be looking for shelter in the chilly Polish winters. The food itself is quite traditional, with the feast beginning with the breaking of the oplatek, the time-honoured wafer that is shared by everyone on the table to represent their unity with Christ.
Also, oddly enough, the entire feast prepared for Christmas in a Polish household is vegetarian, often 12 meatless dishes, signifying the 12 apostles of Christ. The meal generally starts with a beetroot soup and is followed by fresh, cooked and preserved vegetables and legumes as the follow-up courses. Most dishes served on Christmas are made only once a year, that on Christmas, which is easy to fathom since it won't really be easy for anyone, even Christ himself, to keep the burly Balkans — the Poles, poles away from their meats for longer than a day in sub-zero temperatures!
England
While most people are somewhat accustomed to the British traditional Christmas food choices, many among us won't know that, traditionally, the Christmas dinner is had in the UK at 2pm! The idea was for the entire family to get together, have Christmas dinner and then get around listening to the queen's Christmas speech, which is telecast at 3pm every Christmas.
The traditional meal otherwise is quite elaborate with turkey forming the main attraction, bacon-wrapped sausages (known as pigs in blanket), dates wrapped in bacon (known as devils on horseback), Brussels sprouts, cranberry sauce, roast potatoes, ending in mince pies, which, although known as mincemeat pies, don't really have any meat in them but only alcohol-soaked dry fruit.
This menu is also the most widely available and recognisable Christmas menu in countries where Christmas is not celebrated by the majority of the dwellers as a religious festival, such as India. In almost all restaurants and cafes worth their turkey, you will always find a similar menu available seasonally each year around Christmas.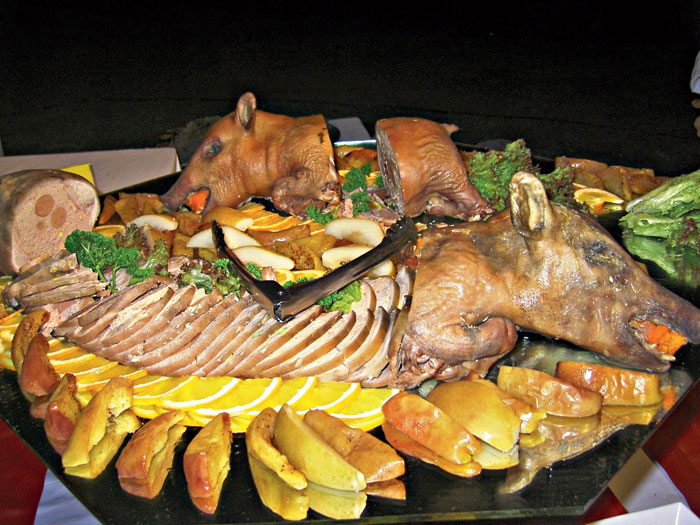 The Philippines
The Christmas menu of the Philippines is quite unique in the sense that they have taken the best bits from all cultures and incorporated those together, creating a unique traditional menu of their own. So they have pasta that is a staple on most Christmas tables along with sweet glazed ham, or, more traditionally, whole roast pig, known as lechon.
There is rice, too, in the form of lumpiang ubod, a coconut-based rice spring roll, along with purple-coloured rice cake called puto bumbong. Queso de bola, a red-waxed cheese, is also uniquely traditional on Christmas eve dinners, the cheese itself being quite similar to the Dutch cheese Edam. Although the Dutch never colonised the Philippines, the culture caught on from the Spanish who had a cheese tradition of their own. Overall, and I am somebody that has experienced it first hand, a Filipino Christmas feast, known as noche buena, is somewhere you'd like to be on Christmas if you love food from all parts of the world but on a single table.
Russia
The first thing that strikes you about the Russian Christmas is not the food, not even the fact that Father Christmas, known as Ded Moroz, is carried around Russia in a troika, a vehicle pulled by three horses and not eight reindeers!
What really strikes you is that they don't celebrate Christmas! Not on December 25 anyway. So the Russians follow the Julian calendar, being predominantly Protestant Christians, and not the Gregorian one. As a result, just about when the rest of the world is limping back to work after the Christmas and the New Year merrymaking, the Russians are just getting started. After all, their Christmas falls on January 7 and is celebrated much more soberly than in most other parts of the world.
The food is generally meatless since the Russians take their Lenten fast quite seriously and do not eat any meat or dairy product during the period. The feast, as it were, starts with the Russian bread pagach, which is first dipped in honey and garlic, representing the sweetness and bitterness of life. The next course consists of kutya, a porridge of soaked grains and seeds. This is basically the main meal of Christmas for most Russians. Sometimes kidney bean stew and potatoes are also served. The meal is rounded off with a kozulya cookie that is mostly in the shape of deer, goat or sheep. Years ago, when my wife told me that the Russians look forward to the New Year's eve much more than they look forward to Christmas, I didn't believe her. Now I do. And you do too.
A recipe
A Chef's column will never be complete without a recipe and it shouldn't be either, especially given the fact that I get a lot of feedback from my readers on my recipes, much more than the actual article and they seem to look forward to it. Although my next write-up will be in the middle of the Christmas season proper and I plan to create an exciting menu for my readers, I will still go ahead and give out a recipe that is looked forward by one and all — the Christmas plum cake.
This recipe is quite apt, too, since all good plum cakes need to 'mature' and should be made ideally a month in advance to be enjoyed on Christmas Day. This recipe is quite simple, adapted for easy execution by all home bakers, although obviously a bit opulent in terms of ingredients, but let us remember all cakes are not plum cakes and every day is not Christmas Day!