There are more than a 100 varieties of pasta!
Chefs Piero Ditrizio and Simone de Siato conduct a masterclass on Italian cuisine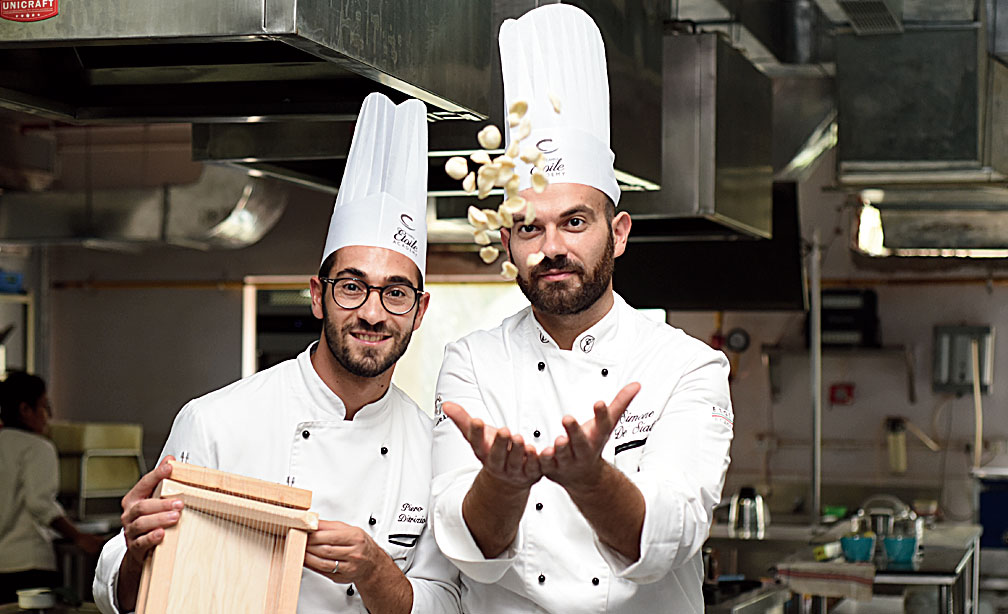 ---
---
IIHM Calcutta signed an MoU with Intrecci and Campus Etoile Academy. To mark the occasion, a specially curated evening of Italian Gastronomy — Il Tavola Italiano, was organised. We spoke to the two Italian chefs -- Piero Ditrizio and Simone de Siato

What is a typical meal like in an Italian home?

Simone: When it comes to Italian cuisine, regions have major roles to play. Everything we eat at home is totally dominated by the region we are in.
Piero: In the south of Italy people eat a lot of eggplant. You will find heavy use of olive oil in the southern part, whereas in the north, the use of butter is more. So food varies according to the region. Nowadays you will find chefs creating and fusing different regions in the food they make but predominantly, Italian cuisine is about following and sticking to tradition.
What are the must-have ingredients in Italian cuisine?
Simone: Tomato, olive oil, basil, parmesan, balsamic vinegar, mascarpone and pasta. One of the most prominent features of the cuisine is that everything is fresh, so that you get the real taste of the ingredients. South of Italy uses a lot of rice while the use of wheat is more in the northern region. One thing common to both the regions is tomato.
What lies behind the appeal of Italian cuisine?
Piero: Italian cuisine is quite simple. The ingredients are low-fat and there's no overcooking involved. Olive oil is good for health. The use of butter is minimal.
What are the different kinds of pasta?
Simone: There are more than 100 varieties! This again depends on the region. You can make 10 different types of pasta with a single dough. Making pasta is something we learn at home as a child. Everything is handmade, rolled by hand too. There are two main types — fresh and dry. Dry pasta is industrial pasta. It's made with semolina flour and the quality of semolina is very important. If the texture of the pasta is smooth, it isn't good. It should be a little rough so that it can retain the sauce. The temperature at which pasta is dried is important too. Pasta should be dried at a low temperature. The more time it takes for the pasta to dry, the more time it takes to cook and the better is the mouthfeel. Fresh pasta is anyway rough because it's handmade.
Do Italian families bond over cooking?
Piero: Family is something that plays an important role, it forms the base. Recipes from grandmothers and mothers are preserved in Italian households. The traditional recipes are important to us, be it for pastas or pastries. Even if I make my own creations, it's important to form the base which has its roots in the traditional recipes and ingredients.
Any myths you would want to bust about Italian food?
Simone: We have many other desserts other than Tiramisu, like Baba with Rum. Also, we don't eat as much cheese as people think we do. People go for pizza once a week, it isn't something that we eat all the time.