Thanksgiving Day by the community of farmers
Baisakhi is the festival of recalling shared values and collective memories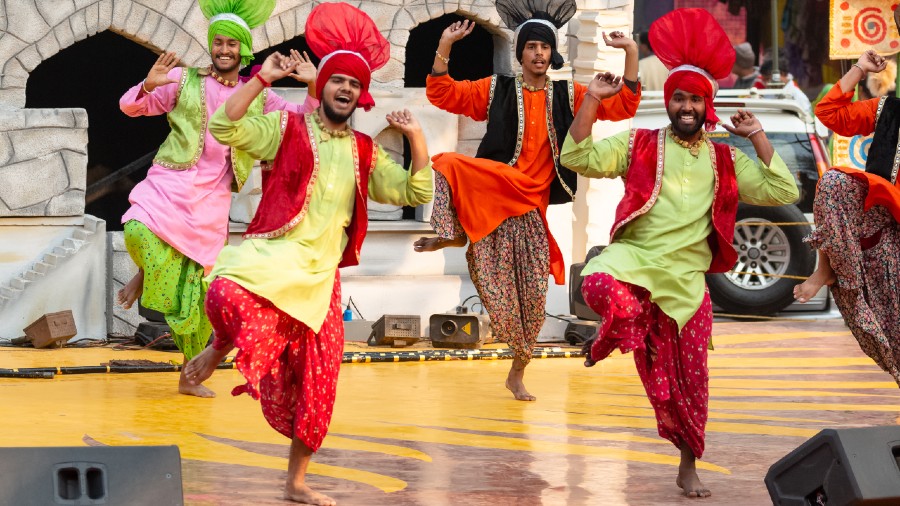 Baisakhi celebration in progress
Shutterstock
---
Published 13.04.21, 02:43 AM
|
---
Every April, communities across the world come together to celebrate various harvest festivals. For centuries, Baisakhi has marked the spring harvest and Punjabi farmers have celebrated this occasion with community gatherings and festivals.
Baisakhi took on special significance for the Sikh community in 1699, when the 10th Sikh Guru, Sri Guru Gobind Singh, invited his disciples to join him in the city of Anandpur Sahib. At this gathering, he formally established the Khalsa Panth (the community of committed Sikhs) and publicly entrusted it with the leadership of the Sikhs. Every year, on Baisakhi, Sikhs come together to commemorate and reflect on this significant historical event. So, it is an occasion for celebrating the community's growth and a set of shared values and collective memories.
In fact, it's the uniqueness of our country that so many religions and cultures dwell in harmony. More or less, all the occasions, even if not celebrated by a particular region or community, are welcomed with cheer by all. The beauty of our country is that we celebrate all festivals together.
While they may be celebrated in different styles, the essence of togetherness and memories remains the same: Like Bikhu/Bikhauti in the Kumaon region of Uttarakhand, Rongali Bihu in Assam, Maha Vishuva Sankranti (or Pana Sankranti) in Odisha, Jur Shital (New Year) in Mithila Bihar, Poila Baisakh in West Bengal and Tripura (and Bangladesh), Ugadi in Andhra Pradesh, Telangana and Karnataka, Puthandu in Tamil Nadu and Vishu in Kerala.
In India, Baisakhi is celebrated somewhat like a Thanksgiving Day by the community of farmers. In many parts of Punjab, people gather to sing, dance and enjoy, while thanking God for a good harvest. In fact, if you take a closer look, you'll find a connection between the yellow colour and this festival.
Since the colour yellow is associated with happiness and bounty, people turn up in vibrant hues of yellow and orange to celebrate the occasion. This is not restricted to clothes, but a tinge of this colour is also added to their food. As no festival is complete without good food, Baisakhi too gets its good share of delicacies.
Another big part of Baisakhi celebration is giddha and bhangra, both traditional Punjabi folk dances that the people perform. Bhangra, in fact, is said to have originated from Baisakhi itself as a harvest dance to celebrate the gifts received from mother Earth. Today, it is performed for several other religious and non-religious occasions, simply as a powerful form of celebration. Giddha is the folk dance performed by the women, derived from the ring dance to show the grace of the womenfolk while still matching the energy and sheer power of bhangra.
All harvest festivals such as Baisakhi, Poila Boisakh, Bohag Bihu, Ugadi and Vishu celebrate what is reaped. Which is why this festival in April is marked with dishes prepared from wheat or rice. There's meethe chawal (sweet rice) in the North or payesh (thickened milk with rice) in Bengal, Assam, Odisha and elsewhere in the East. You will also find laddoos — prepared with coconut in the East, and often with besan in the North.
Peeley Chawal is a staple dish in Punjabi households during Baisakhi celebrations. Meethe chawal and Kesari chawal are the other names used for this sweetened rice dish. It calls for many aromatic spices like cardamom, cloves, cinnamon and much of dry fruits and nuts. Furthermore, it is tinged with the fragrant flavour and lovely yellow hue of saffron, which makes it a perfect treat for the harvest festival. To make the right peelay chawal, you need patience and just the right blend of flavour and spices.
If you want to truly enjoy the taste of Punjab then Punjabi kadhi is something that can't be missed. It is absolutely a must-have to relish the authentic and rich flavours of Punjab. It is a delightful concoction of sour curd, spices, gram flour and fritters. You need to blend the mixture of gram flour and curd well before putting it on the fire. For this dish to be perfect you have to rely on the right sourness of the curd to get the best taste. Punjabi kadhi tastes best when served with boiled rice.
Another dish which is one of my favourites is made with plenty of ghee and gur (jaggery). Gur ka halwa is something that is relished by everyone in Punjabi households during the harvest festival. Though it is generally considered as a dish enjoyed in winters, people do not shy away from it even in summers.
Deep-fried-yet-soft bread is what describes our desi bhatura. When relished with chickpeas cooked in spices, bhatura tastes heavenly. It is one of the most favourite dishes throughout north India. It is served with onions, carrot pickle, green chutney, and achaar.
The mouth-watering delicacies from Indian cuisine are heavily laced with history and were part of regular food habits decades ago.
Over time, however, many recipes have faded away. Even today, the staple in the Punjab is grains and vegetables in their basic form. For example, even today Punjabis refer to their food as daal-roti (lentils and bread). And, it goes without saying that even the most affluent in the world would not miss the ambrosial sarson da saag te makki di roti (mustard leaf in combination with radish leaf, spinach and bathua) cooked in earthernware pots and eaten with maize bread.
"Sahej pakke toh meetha hoye", these words of Guru Nanak, the founding guru of Sikhism, is also the guiding philosophy for cooking, which has been passed on by my mother. When we cook with love, it is bound to taste good. Food cooked with love is not bound by religion or caste. In the Punjabi spirit, Baisakhi celebrates the integration of the spiritual and temporal worlds and it provides practical avenues for bringing these to bear through shared values and practices.
Baisakhi is fundamentally about community, celebration, and progress and these values are at the forefront of the collective consciousness as people gather together to mark the occasion.
PUNJABI KADHI PAKORA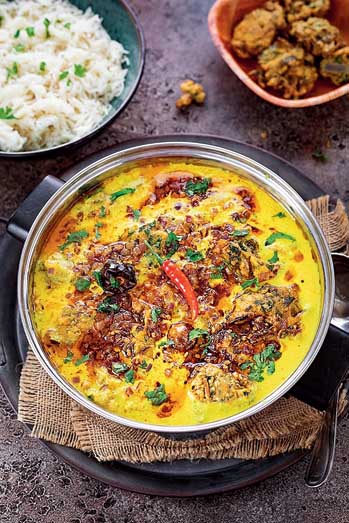 INGREDIENTS
• Thick sour curd: 500g
• Red chilli powder: ½tsp
• Garam masala powder: ½tsp
• Salt: As required
• Mustard oil 1 cup
• Carom seeds: ½tsp
• Garlic: 1tbsp
• Green chillies: 2
• Cumin seeds: 1tsp
• Water: As required
• Turmeric: ½tsp
• Asafoetida: 2 dashes
• Gram flour (besan): 250g
• Onion: 2, medium
• Ginger: 1tbsp
• Fenugreek seeds: 1tsp
• Dry red chillies: 2
• Curry leaves: 10
• Coriander leaves: 1 handful (for garnishing)
METHOD
• Prepare the gram flour batter for making onion pakoras. Take a bowl and mix 100g of gram flour, carom seeds, red chilli powder, garam masala powder and salt as per your taste and make a batter. Next, peel and slice the onions and add them to the gram flour mixture. Mix the ingredients together and keep aside for about 30 minutes.
• Fry the pakoras in oil. Take a deep-frying pan and heat oil in it over medium flame. Take the batter in a tablespoon and add it to the pan. Fry the pakoras until they turn crispy and brown. Remove from flame, and place over tissue paper to remove excess oil. Your pakoras are ready. Keep them aside.
• Mix gram flour with curd to make kadhi. Take the curd and whisk until it gets smooth. The curd should be sour in taste. If not, it can tone down the taste of the dish. Add the remaining gram flour, red chilli powder, garam masala powder, turmeric powder and salt as per taste. Whisk all the ingredients properly. Add 3-4 cups of water and stir to dissolve all the lumps.
• Prepare the tempering: Take a large pan or pressure cooker and add 2tbsp of mustard oil in it. Add cumin seeds and fenugreek seeds and saute well for a minute. Add a pinch of asafoetida and allow the seeds to splutter. Chop the onions, ginger, garlic in a bowl. Add the chopped onions to the pan and saute for a while. Then, add chopped ginger, garlic, and green chillies in the pan. Finally, add curry leaves and dry red chillies and stir properly for a while. Saute for a few seconds.
• Simmer the kadhi for 15 minutes and then add the onion pakoras in it. When the tempering is ready, add the curd-gram-flour mixture into the pan. Stir the ingredients properly and let the kadhi boil for about 15 minutes. Reduce the flame and let it simmer until it turns thick.
• Now, add the onion pakoras into the kadhi and mix properly. Cover with a lid and let the kadhi soak properly into the pakoras. Sprinkle some garam masala powder and garnish with chopped coriander leaves before serving.
TIPS
• To prepare Punjabi kadhi in a traditional way, make sure you only use mustard oil or kachchi ghani oil for frying the pakoras and tempering.
• When making Punjabi kadhi at home, use a deep-bottomed pan or kadai as the curd mixture can spill everywhere on the gas while simmering.
• Add a pinch of baking soda in the pakora batter before frying. This will ensure that you have soft and delicious onion pakoras in your kadhi.
• Also, while preparing the tempering for the kadhi, make sure that you add kasoori methi leaves in it. This will make it aromatic and enhance the flavour of your Punjabi kadhi.
AMRITSARI GUR KA HALWA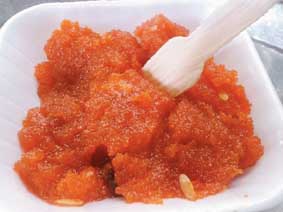 • Besan: 50g
• Gur (jaggery): 80g
• Sugar: 1tsp
• Elaichi powder: 1tsp
• Chopped dry fruits
• Diluted kesar
• Desi ghee: 200g
METHOD
• Boil 1½ glass of water. Add gur and sugar.
• Put the ghee in a pan and saute besan and then add sooji.
• Once it browns properly, add dry fruit and then gur boiled water and stir till it is cooked.
• Add diluted kesar and serve it hot.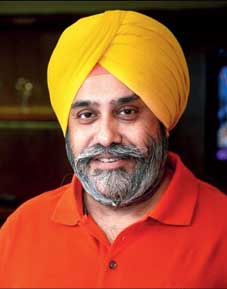 Satnam Singh Ahluwalia is the CEO of Options Unlimited. Reach him at opts.unlimited@gmail.com
Pictures courtesy: Satnam Singh Ahluwalia