South meets North for a kebab feast
A north Indian kebab festival at a south Indian restaurant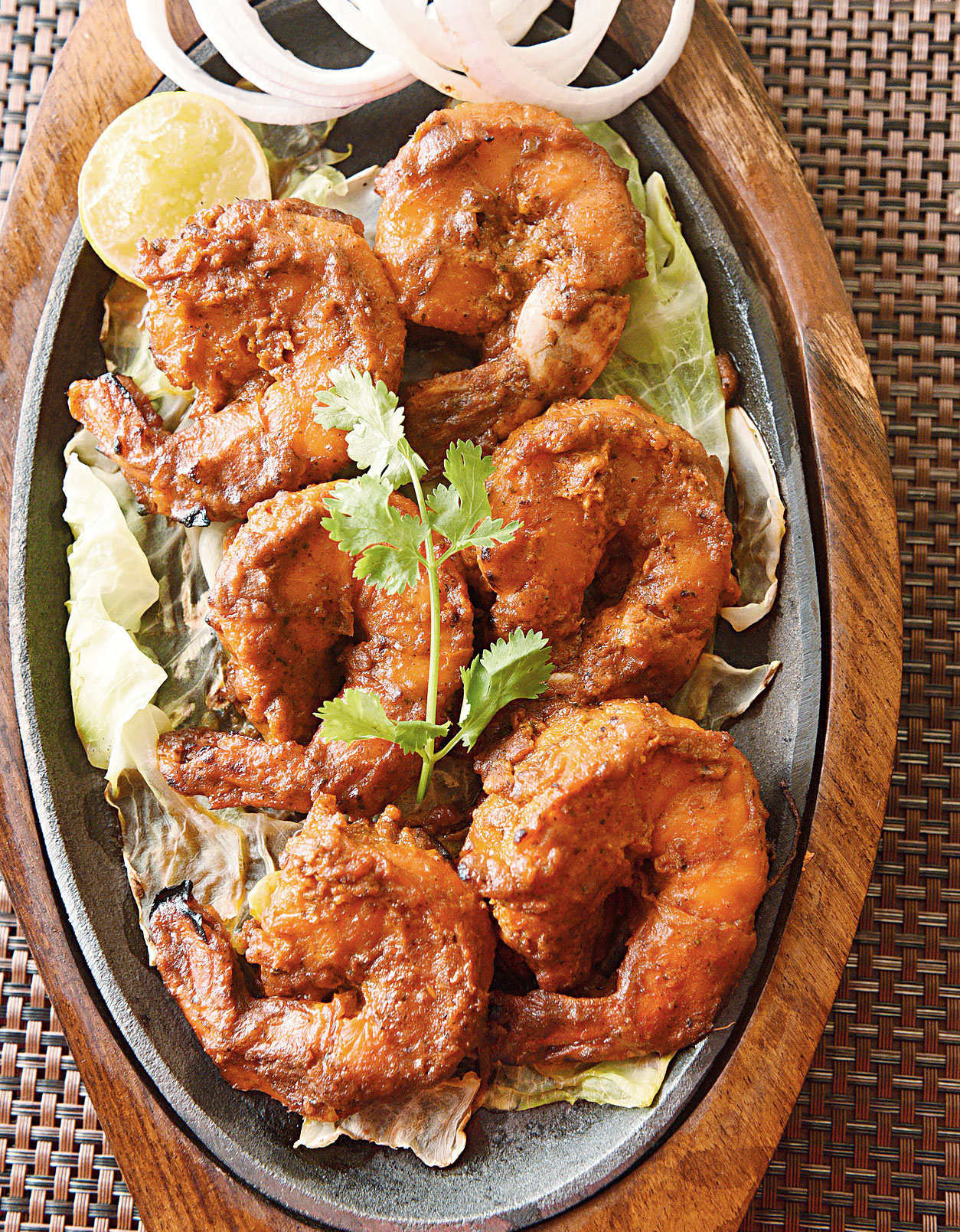 ---
---
Monsoon calls for all foods crackling and piping hot. If telebhaja is a classic, how about experimenting with kebabs this season?
Tamarind, known for its non-vegetarian South Indian delicacies, is plating up just that. Yes, a North Indian kebab festival is being held at the Deshapriya Park foodie den for the first time.
You can choose from 17 varieties with both traditional and uncommon offerings.
"Tamarind has been an institution in Calcutta for its South Indian non-veg fare. We, however, felt that diners should get a complete culinary experience and hence this festival," said Gautam Purkayastha and Surupa Dasgupta, owners.
Tandoori Jhinga
Succulent prawns with a spicy masala. That's Tandoori Jhinga. Kashmiri chilli powder being a key ingredient, this is for the spicy soul. Yes, it does hit your palate, but you just can't stop at one! Rs 550
Fish Achari Tikka
A dish that's made for the fish-loving Bangali in you. With its tangy and mild spicy notes, this one melts in your mouth, making it a clear winner. Rs 375
Ghondhoraj Murg Malai Kebab
The aroma of gondhoraj with light, well-balanced chicken lends this dish a certain freshness. The cheese on top doesn't just bind the chicken but also makes it yummy creamy. Tastes best with a special tamarind dip. Rs 325
Tandoori Stuffed Pomfret
Bite into this perfectly cooked pomfret and a delicious surprise greets you — a shrimp and onion filling. A wholesome meal in itself, we paired it with a honey mustard dip. Rs 375
Nawabi Dhingri Kebab
Loaded with cheese, Nawabi Dhingri Kebab is sweet and smoky. The mushrooms, which add texture, make it a good choice for vegetarians. Dip it in the tomato garlic chutney for that extra flavour! Rs 275
Hara Masala Paneer Tikka
Our top pick from the vegetarian fare, this dish comes with chunks of soft paneer coated with a flavoursome coriander-and-mint paste. Though mildly spicy, this one packs a punch. Rs 275
Text: Nandini Ganguly
Pictures: Rashbehari Das