Onion prices making you cry? Try these recipes
With onion prices shooting up, we asked chefs to share recipes for non-onion dishes
---
---
The chef at hotel Andaz in Delhi's Aerocity, shared the following recipe for Amrud ki subzi or a guava curry that is made without onions.
Ingredients
15 ml vegetable oil
1 gm hing
2 gms cumin seeds
2 tomatoes pureed
2 tsp ginger grated
1-2 no green chili slit into half
1 gm coriander powder
1/2 gm turmeric powder
1 gm red chili powder
2 gms dry mango powder
1 tsp fennel powder
salt to taste
30 ml curd whisked
100 gm ripened guava (amrud), deseeded and cut into slices
1 tbsp lemon juice
Method
Heat oil in a pan.
Once the oil is hot, add hing and zeera and let them crackle for a few seconds.
Add tomato puree, ginger and green chilli and cook for a minute.
Add coriander powder, turmeric powder, red chilli powder, dry mango powder, fennel powder and salt to taste and cook until oil starts to separate from the sides.
Now add curd and cook for a minute.
Keep stirring until the curd is cooked.
Add amrud (guava) and a cup of water.
Cover and cook for 6-8 minutes until amrud (guava) is slightly tender.
Add lemon juice and mix well.
Garnish with fresh coriander.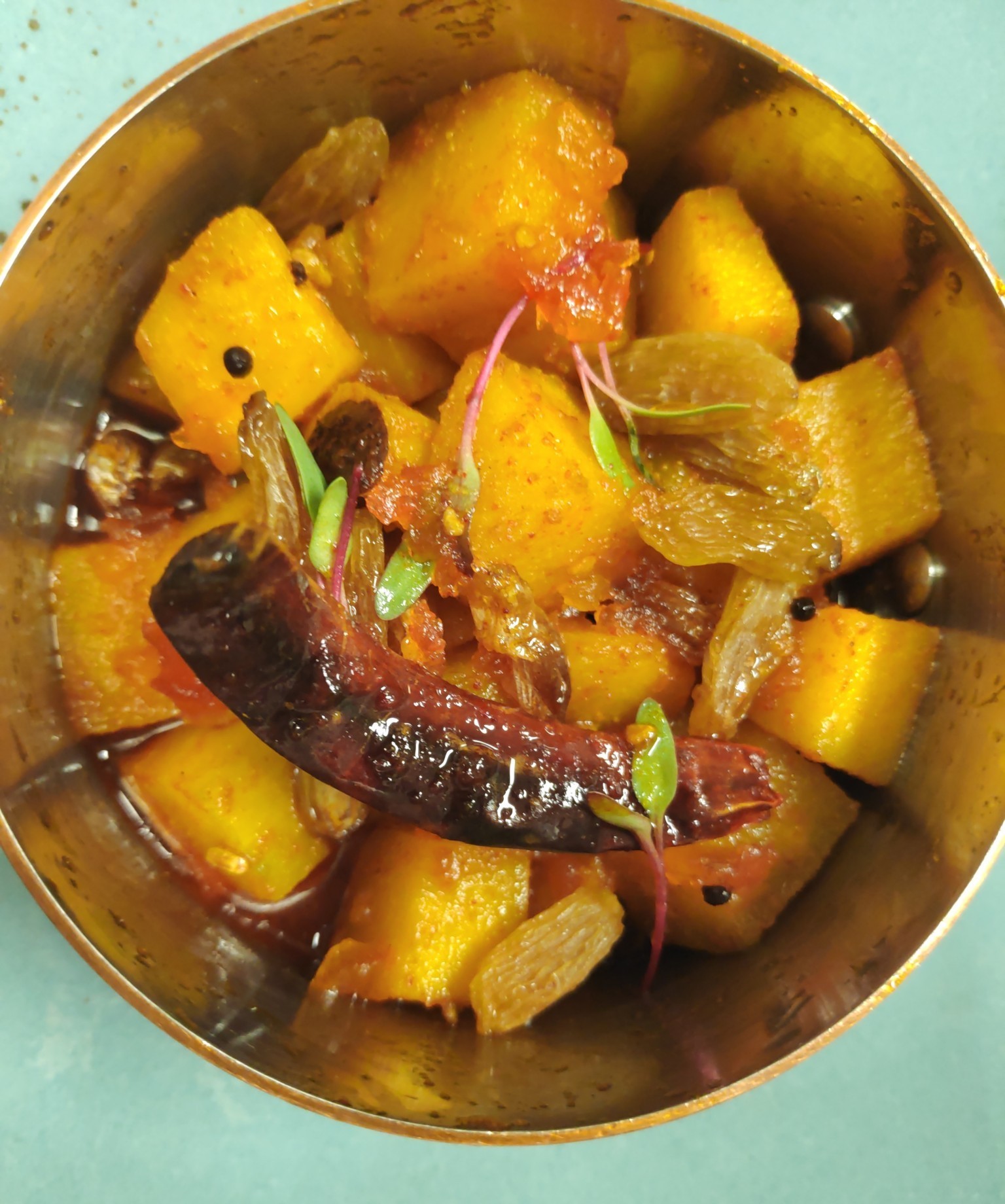 The chef at The Oberoi, Gurgaon shared a recipe for Kaddu ki sabzi or pumkin curry with us.
Ingredients
(Measuring cup used, 1 cup = 250 ml)
1 medium sized pumpkin/kaddu
½ tsp turmeric powder
1 tsp dry mango powder
¼ tsp garam masala powder
1 or 2 dry red chilies (optional)
¼ tsp fenugreek seeds
1 tsp sugar or 2 tsp crushed jaggery
1 tsp cumin seeds
½ tsp red chili powder
1 tbsp.raisins
1 cup water
2 tbsp. oil
Salt to taste
Few chopped coriander leaves for garnishing (optional)
Raisin 1 cup
Method
Wash the pumpkin then peel and chop.
Heat oil in a pan or pressure cooker.
Add fenugreek seeds as well as cumin seeds and fry both for a minute on a low flame.
Add red chilies and again fry for around 15 seconds.
Add diced pumpkin and mix all the dry spice powders except dry mango powder and garam masala in it.
Now add the sugar or jaggery in it.
Mix pumpkin with rest of the spices and sugar/jaggery.
Also add water and salt in it.
Cover the pressure cooker with a lid and pressure cook it for 7-8 minutes.
If you do not have a pressure cooker then try to cover the pan with a lid
Let the pumpkin cook for some 15-20 minutes till it becomes soft and mushy.
Once pumpkin is cooked, add raisins, garam masala and dry mango powder.
Stir fry pumpkin well and let it cook for 1-2 minutes.
Pumpkin should not be watery or too dry.