Lohri: folk bonfire festival of oneness
Celebrating the pledge of new birth & new year with renewed energy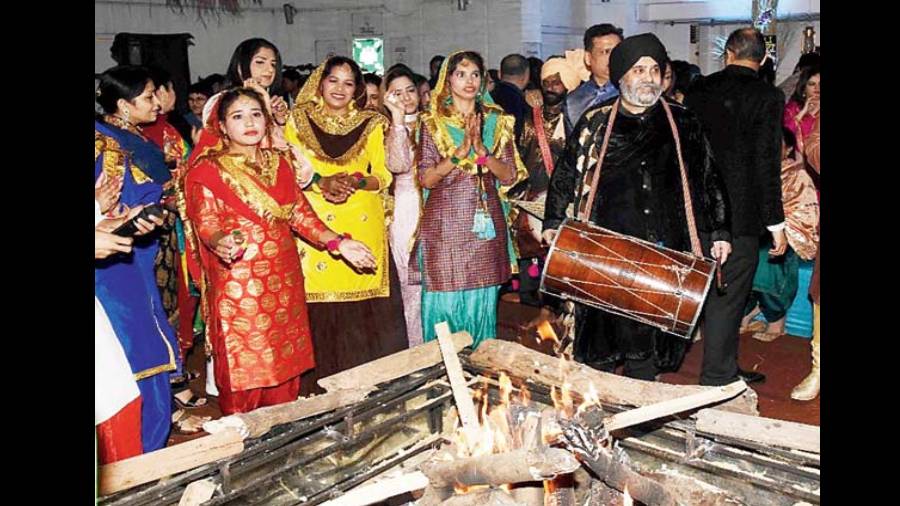 ---
Published 13.01.22, 04:07 AM
|
---
The first festival of the year, Lohri, not only marks the symbolic end of winter in India, but also happens to be one of the most popular folk festivals of the country. Lohri, observed on January 13, a night before Makar Sankranti, is known by different names in the different states of India — Pongal in Tamil Nadu, Makar Sankranti in Bengal, Magha Bihu in Assam and Tai Pongal in Kerala.
Festivals are of utmost significance because they pump in a fresh dose of energy into our mundane routines. They prompt us to halt, take a break and cherish life. They also put us together effectively by making us connect with different communities. Seeing a place getting decked up for a festival and also celebrating it with the locals is one of the ways to gain a knowledge of history, culture, people and food. And that, no doubt, makes us appreciative of different and unique traditions. Most importantly, they foster peace and harmony among humankind.
The origins of this bonfire festival of Lohri are lost in the mist of time, but it appears to be as old as the Indus Valley Civilisation itself. Indeed, today, it's easy to empathise with the age-old need eternalised by the festival — to believe in the 'ineluctability of life's renewal' during the harshest and most desolate days of winter. What could be more natural than wanting to celebrate the spark of fertility and pledge of new birth and new year with renewed energy and resolution.
Some believe that Lohri derived its name from Loi, the wife of Sant Kabir, for, in rural Punjab, Lohri is pronounced as 'Lohi'. Some suppose it comes from loh, a thick iron tawa used for making bread. Then, some claim that the names of two foods associated with the day, til (sesame seeds) and rorhi (jaggery or sugar syrup), combined to come tilorhi, which ultimately led to Lohri.
Like numerous other folk festivals, Lohri boasts of its iconic legend Dullah Bhatti, called the 'Robin Hood of Punjab'. Legends depict him as a dacoit who lived during the reign of Emperor Akbar. Besides stealing from the rich and distributing the stolen wealth among the poor, he's credited with delivering abducted girls being forcefully taken to be auctioned in the slave markets of the Middle East. He would then arrange for their marriage and give them dowry from his loot.
The outrageous song of Dullah Bhatti recounts an exploit in which a girl who has been disgraced (symbolised by her torn shawl) was not only honourably married off but also given a sack of sugar as a marriage gift by Dullah. Indeed, in a practice akin to Halloween in the West, children would go from door to door singing the song of Dullah Bhatti and ask for money and sweets and taunt with rhyming verse houses that did not give in to their demands.
Makar Sankranti and Lohri mark the end of winter and the onset of spring, but, for some reason, it also marks the occasion to indulge in sweets that are traditionally believed to fortify our body from the onslaught of the winter chill. It isn't surprising that along with the bonfire, calorie-rich foods that are perfect for generating warmth and energy play a central part in this festival.
The joyful revellers gathered around a crackling blaze, not only consume sesame (til) and jaggery, but other marvellous munchies like moongphali (peanuts), chivra (flattened and puffed rice), phuliyan (popcorn) and gajak (a toughened sweetmeat of peanuts and jaggery), but also mirthfully toss these into the bonfire.
Popcorn is popped over the bonfire and rewri and gajak are enjoyed as the embers glow and flames rise. Gajak season, hence, continues till long after the festival. It is believed that the custom dates back to the time before the birth of Christ and have references to the creation of gajak-like sweets in the Vedic textbooks.
In Bihar and Jharkhand, gajak takes the form of tilkut. The shape is different, but the process is the same. Sesame seeds are beaten painstakingly in jaggery, pulled and folded back till the constituents are homogenised. A well-made gajak requires no frills, just many cardamom seeds, if at all. Still, these days you come across gajak smothered with raisins, slices of coconuts, splints of pistachio and what not. Some are sold as 'mewewali gajak, desi ghee mein bani'. But the reference to ghee appears a bit ostentatious. It is the sesame seeds that are supposed to yield the oils to flavour and enrich the gajak.
Quintessentially, traditional dishes such as Makki Ki Roti (a corn-based bread), Sarson Ka Saag (cooked mustard greens) are also synonymous with Lohri. Another traditional dish that has been lost somewhere in time is Roah Ki Kheer, which is essentially sugarcane juice kheer that isn't veritably mainstream.
My grandmother used to tell me that this was a very popular kheer in summer when milk and cream would be tough to consume and, hence, the sugarcane juice would be added which was cooling and calming to the body. The leftover rice and sugarcane juice were cooked together to make this delectable kheer. With no milk added, the sugarcane juice provides a wonderful texture to the kheer. It is amazing how many of our traditional recipes took the season and the local availability of crops into account. Our ancestors sure were very intelligent people, who ensured that our food intake was appropriate to the weather and our body was given the right nutrients as per the climate.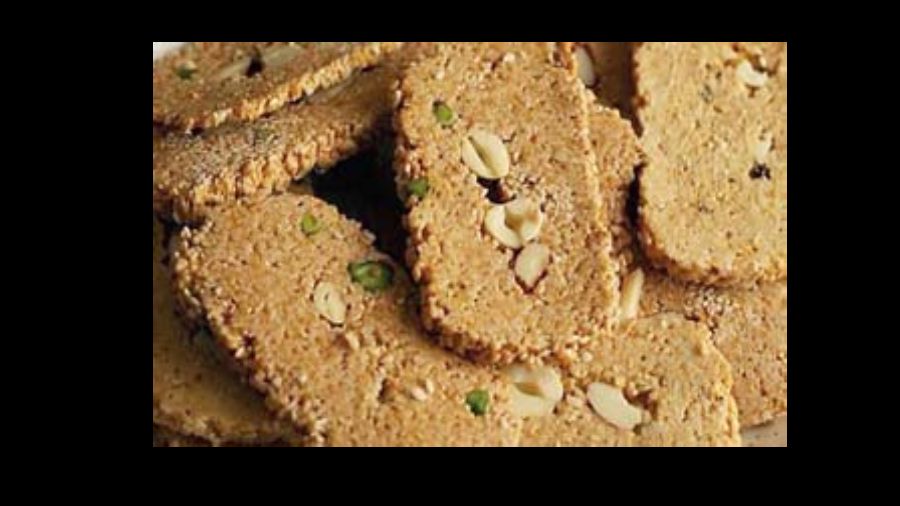 GAJAK
INGREDIENTS
• While til/sesame seeds:3/4 cup
• Crumbled gur/jaggery:3/4 cup
• Chopped cashews and pistachios (optional): 2 tbsp
• Water: 1-2tsp
• Ghee: 2tsp
METHOD
• Start by dry-roasting til along with chopped dried nuts on low flame in a pan until just fragrant. Transfer to a plate and keep aside.
• Now, melt the gur along with water and ghee on low heat. It will turn frothy in 3-4 minutes. Keep stirring continuously.
• Put a few drops of gur in a cup of cold water. If it sets immediately and snaps easily when broken, switch the flame off and immediately mix in the sesame and nut mixture.
• Keep a plate or a thali ready with some ghee smeared on it. Immediately pour the mixture on the plate and spread it using a greased rolling pin while it is still warm.
• Cut it into pieces using a knife, again when it is still warm.
• Let it sit to completely cool down and then snap it into pieces.
• Store in an airtight jar and enjoy when you feel like it.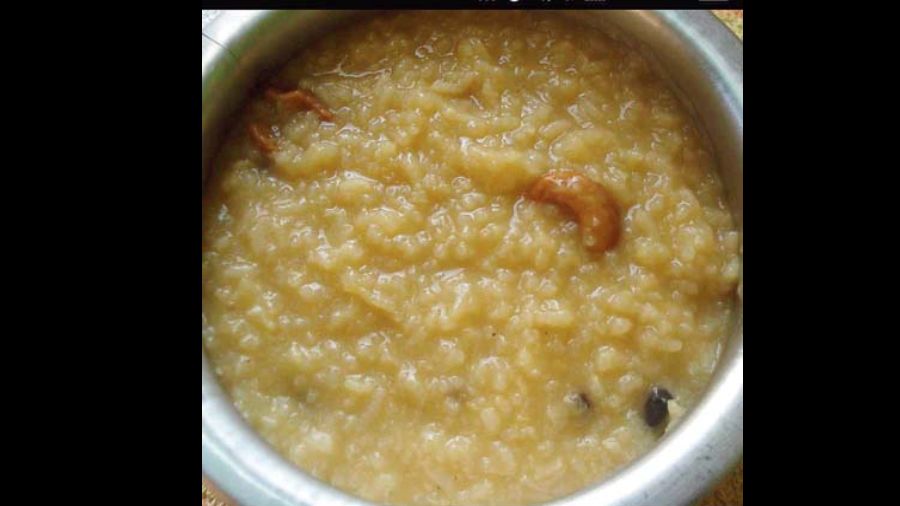 ROAH KI KHEER
INGREDIENTS
• Sugarcane juice: 4 cups
• Rice: 1 cup, cooked
• Cardamom powder: 1/2 tsp
• Raisins: 1/4 cup
• Cashew: 1/4 cup
• Ghee: 1tsp
• Black salt: A sprinkle
METHOD
• Mix sugarcane juice and rice together and bring to a boil.
• Reduce the heat and simmer for 10 minutes or so till the sugarcane juice is slightly thick and syrupy.
• Add cardamom powder to it.
• Heat ghee and fry raisins and cashews till slightly brown.
• Add to kheer, add a sprinkle of black salt and stir well.
• Keep in the refrigerator and serve chilled. Traditionally it was kept in mud pots immersed in water to cool.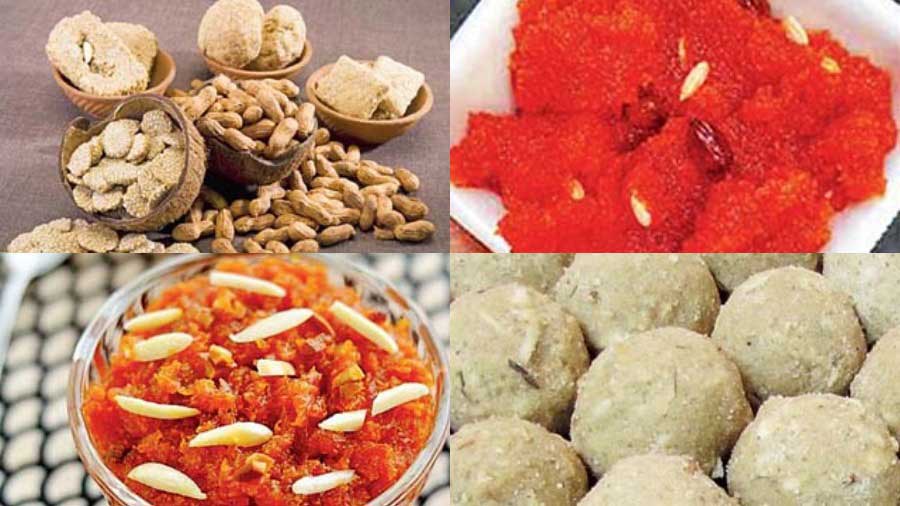 There are also other traditional dishes without the mention of which the festival would be incomplete. One of the dishes for which foodies wait for the winter season or Lohri is Gajar Ka Halwa. The others for the occasion are Aate Ke Laddoo, famous as Pinni in Punjabi, a roasted sweet made with wheat flour and chopped almonds laced with pure ghee and edible gum (commonly prepared with melted jaggery), Rewri (trust us when we say this, this bite-sized sesame and brittle sugar snack is addictive), and Gur Ka Halwa (a handful of ingredients doused in unconditional love and generous doses of homemade ghee, semolina and jaggery).
Besides the effort of trying to stay warm, another way to burn off all these toothsome edibles is through enthusiastic folk dancing. Whether it is bhangra for the men or giddha for the women, shaking a leg around the bonfire to the hypnotic beat of the dhol, is an essential part of celebrating Lohri.
Every year, IHA Foundation, Kolkata, and the Ahluwalias celebrate Lohri, which is an event specially curated by me for Calcuttans to feel the traditional flavour of Punjab and to promote interfaith culture and spread the spirit and message of universal brotherhood. This annual Lohri festival is celebrated in the city to create an opportunity for the people of Calcutta to relive and be associated with the lost traditions, lost recipes of Punjab and its heritage. There is profound symbolic value in the opportunity to experience something together as community. However, owing to the raging pandemic and following the regulations and restrictions over celebrations and adhering to safety protocols, we with a heavy heart will not be celebrating the festival this year.
We have faced a lot over the last two years and many have lost someone dear to them. We, as humans, need to stand together with each other and hold each other's hand as we face yet another bridge — of the third wave — that must be crossed. Let us burn the evils that we all have faced in the bonfire of Lohri this time and sacrifice big celebrations this year and commemorate festivals in a simple and personal manner. However, to keep the tradition of Lohri alive, I, therefore, decided to share some old recipes with Calcuttans.
Satnam Singh Ahluwalia is the food curator at Options Unlimited,
Calcutta. He can be reached at opts.unlimited@gmail.com or satnam.kolkata@gmail.co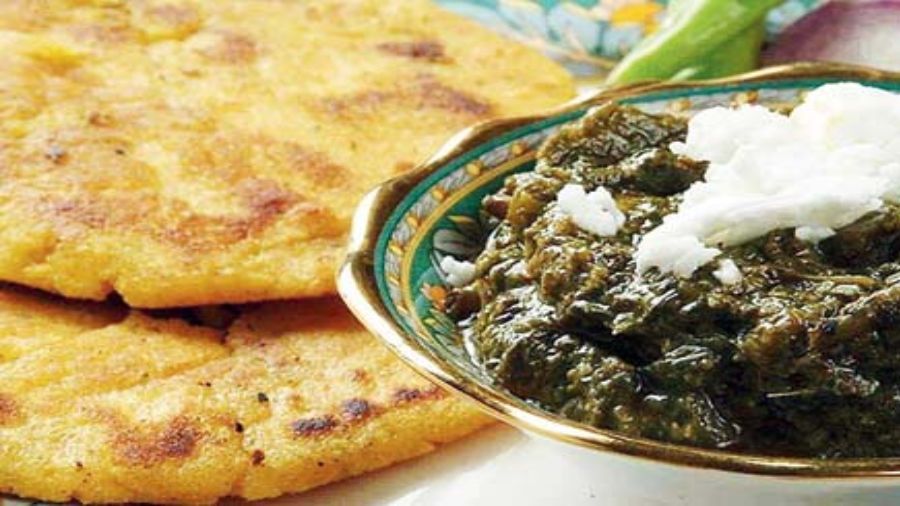 SARSON KA SAAG & MAKKI KI ROTI
INGREDIENTS
#For the saag
• Sarson ka saag (mustard leaves):5 bunches
• Spring onions: 1 bunch
• Paalak (spinach): 1 bunch
• Bathua (pigweed): 1/2
• Soya: 1/2
• Methi (fenugreek): ½
• Makki ka atta: 50g
• Jaggery: 50g, grated
• Ginger: 50g
• Garlic: 50g
#For tempering
• Desi ghee: 4tbsp
• Hing (asafoetida): A pinch
• Onion: 3, chopped
• Garlic: 12 cloves
• Green chillies: 10
• Tomatoes: 3 (pureed/finely chopped)
• Salt: To taste
• Cumin: 1.5tsp (crushed), roasted
• Red chilli powder: 2tsp
#For garnishing:
• Ginger: Julienned

METHOD
• Clean and wash the mustard leaves, spinach, spring onion, bathua and methi separately in running water.
• Roughly shred leaves and finely slice stems. Discard the hard stems.
• Remove and discard the stems and wash green chillies and chop them finely.
• Scrape, wash and roughly cut half of the ginger; cut the rest into very fine juliennes.
• Peel, wash and chop onions and garlic finely.
• Put the mustard leaves, spinach, bathua and green chillies in a heavy-bottomed pan, add chopped ginger, salt and water.
• Bring to a boil and simmer until tender (do not cover).
• Remove, drain and reserve the excess liquid if any.
• Remove the pan from heat and churn with a madhani (wooden hand blender) or alternatively you may put the drained leaves in a blender and make a coarse puree.
• Transfer the puree to the heavy-bottomed pan, add makki ka atta, red chilli powder, remaining chopped green chillies and grated jaggery. Mix well.
• Return to heat and add the reserved liquid.
• Simmer, stirring occasionally, for 30 minutes. Adjust the seasoning.
#To prepare the tempering
• Heat ghee, add hing (asafoetida) along with chopped onion and fry till translucent.
• Saute garlic till light golden brown, add green chillies, roasted and crushed cumin and red chilli powder. Saute over medium heat, add tomato puree saute till ghee oozes out.
• Bring the simmering sarson ka saag to a boil and pour on the tempering. Stir to serve.
• Remove to a bowl, garnish with juliennes of ginger.
• Serve Sarson Ka Saag hot with dollops of white butter along with Makke Ki Roti.