Let's go nuts
Nuts are a nutritional powerhouse during the festive season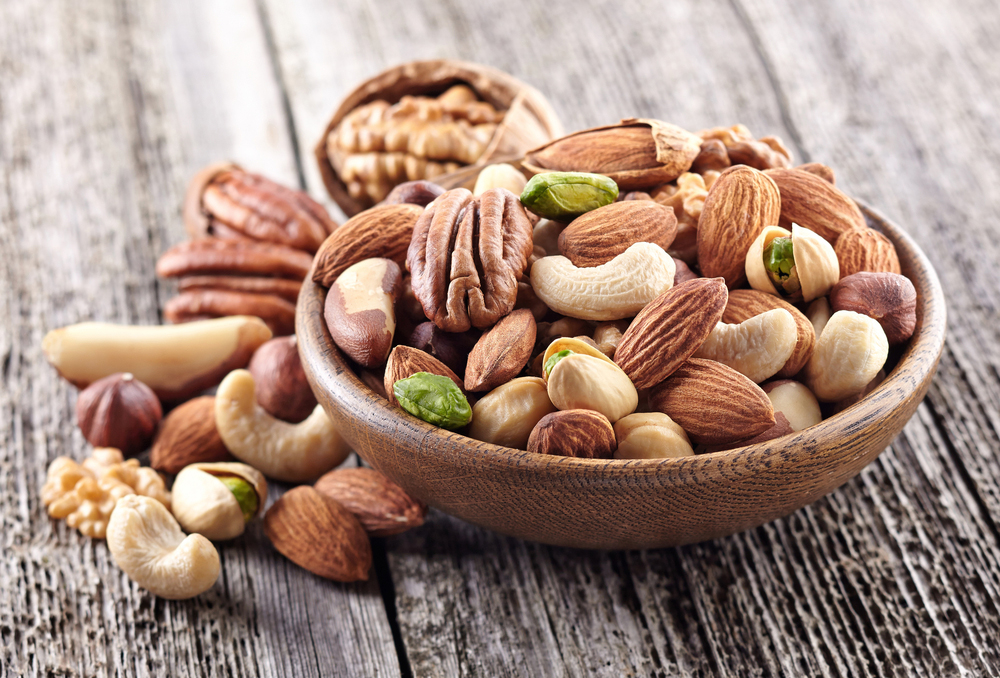 ---
---
So the gleeful festival of lights, Diwali, is upon us. As with all festivals and observances, there are certain perceptible rituals that symbolise the festival, such as cakes for Christmas, biryani for Eid, bhang for Holi and so forth. For a festival as widely celebrated as Diwali, there are multiple profound symbolisms that remind us of the festival. In the north of the country, it's observed as the beginning of winters whereas in Gujarat it is actually celebrated as the end of the year. In the south of the country, people start their Diwali day with an oil bath whereas in the east, Diwali most often coincides with Kali Puja, which is celebrated with traditions very different to that of Diwali elsewhere.
Regardless of where you are though, and whichever Diwali you celebrate, food forms an inherent part of the festivity, like most other festivals. Another thing common to all parts of the country with regards to Diwali celebration is the culture of going to one another's houses and offer sweets and more often than not... nuts. Whereas the link of nuts and festive celebrations might not be completely clear-cut yet, but the fact is that a box, plate or bowl of dry fruits and nuts is almost synonymous with Diwali celebrations. In fact, in many cities and towns of the country, especially in middle-class households, it is the only time of the year when dry fruits and nuts are seen in kitchens and food plates since they come as gifts.
While going down the line on what topic I should choose to write upon in my column for this month, I thought why not try and understand a little bit about the humble food group of nuts and seeds and find out more about its fascinating story and the various culinary and other uses. Also, do believe me when I say that you will be really surprised with many a facts and figures about the humble and yet aspirational, traditional yet most modern — the nut.
History
So let's start with trivia: If I were to ask which is the oldest known tree fruit in the world, most would probably not pick walnut as the answer. Truth is, walnut is the oldest known tree fruit dating back to 10,000BC. Historians broadly agree that almond, which finds mention in the Old Testament, is among the earliest cultivated foods, found in excavations in Cyprus and Greece. In a recent archaeological excavation in Israel, it was found that even 78,000 years ago humans used to eat nuts as a major part of their diet. At least seven types of nuts and a variety of primitive nutcrackers were discovered at the site. Suffice to say, from the prehistoric man to the slaves of the medieval world right to the snazzy specialty grocery shoppers of today, nuts have been well consumed throughout history and for good reason too.
Why nuts?
There are these 'super food specialists' today that disagree on everything. Some harp on the benefits of breakfast, some say it's absolutely non-essential, some want all of us to have high-protein-no-carb diets while others say there is nothing better than dal and rice at night. There is one thing that all nutritionists and food scientists, all nursery teachers and yoga gurus agree vehemently on — the universally positive dietary effects of nuts on the human body and that all of us should try and consume nuts as a part of our daily diets.
From the early human point of view, imagine having something energy-rich and delicious to eat that you didn't have to hunt or track, also that could be dried and eaten during winters, as well as something that could be used as a meal, a part of the meal or fat source that was versatile and easily transportable. Cut to today, not really going into polyphenol levels and oxidative stress, I think we can all conveniently just agree on the fact that nuts are high in good fat, low in carbs and a great source of almost all nutrients, including vitamin E, magnesium and selenium.
Culinary uses
Well, another trivia then. Did we know that the culinary commonality of 'nuts', as we know them, ends at their botanical definition — that of an oily edible product found inside a hard outer shell. In reality, nuts can be either seeds, fruits or even legumes. Almond and walnut are technically seeds; peanut is veritably a legume that grows under the ground while hazelnut is a true botanical fruit.
Culinarily, the nuts are really wonder foods which are extremely versatile, easy to store and cook and come to think of it, how would someone really make a nut taste bad? Apart from the nut butters such as peanut butter or almond butter, nuts are majorly used in almost all cuisines across all courses of the menu. The most famous Waldorf salad has walnuts as the essential component. Ajo Blanco, the iconic Spanish almond soup, is another great example of the versatility of nuts.
In main course and desserts, there are multitude uses of nuts across cuisines, almost all Indian gravies use some or the other nut such as cashews for makhani gravies, poppy seeds and melon seeds for white gravies and so forth. Most Middle Eastern and Arabic foods use nuts in one form or the other, especially in desserts. Roasted nuts are a favourite bar snack all over the world while coconut forms a significant part of all coastal cuisines, all over the world. In India, coconuts have religious and spiritual significance as well.
A recipe
Nuts are truly a chef's best friend and we just love to create different foods, given the versatility and also the nature of nuts, to increase the culinary perception of a dish. I could rattle down a thousand recipes that have nuts as a major component but since it's Diwali, I thought to give the recipe of something elaborate and exciting, a perfect post-dinner dessert and also something that can use up some of the nuts that will come your way during this truly 'nutty' season. Also, this dessert can be made well in advance and finished at the last moment, just before serving.
The nuttiest almond, pistachio, walnut, coconut and cheese tartlets
For the sweet dough

Butter: 200g
Sugar: 100g
Flour: 300g
Ground Almonds: 50g
Egg: 1
Mix the butter and sugar, add the egg, almonds and the flour. Do not over mix. Chill for a couple of hours, then roll and line the tart mould. Bake in a moderately hot oven (180° Celsius) till half-baked, around seven to 10 minutes.
For the filling
Butter: 100g
Sugar: 50g
Almond powder: 50g
Pistachio powder: 50g
Walnut powder: 50g
Egg white: 50ml
Flour: 10g
Mix the butter and sugar. Add the egg whites, add all the nuts and flour and mix briefly. Fill in the already pre-baked shells and bake till golden, 15-20 mins at 180° Celsius. Take the nut tarts out and cool.
For the topping:
Cream cheese: 50g
Sugar: 10g
Whipping cream: 25ml
Whip all ingredients together. Use to garnish the cool nut tarts. Serve as a post-dinner dessert at room temperature. This is a please-all dessert in true sense. The tarts can be made in advance and frozen. Just reheat before service.
Here's wishing readers a truly happy and prosperous Diwali. May we all eat well, stay healthy and cook more!
Vikas Kumar is the executive chef of Flurys. You can reach him at vkumar@flurys.com