Japan on the plate
From a Michelin-starred ramen restaurant to home-made udon noodles, this country is a foodie's delight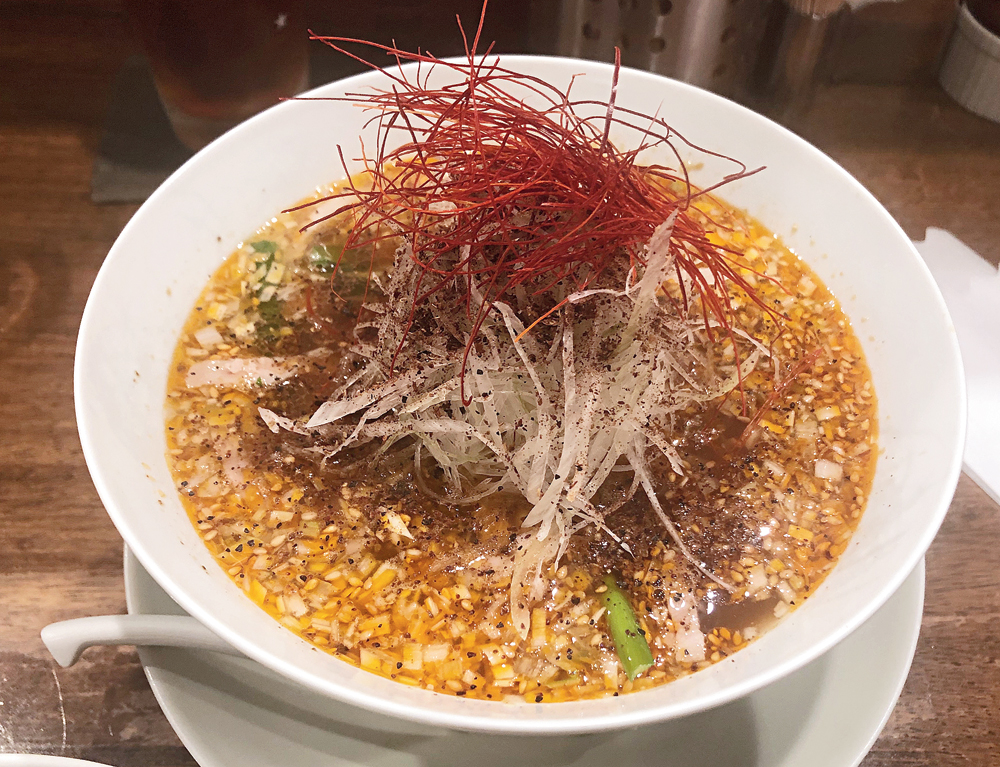 ---
---
Would you queue up for two hours to eat ramen? Neither would I. Add a Michelin star to the mix, and I, for one, would be tempted. But who stands in line for that long voluntarily? No one in India. But everyone in Japan. The mark of a good restaurant is how long the line outside it is. And when the said restaurant serves a bowl of noodles for just $10 or so, one needs to see what the hype's all about.
That is how we found ourselves standing in line at Tokyo's Nakiryu, one of the first ramen restaurants in the world to be awarded the coveted Michelin star. Nakiryu's dinner service starts at 6pm. Like most ramen places, no reservations are accepted. Given that the restaurant has only 10 seats, we thought it best to get there by four in the afternoon. Those unfamiliar with Tokyo's dining scene might laugh at us for being excessive, but five eager beavers were already waiting ahead of us in line. These people were veterans of eating out. As we approached the line, I heard talk of which ramen toppings would best complement which broth and whether the grilled smokiness of thick pork slices was better than the melt-in-the-mouth succulence of thin ones. I had found my people!
One of our fellow diners was a tourist like us. He had been in Japan for a month already and had spent a chunk of it camping out in front of various Michelin-starred restaurants. He had been to all the Michelin-starred Tokyo ramen restaurants and had chosen Nakiryu for his last meal in the country. That was validation enough for me to remain standing in the miserable cold for two hours.
Ten minutes before opening, a waiter brought menus to the first 10 people. The doors opened promptly at six! As we entered the restaurant, I glanced back to see the line snaking away and doubling back across the opposite pavement.
Naturally, Japan has innovated and made the order-taking process extremely efficient. Inside was a vending machine, where we simply put in our money, punched the buttons for our items of choice —noodles, broth, toppings — and sat down at the counter to watch the chefs do their magic.
I got a tantanmen, a spicy Chinese-influenced dish with minced pork. My additional topping was the ajitama, a soft-boiled egg. As soon as you puncture the egg, the scrumptiously gooey yolk spreads all over and adds a silken, velvety texture to the noodles.
I had read somewhere that to do justice to ramen, one had to finish a bowl in under seven minutes. Throw your Western manners out of the door now. Proper ramen etiquette demands that one actually slurps the noodles up. This has two advantages. It cools the noodles as you slurp while also aerating them. It didn't take me much effort to finish the best ramen in the world in under seven minutes. The meat flavours, the freshness of ingredients, the textures complementing one another… I'm salivating just thinking about it.
Fruits of labour
My interest in all things Japan has been growing since my early 20s. The attention to detail, to do even the simplest of tasks, such as washing dishes... well! The cuteness of anime characters. The cherry blossoms at the first Mrs. Magpie were a nod to my fascination for Japan.
When well-travelled people tell me that the attention to detail in my cupcakes and the cute animal toppings remind them of Japan, I tell them it is no coincidence. Kawai is the term they use to describe cuteness. The countless anime shows I have seen lend themselves seamlessly to Mrs. Magpie's kawainess.
If you are an anime watcher, have you found yourself starting to drool during when the character whips up an amazing meal? The meat sizzling, the bubbling sounds as the rice boils, or when the characters cook a daring bowl of kare, what we know as curry, often made me wonder why I hadn't gone to Japan yet. It helped that I had recently eaten the most amazing Kaiseki dinner at the Japanese consul general Masayuki Taga's house. With Masayuki-san himself giving us advice on where to go and what to do, a month-long trip soon became reality.
I knew there would be lots of things to discover and new kinds of foods to try, but even I was surprised when I discovered this fruit store called Sembikiya. A casual stroll led me there. In its aisles were melons, mangoes, grapes and pineapples. It was a perfectly normal, if slightly chic, fruit store. The fruits on display looked exquisite, gleaming with good health. I then saw the prices. A musk melon for $195! Yes, that was the price of one melon. Everywhere I looked, I saw prices that made my eyes pop. A box of cherries for $160. There were 1… 2… 24 in all, which meant that a single cherry was about $7. Who could afford this? I wouldn't be able to sleep if I knew I had a $200-melon in the fridge.
There is a valid reason for the prices. Farmers in Japan take excellent care of their crops and Sembikiya farmers take it up another notch. Not to discount fruit growers elsewhere, but where on earth would melons be grown with their own individual umbrella hats to shield them from excessive sun? As a melon plant starts bearing fruit, farmers monitor the progress of each and every melon. Those that are thriving are allowed to grow. Those that aren't doing too well are discarded. By the end, a plant has only one melon remaining. This is done so that all the nutrients are funnelled to the star melon and not exploited by the average ones. The result is melons that look like they belong in a museum.
After the growing is done, transporting is still a risky business. As a businesswoman whose income depends on catering as much as it does on her shops, I am all too familiar with the pitfalls of transporting fruit. Even if this is Japan, there must be that occasional melon that tumbles off, right? Yet, no melon in Sembikiya bears a single blemish. I tried asking a salesman where the not-so-perfect melons go, and he led me upstairs.
It's a Sembikiya cafe. I told the salesman I am afraid to look at the prices. He assured me it will not be as expensive as downstairs. When a melon arrives at the shop with even a little bruise, it's not considered aisle-worthy. Luckily for me, it finds itself served in a far more affordable fruit parfait at the cafe. The cafe also serves fruit salad, melon with ice-cream, mango ice-cream and even fruit sandwiches. The melon is to die for. Perfectly juicy with the right bite. The apple is good, but even the best apples can't taste like heaven. The kiwi is plain average. How is it that in this temple of perfection, there's room for average? The waitress says the kiwi is not from Japan.
We are family
Tonkatsu is Japanese comfort food. Simply put, it is a pork cutlet. I have seen it everywhere, but our Airbnb host suggests we try it at Katsazen. It's supposed to be fancy, on top of a building that houses Barneys New York. When our host called to make a reservation, someone says we can just show up at 1.30pm.
We were on time, but when we reach the floor, we went round and round looking for the restaurant. Some restaurants have their names written only in Japanese. Others have no names at all. By the time we spotted what we hope is Katsazen, it is 1.32pm.
This is Japan. Two minutes late is the same as three hours late. We had to return the next day. The restaurant has a staff of four: father, mother, son and daughter. The father is the head chef and brings with him 55 years of experience. The son is the sous chef. The daughter, who speaks English, manages the front of the house, and the mother waits tables.
They reminded me of my family. I have a great relationship with my parents but have always told them I would never work with either of them. Growing up, I said I would not do anything food-related, especially with cakes! It looks like the joke's on me.
When I opened my first Mrs. Magpie, I still maintained I would never do anything that involved my parents, and now my catering business is a collaboration with my mother's Khawab — she provides the Indian food expertise and I the continental.
When I started looking into Mio Amore's cake designs, I thought my father and I would drive each other up the wall. But it has all been quite seamless. Yes, they are my worst critics, and we disagree on more things than we agree, but we make it work. Still, we are nothing like this family. Watching them work in synchrony is like viewing art.
It is a beautiful restaurant. The wood is dark and warm. The plates are ceramic. We had read in the reviews that some diners were chastised by the owner for flouting the no-photography rules, so we refrain from taking pictures. However, when the Instagram-worthy dishes start appearing, I asked the daughter if photography is really forbidden. She said we are not allowed to take pictures of the kitchen and the chef, but food photos are fine.
We were first served a complimentary cup of genmaicha. A lot of restaurants in Japan offer their customers hot or cold tea instead of water. The tea was followed by a lovely salad dressed with a sesame-infused vinaigrette. More dishes were added to our place settings — first a dish with a selection of Japanese pickles known as tsukemono, followed by a lidded lacquer bowl with piping hot miso soup and a bowl of rice. Finally the tonkatsu arrived with a mountain of finely julienned cabbage. It was so good. The salad too — so fresh, so crunchy. I started talking to this family, this family that reminds me of mine. They were no longer taciturn. By the end, the chef emerged from the kitchen and happily posed for photos.
Home-cooked fare
We had eaten incredible food at restaurants, but I was also looking for that authentic Japanese home-cooking experience. I wanted to be able to recreate a piece of Japan back home after all. Fortunately, our friends, the Shibasakis, came to the rescue.
The first night at dinner, Mrs Shibasaki made tempura. Now, give a Bengali some fried food and you'll be their friend for life. There's something magical about tempura. A lot of us know that when food is fried at the right temperature of 165-170 degree Celsius, it absorbs less oil. Mrs Shibasaki teaches me a little trick to use ice cold water in the batter, which reduces the oil absorbed. The result was light, fluffy fried tempura that does not ooze oil.
We went to the Shibasakis' cabin in a beautiful mountain town called Togakushi. We were excited because the town doesn't even feature in our guidebook. We were experiencing Japan like the Japanese. The little-known ski-town is full of shrines and has just begun attracting foreign tourists. On our walk to a shrine we stopped by a soba softy shop. We heard a group of French tourists and promptly reported to our hosts that their little patch of heaven seems to be getting increasingly popular.
Noodle chef
The next day started early. It was time to learn how to make udon noodles from scratch! I measured out the ingredients and mixed the dough. It can't be too tacky or too dry. The perfect texture should feel like your earlobe, says Mr Shibasaki. The most fun part is wrapping the dough in several plastic bags and proceeding to 'step' on it. Quite the workout! We rolled the dough, dusted it with generous amounts of flour and folded it up several times to cut it up and boil it in a great big pot outside, the way it used to be done in simpler times. Mrs Shibasaki quietly went about making a delicious Japanese broth to have our noodles with afterwards. There was much laughter and sake-sipping.
It was my idea of a perfect day. I couldn't wait to get back to my own kitchen.
The author is the proprietor of Mrs. Magpie