Going back to the culinary roots with Chutney Day Celebrations
Move over pizza and cupcake days, it's time to show some love to and feel proud of our desi delicacies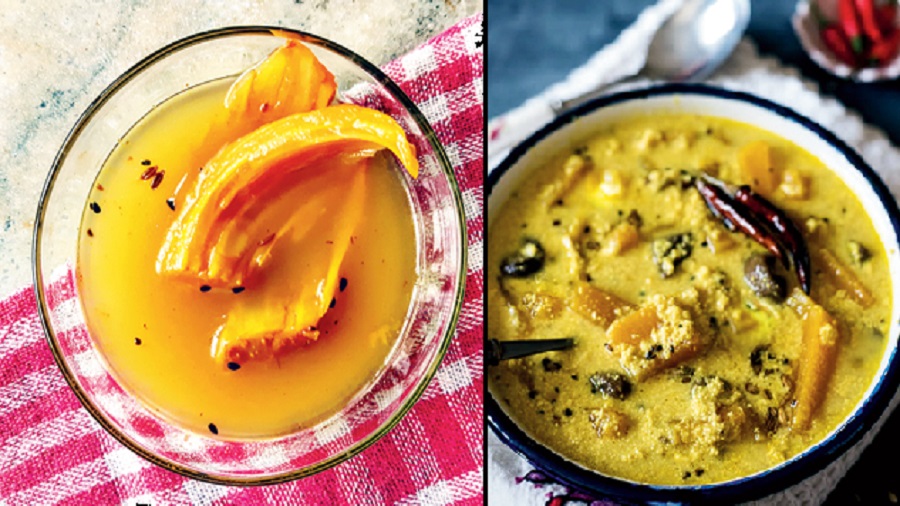 (L-R) Chaltar Chutney, Maachher Deem-er Chutney
Sourced by the Telegraph
---
Published 23.09.20, 10:29 PM
|
---
Suddenly, Chandu ki chacha is in demand for all the chutneys he had offered Chandu ki chachi! No, not kidding. Instagram is actually abuzz with a festive feel, as fervent notes are being exchanged on what chutneys to make and how. Yes, chutneys are in full focus this week, as food bloggers and food enthusiasts across India are geared up to celebrate Chutney Day on September 24. Move over pizza and cupcake days, it's time to show some love to and feel proud of our desi delicacies.
Chutney Day is one of the 10 #IFOD or Indian Food Observation Day celebrations that started since 2016. The idea is to celebrate indigenous ingredients and dishes that are integral to Indian dining practices — from papads and wadis (boris for Bengalis) to chutney, chai pakoras and even aam achar! And it all began when culinary chronicler and F&B consultant Rushina Munshaw Ghildiyal returned home after spending a day at a Macaroon Day event in Mumbai back in 2016.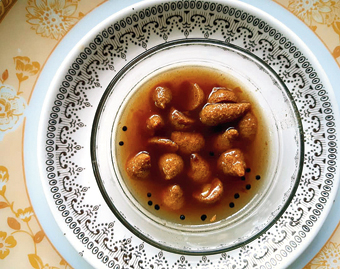 "In the evening when I was telling my husband about the event, he said how come you never celebrate any Indian food with so much zeal and enthusiasm? Around that same time we had this Good France Week, when French cuisine is celebrated across the globe. I also spotted #PakhalaDivasa trending on Twitter, which is a celebration of the Odiya version of fermented rice. All these made me think and finally inspired me to come up with the idea of doing Indian Food Observance Days. The first food day observed was the Aam Achar Day in April. Then in May, we celebrated Masala Day and Papad-Wadi Day, and so on. Now there are 10 different days celebrated and we kind of follow a seasonal calendar," recalled Rushina, a popular name among Instagrammers for her lockdown Insta Live series Spice Chronicles.
Over the next four years, the idea has caught on with food lovers across social media. Calcutta-based food blogger and recipe curator Sayantani Mahapatra is all praise for an initiative like Chutney Day. "The diversity of food that we have in India is incredible. If you take just Bengal, you will be overwhelmed by the sheer variety of chutneys found across the state. From the coastal regions to Rarh Bangla or the areas around Chhotanagpur Plateau — you will find different recipes and formats of chutneys. It's not just your tomato-aamshotto chutney or a raw mango chutney. I come from Midnapore and we have a kind of fish roe chutney that is delicious. A lot of people in Bengal are not even aware of these chutneys. Thanks to this Chutney Day, at least some people have known about our indigenous chutneys. Now this needs to move out of Instagram and become a household celebration. That way, more documentation, more conversations will happen around our own food," says Sayantani.
According to Nalini Moti Sadhu, the chef-founder of Matamaal restaurant in New Delhi, popular for serving Kashmiri cuisine, chutneys are a very important part of Indian food. "Every household has their own chutney in India. Of course, it is a celebration of our regional cuisines and how each one of us respond to the ingredients available to us and make a delicious chutney out of them," says Nalini, who hails from a Kashmiri Pandit family and makes the chutneys at her restaurant herself.  
"Chutneys might occupy a minuscule spot of real estate on the thali, but Indian meals would be incomplete without them," writes Rushina in her Instagram post, announcing a series of Insta Lives featuring culinary experts from across India talking about chutneys from their regions. These punchy condiments span the spectrum of flavours — hot, sour, salty, sweet, bitter — and millions of combinations thereof.
They also come in a wide range of textures and colours.
For food historian and chef Shri Bala from Chennai, the moto behind Chutney Day is to celebrate the treasure trove of regional cuisines we have in India. "Chutney is a common name, but the variations found across the country are overwhelming. So many flavours, so many textures and taste…. Going back to the roots and tracing the roots — that is the basis for this celebration," says Shri Bala.
Interestingly, this back-to-roots trend has gained a lot of steam during this Covid-induced lockdown, observes Rushina. "During the initial months of lockdown, most of us were forced to cook with very basic and limited supply of vegetables and other ingredients. What began as a necessity has given way to genuine interest and exploration of regional cuisines over the next few months. Today, people are actually taking pride in and showing off local food on their Instagram feed. And it's a trend here to stay," she explained.
The need to document regional and hyper-local cuisines and prevent the loss of traditional recipes with the loss of the elderly members of our families is also another major reason to promote desi food. Since most of Indian kitchen wisdom is passed on orally from one generation to the other, the age-old recipes stand a risk of getting forgotten if not documented properly. "We are celebrating Indian food days so that we don't forget all the different variations of these food present across different regions," says Kashmiri Barkakati Nath, an Assamese food promoter and consultant.
The celebration of Indian Food Days like a Chutney Day is also paving the way for making desi kitchen equipment cool. "Take the example of sil batta or the traditional mortar and pestle," says Rushina. The message that there is nothing to be ashamed of our own kitchens has never been so clear and loud. It is not just a celebration of one dish. It is the celebration of Indian culture and culinary heritage, alongside the diversity of our nation. "After all, celebrating Chutney Day is a way of going back to our roots and deep-diving into our local cuisines to relive and revive lost recipes, and reconnect with our own food," signs off Kashmiri.
Annual Indian Food Observance Day Calendar
Dal Divas: January 21 #DalDivas
Subzi Tarkari Din: March 31 #SubziTarkariDin
Achaar Day: April 22 #Achaarday
PapadBadi Day: May 13 #PapadBadiday
Masala Day: May 20 #MasalaDay
Pulao Biryani Day: June 24 #PulaoBiryaniDay
Chai Pakoda Day: July 30 #ChaiPakodaDay
Chutney Day: September 24 #ChutneyDay
Laddu Day: October 15 #LadduDay
Indian Breads Day:  December 9 #IndianBreadsDay
Chutneys from East, West, North and South Kashmir
"For us Kashmiris, just like Bengalis, we cannot compromise on our food. At lunch we discuss what's for dinner. Back in Kashmir, apart from meat, the basic food used to be haak (greens) and rice. That's very simple food. So, we needed something to lift that food up. And chutneys were the answer. My mother would go into the kitchen garden, pick up fresh mint and green chillies and make a last-minute chutney with rock salt in the mortar and pestle. Another all-time favourite was muli ki chutney — a mix of grated radish, a little curd and jeera, and sometimes a bit of walnut. If we had a full-fledged wazwan, with lots of mutton, then we would go for an onion chutney or Gundeh Chetin. And we also had walnut chutney, which was a bit expensive and hence made on special days," recalls Nalini Moti Sadhu of Matamaal restaurant in New Delhi.

Down South
"In south India the curry leaves chutney is a very traditional one. Even in our Shradh rituals where we pray for our forefathers, we offer this curry leaves chutney… the cultural significance is so great. For us, chutneys are not just accompaniments, it sometimes becomes the main dish. For instance, we have Thovoyal, a chutney made of dal which we mix with rice and eat. We also use vegetable peels for chutneys, just like Bengalis do," informed chef Shri Bala from Chennai.  

Northeast
"In Assam and Northeast India, we use chutneys made of herbs, fruits and berries that are available locally. So, these chutneys are very season-centric. Local herbs like man dhaniya or Burmese coriander and seeds like black sesame and perilla are often used for making chutneys. We also use a lot of mustard in our chutneys. Our meals are frugal, and chutneys are a way of making our meals tastier and appetising, enhancing the flavour profiles," said home chef Kashmiri Barkakati Nath from Guwahati.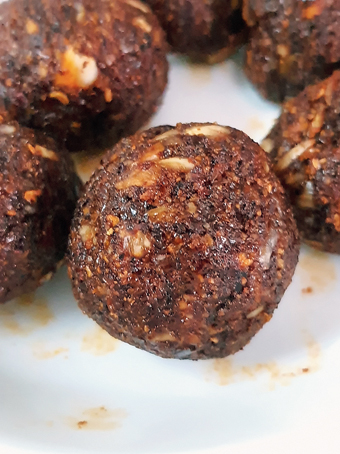 Gujarat
"The Lasaniyo or Lasan ni Chutney is a favourite from the Kathiawadi kitchens of Gujarat. Chilli bombs, spice bombs, flavour bombs… they are all of that. With just garlic, red chillies, a smidgen of cumin and salt — this can be used in so many ways," says culinary chronicler Rushina Munshaw Ghildiyal.
Ingredients
1 cup garlic cloves
3tsp Kashmiri chilli powder for the colour and flavour (either store-bought, or whole dry chillies toasted and then ground at home)
3tsp Reshampati chilli powder or any chilli powder for the hotness
1tbsp oil
1tsp cumin seeds (toasted and ground)
1tsp salt (or to taste)
Method
Mix everything together and pound in a mortar and pestle till it turns into a rough dough-like paste. Make small balls and store in an air-tight container.