Diwali Delights
Package these homemade goodies elegantly in gift boxes or serve them on a platter for a healthy 'muh meetha' at your gatherings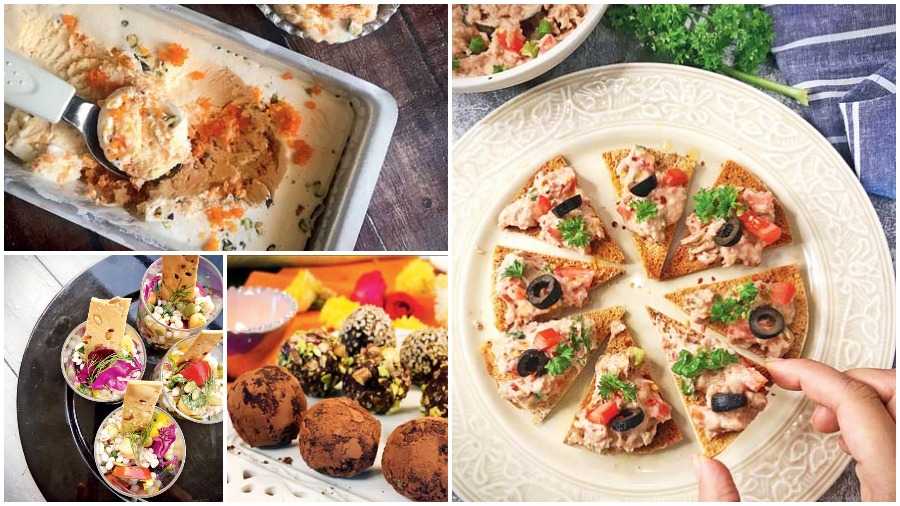 ---
Published 31.10.21, 04:02 AM
|
---
It finally feels like Diwali once again after a much-restrained celebration last year. Twinkling lights adorn every window, the markets are alive with festive cacophony and the stream of delectable sweets and goodies coming through my door every day seems to never end.
Talking of sweets, one of my favourite mithai are boondi laddus and I thought I would take them up a notch by turning them into a fun decadent ice cream creation. While one is more than satisfied after one laddu, this frozen beauty is loaded with saffron, pistachio and crumbled laddu and will have you craving a second scoop for sure! Mihidana, the micro cousin of boondi from Burdwan, tastes equally delicious.
This year, our Diwali gifts to friends are these addictive homemade truffles. Healthy and processed sugar-free while retaining the alluring charm of chocolate truffles. An added bonus, they contain oats, which no one will ever guess! Package them elegantly in gift boxes or serve them on a platter for a healthy 'muh meetha' at your Diwali gatherings.
Well, since I started with the meetha, I guess I'll end with namkeen. All's fair when it comes to food, love and celebrations. For me, (and I think I speak for most of us), Diwali parties are all about chitter chatter, playing taash and shaking a leg to those groovy Bollywood numbers… so who has time to eat a full meal or free hands to balance a plate? Enter finger foods!
And what's even better is when you adeptly convert a main-course dish into a finger food. Here's how I serve colourful grain-based salads in little glasses or cups — easy for guests to savour while enjoying the party entertainment without the hostess fretting over her lavish dinner spread going cold (how familiar does that sound).
Go on, get creative and convert chaats and Indian sabzi roti-based dishes into finger foods, just like I have done with this Mexican bean dip on pita. It could well have been a mini naan topped with a dollop of chhole or a chicken tikka on top!
Wishing you all a Diwali full of love, light and laughter.
BOONDI LADDU (MIHIDANA) ICE CREAM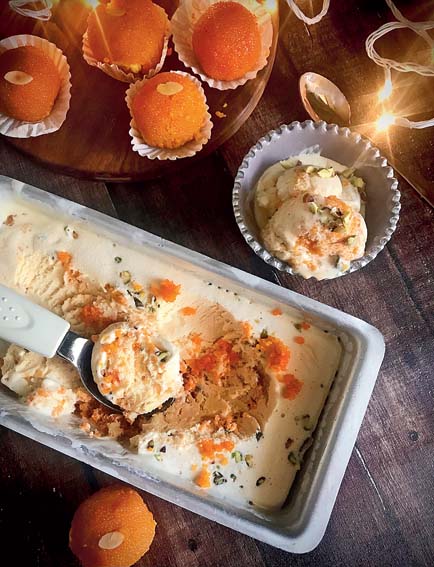 INGREDIENTS
ß Whipping cream, unsweetened:
1 cup (250ml)
ß Condensed milk: 150g
ß Cardamom pods: 2
ß Orange boondi laddus: 2
ß Pistachio (unsalted): ¼ cup chopped
ß Saffron (kesar): 8-10 strands
ß Milk: 2tbsp warm
METHOD
ß Remove the seeds of the cardamom and pound to a fine powder. Discard the skin. Soak the saffron in the warm milk and keep aside.
ß Whip the cream with an electric beater till you have soft peaks. Fold in the condensed milk, the saffron milk and the cardamom powder. Crush half a laddu and mix in, mashing it with the back of a spoon to release its colour and flavour.
ß Chill a freeze-proof glass dish or cake tin in the freezer. Pour in half the ice cream mix and sprinkle some crumbled laddu and chopped pistachio. Repeat with the remaining mixture, laddu and pistachio. Freeze for 6 hours or overnight till set.
HEALTHY DATE TRUFFLES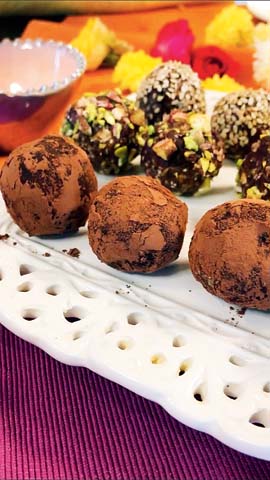 INGREDIENTS
ß Dates: 1 cup
ß Natural peanut butter: 3tbsp
ß Dark chocolate: ¼ cup, roughly chopped
ß Chia seeds: 1tbsp
ß Oats: 2/3 cup
ß Cocoa powder
ß Sesame seeds
ß Crushed pistachio
METHOD
ß Soak the dates in hot water for 10 minutes till soft. Remove the seeds. Drain.
ß Blend the dates in a blender till they are in small pieces. Add in the oats, chocolate, chia seeds, peanut butter and pulse till you a have a rough combined consistency.
ß Transfer the mixture to a bowl and using your hands, shape them into 1-inch balls. You should get about 15 pieces. Give the truffles a varied finish by rolling some in cocoa powder, toasted sesame seeds and toasted pistachio.
ß Refrigerate and store in an airtight container for up to a week.
Festive treats with a healthy twist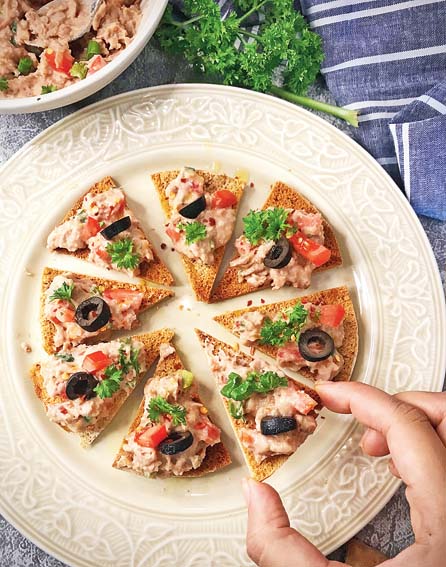 SPICY BEAN & PITA BITES
INGREDIENTS
ß Rajma: 1+½ cup, cooked
ß Thick yogurt (dahi): 2tbsp
ß Small tomato: 1, finely chopped
ß Onion: ½, finely chopped
ß Cumin powder: ½tsp
ß Garlic: 2 cloves, roughly chopped
ß Green chilli or jalapeno: 1, finely chopped
ß Fresh coriander or parsley: ¼ cup
ß Lemon juice: Of 1 lemon
ß Salt
ß Black pepper
ß Chilli flakes
ß Ready whole-wheat pizza bases: 2
ß Olive oil
METHOD
ß Heat a small pan with 1 tsp olive oil. Cook the onions, garlic and cumin powder for 2 minutes.
ß Blend the rajma, yogurt, onion-garlic mix, salt, pepper and chilli flakes to a rough paste. Add a spoon of water if required. Transfer the mixture to a bowl and stir in the chopped tomatoes, chillies or jalapenos, coriander and lemon juice. Taste and adjust seasoning.
ß Brush the pizza bases with olive oil and toast in the oven at 220C for 5-10 minutes or brown well on both sides on a hot pan. Cut into small triangles and top with the bean dip. Decorate with a slice of black olive and sprig of parsley.
BARLEY SALAD CUPS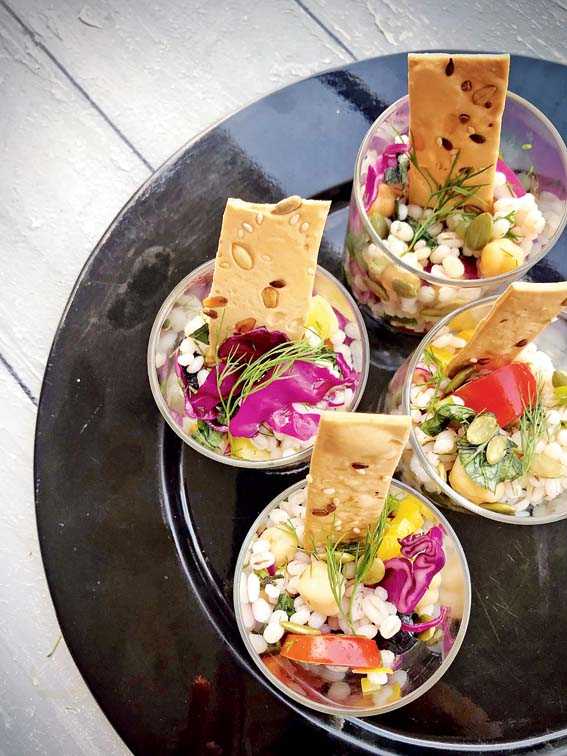 INGREDIENTS
ß Barley: 1 cup, cooked
ß Chickpeas: ½ cup, cooked
ß Purple cabbage: ¼ cup, finely sliced
ß Cherry tomatoes: ¼ cup, halved
ß Yellow peppers: ¼ cup, diced
ß Pumpkin seeds: 2 tbsp, toasted
ß Black olives: A handful, halved
ß Fresh mint leaves: Handful
ß Chopped parsley: 2tbsp
ß For the dressing
ß Extra virgin olive oil: 2tbsp
ß Honey: 1tbsp
ß Lemon juice and zest: Of 1 lemon
ß Salt: To taste
ß Black pepper
ß Lavash sticks: To decorate
METHOD
ß For the salad, combine all the ingredients except the pumpkin seeds in a large bowl.
ß Whisk together the ingredients for the dressing in a smaller bowl. Toss the salad with the dressing. Taste and adjust seasoning. Refrigerate for 30 minutes so the flavours blend in well.
ß Spoon into small glasses. Top with the toasted pumpkin seeds, a mint leaf and a lavash stick. Serve straight away.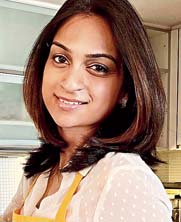 Calcutta girl Natasha Celmi is a culinary specialist and food stylist based in Bangalore. Find her on Instagram @natashacelmi or follow her YouTube channel Natasha Celmi