The year 2020, without an iota of doubt, has been pretty much a challenging and disruptive one. Among the few things that helped us tide over the difficult times and cheer up in the face of uncertainty and loss of loved ones, has been food. Here's taking the zeroes out of 2020 and bringing you 22 food trends that made life a lot better. Wish you a delicious and healthy new year! Sunday cooking
#DalgonaCoffee
Only a pandemic-induced lockdown could make this Korean whipped coffee go crazily viral on social media! A uberly sweet and frothy coffee — prepared by whipping hot water, sugar and instant coffee together for eternity and poured onto milk — made it up for all the fancy latte and cappuccino netizens were missing while quarantining. But what we loved were the Dalgona memes that came after! From Dalgona pigeons, goats and cats to desi tumblers and even whisky, cigarettes and dal chawal, the meme world had whipped up more fun than the "fyataano" (whipped) coffee (simply put by our parar kaku) itself.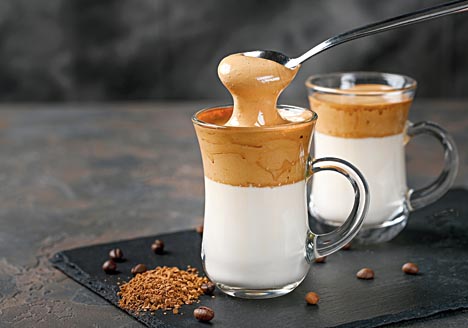 Dalgona coffee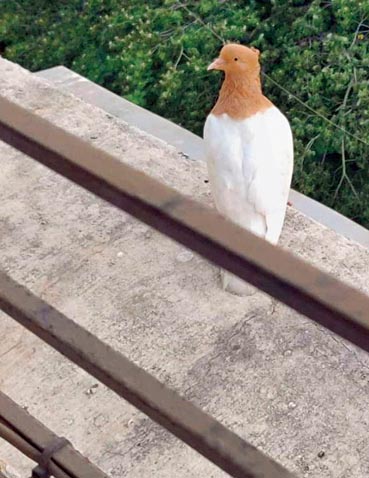 Dalgona pigeon
#ImmunityKadha
Forget tea, coffee. In 2020, kadha was easily our national drink. Almost force-fed by our moms and grandmoms, this concoction is made by boiling a whole bunch of herbs and spices and honey and what-not in water, and then gulped down or sipped slowly to "boost immunity" and "fight the virus". Now, no two households did follow the same recipe, and everyone claimed that theirs is the best! Even some restaurants offered fancy kadhas on their menus once unlock began. While Ayurveda does recommend certain immunity-boosting infusions for general good health, most of India kept blindly adding every spice in the pantry to the pot, hoping to create a miraculous potion to fight the pandemic. And amid all these #kadhachaos, did somebody say 'kadha on the rocks'? Well, cheers!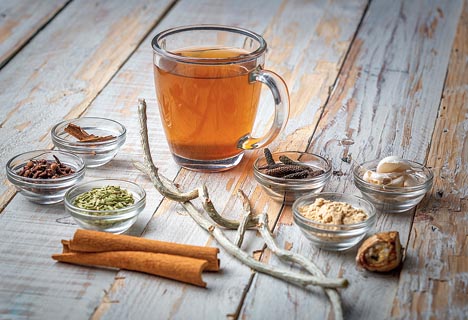 Kadha
#HealthyEating
Boosting immunity and staying fit topped the list not just for conscious eaters but almost all in 2020. This gave rise to all kinds of health food trends. Suddenly every nut and seed, fruit and vegetable were put to scrutiny for their intrinsic health quotient. Moringa (our humble old shojne dnata) became cool and #HaldiDoodh aka #TurmericLatte made a comeback.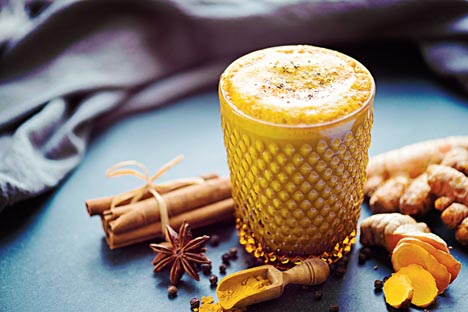 Turmeric Latte
#GharKaKhana
Perhaps the biggest food trend of 2020, home-cooked food was a Hobson's choice for all of us locked in our homes, without access to outside food, and that too for months! In a long, long time we haven't valued our home food so much, and then eventually got tired of, as in 2020.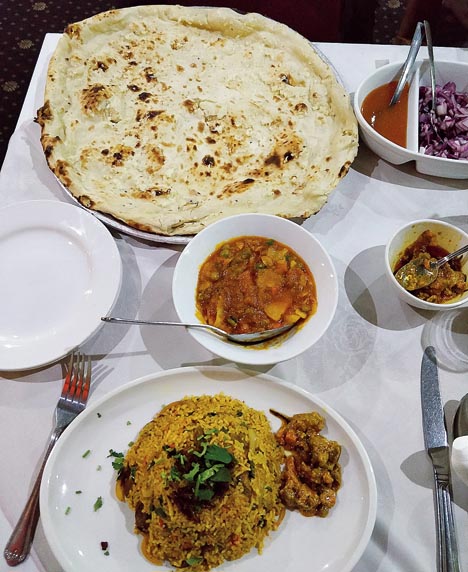 Ghar Ka Khana
#QuarantineCooking
That brings us to the next trend — #LearningToCook during lockdown. Yes, almost all of us, at some point in 2020, have walked into the kitchen and tried our hand at cooking. Those who were already good at it went for further improvement, while first-timers looked up the Internet, signed up for online cookery classes and vexed their moms, grandmoms and friends for some easy recipes to begin with. The results comprised delicious and some not-so-delicious meals. Note: We are not counting whipping dalgona coffee as cooking. No means no!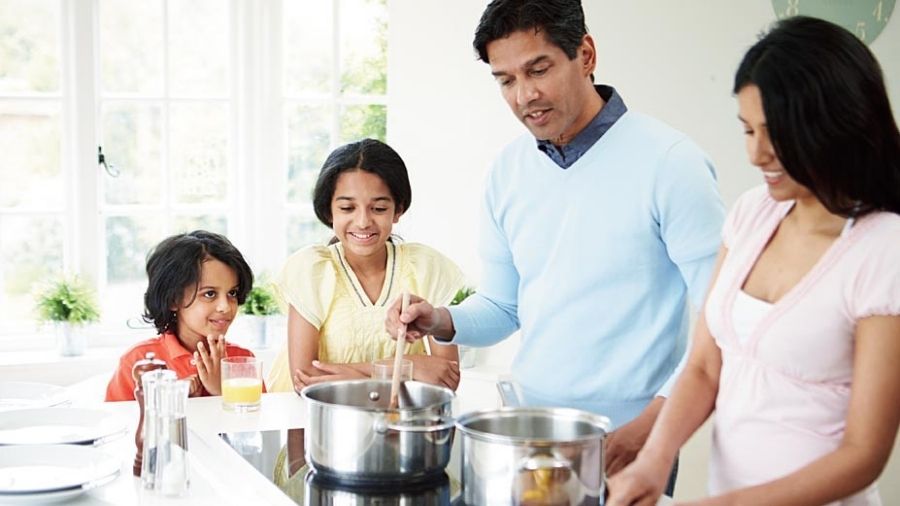 Quarantine cooking
#HomeChefs
The world went online, and so did home cooks. Dang! They turned home chefs! An entire breed of home chefs and their virtual restaurants, as well as cloud kitchens appeared in our food horizon. Along with them came a gamut of delivery services (some called them genies!) to bring one's ghar ka khana to another's ghar. And we believed in them and their hygienic kitchens. After all, who would be carelessly unhygienic in their own homes in such troubled times?!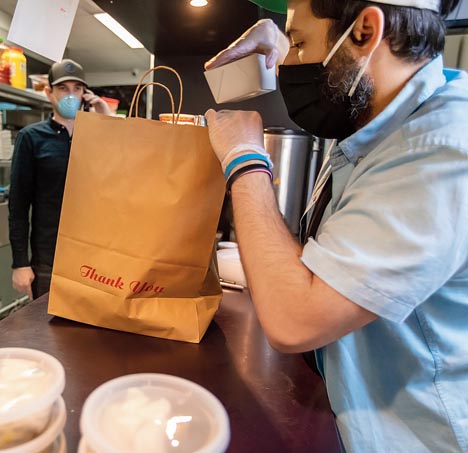 Home Chefs
#SanitisingFood
Hygiene in the kitchen took on a completely different meaning in 2020, and of course it involved going through an extensive santisation drill with every food item bought from the market. While some FMCG brands had celebrity chefs and influencers endorsing their food sanitisers on TV and social media, moms and grandmoms took recourse to ingenious ways of cleaning and sanitising with lemon, vinegar and potassium permanganate solutions. Any which way, cleaning up ingredients before cooking became a ritual like never before.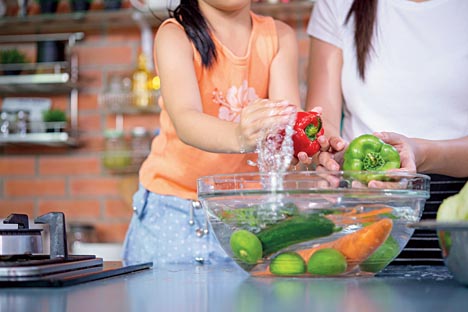 Sanitising Food
#GrowingYourOwnFood
Given all the time we had on our hands, why limit ourselves to only cooking our own food when we can literally grow our own food too?! Urban agriculture did see a spike as we started sowing green chilli and tomato seeds to begin with, only to be doubly encouraged at the sight of the saplings coming through. Our green fingers made themselves busy in an otherwise life in isolation, and our windowsills and balconies started getting greener with pots of microgreens, bitter gourds, eggplants et al. What a joy to pluck green tomatoes and a bunch of fresh mints to make your own salad! Needless to say that Indian start-ups responded with innovative and filthy-expensive PIY (plant-it-yourself) kits for us, the urban planters! #ChancePeDance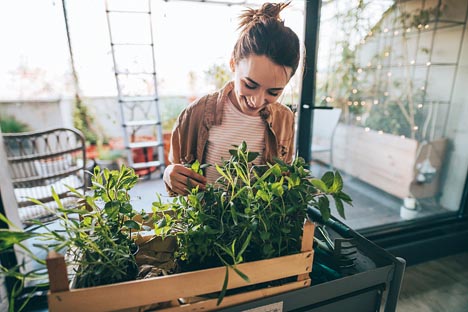 Growing Your Own Food
#ForagedFood
2020 also saw a turn of interest in foraging. A fundamental way of procuring food for most of our communities a few generations back, foraging for food is making a slow but steady comeback. This herb on your walkway, that fruit on the tree on your morning walk trail, those bulbous plant roots in your neighbour's backyard — food enthusiasts are returning to the bygone practice with two things to look for — uncommon and delicious food on the table, and a dash of adventure in an otherwise monotonous life!
#DesiFerments
Eating healthy, boosting immunity and all that jazz also led to a whole lot of discussion about gut health and probiotics. Which, in turn, whetted our curiosity about fermented foods. So much so that a pan-Indian, three-day webinar named Desi Cultures saw a motley and esoteric mix of national and international speakers including fermentation expert Sandor Ellix Katz discuss all types of Indian ferments — from pickles to vinegar, axone (yes, the fermented soybeans from Nagaland that shot into the limelight with the Netflix release of the same name) to our very own panta bhaat — with all the fervour. A renewed interest in Indian cheese (paneer) has also been fermenting vigorously in this lockdown. Desi Ferments: Pickles
#BrewYourOwnBooze
BYOB has got an entirely new meaning in quarantine times, as fresh interest in fermentation led to experiments in home brewing. From carrot kanji to watermelon kombucha, ginger-and-jaggery.
#HomeBaking —
#Sourdough to #DesiBreads
2020 stoked and awakened the dormant bakers in every alternate household as Insta posts got populated with pictures of home-baked cakes and pastries, puffs and quiche, sourdoughs and focaccia, alongside desi breads such as the fancy sheermals and khobarotis to the humble roti-parathas. Instagram also saw Indian Breads Day celebrations on December 9!
#VocalForHyperLocal
The initial months of lockdown forced us to depend solely on our local vendors for everything from fish, meat and veggies to pantry staples like paanch phoron or daaler bori. Over the months local and hyperlocal ingredients and food customs became a thing to brag about on social media. Plus many an initiative to support local farming communities and their produce saw netizens ditching those hypermart products for some rajma from the Tons valley in Uttarakhand, some honey from the Sunderbans in Bengal, or wild peppercorns from the interiors of Meghalaya.
#EatYourMillets
The Ragi Revolution is here and local millets like mandua and horsegram, jowar and bajra, jhangora and foxtail are being celebrated like never before. Indian millets are now increasingly being looked upon as superfoods and as such, their appearances on the social media walls are increasing as well.
#BabaKaDhaba
Hundreds of people turned up at Malviya Nagar to eat at this little dhaba after watching a video-gone-viral, where its
80-year-old owner had expressed his frustration for not being able to sustain during the lockdown. Following the tremendous response, many Instagrammers from across India started making similar videos of their local dhabas and eateries struggling to make ends meet in this Covid-affected world. Moral of the story: Do not underestimate the power of a common man with an Instagram account!
#ShootWhileYouCook
If you have a ladle in one hand, for the first or for the umpteenth time, chances are that you have a phone camera on in your other hand, shooting as you cook. Yes, 2020 has seen many of us document our own food and cooking, and then share them on social media platforms or foodies' groups or even upload them on YouTube. Food videos are a thing, and not just veterans but almost every other food enthusiast has started making them during the lockdown.
#LiveSeries
If lockdown limited our social interactions in person, we made up for it with all sorts of online connects. And the most popular of them has been the live sessions on Facebook and Instagram. Of course t2 led the way with FB Live cooking shows featuring Calcutta's best chefs. Across India, food-based Instagram Live series became an instant hit with netizens. Some of the popular ones include #HistoryOnAPlate by @historywali, #KnowYourIngredients by @kurushdalal, #SpiceChronicles by @rushinamg, #TheFoodWeb by @shivaniunakar and #CuttingThrough by @antoinelewis.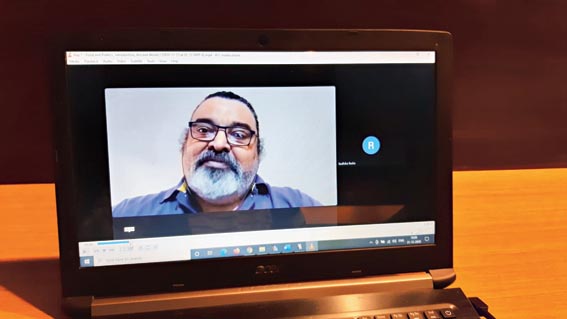 Food Workshop by Kurush Dalal
#StudyingFood
While studies shifted online, this lockdown also prompted many food historians and researchers to share their food wisdom over Zoom and Google Meet sessions. Thus started the popular Studying Food Workshops by archeologist and food historian Kurush Dalal, which saw hundreds of students from across India and abroad come together online to study food — food and archaeology, food and ethics, food anthropology, food and diasporic studies, food and politics, et al. Just like the students, the speakers and teachers also come from varied backgrounds and time zones. Similarly, #HOAP classrooms started by @historywali are attracting a niche crowd for topics ranging from Mughal Food to Mahua Trail, which has just started.
#MiniBites
While mini pancakes ruled the social media globally, in India mini idlis and mini pakoras were added to the repertoire with equal panache. Result: Cute-looking food on the plate and small bites to munch on!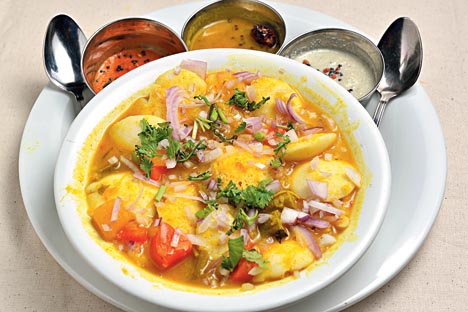 Mini Idlis
#SteelTheShow
What started on Twitter as a response to the issue of how under-represented our Indian kitchen utensils are in the crowd of fine cutlery and premium pottery on social media, took on the shape of a growing trend on Instagram as the #SteelTheShow campaign championing the use of steel utensils. The credit for popularising the hashtag goes to Shubhra Chatterji, a culinary researcher and director of food-based shows such as Chak Le India, Station Master's Tiffin and Lost Recipes.
#WashingDishes
If you are an urban resident in India living through the months of lockdown without your house help, then chances are you get panicking at the mention of washing dishes. We all fully agree that it is not a mean task, and are full of respect for our helps who make our lives much easier.
#RasodeMeKonTha
Finally, Gopi Bahu, Kokila Ben and Rashi — all characters from daily soap Saath Nibhaana Saathiya — have gone viral and so did the dialogue-turned-rap Rasode me kon tha after a sound engineer tweaked the scene to a funny mashup. Moral of the story? Cook what you may, never put a khali cooker on a gas stove. Peace! Rasode Me Kon Tha