Chowman is looking to scale new heights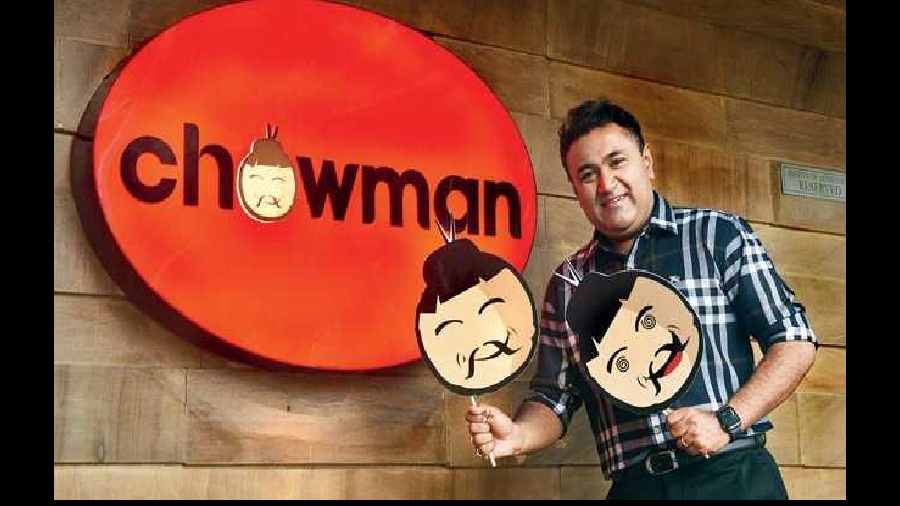 ---
Published 07.12.21, 04:35 AM
|
---
Calcuttans love their Chinese. Period. Catering to that demand for the cuisine for more than a decade is Chowman, now 22-outlet old. With a comprehensive menu, comprising both comforting flavours as well as bolder ones, Chowman has created a brand of its known and spread its wings in West Bengal and beyond. After a steady growth even through the pandemic, the brand has now gone bigger and "brighter" with a new logo and mascot at the forefront.
Debaditya Chaudhary, the managing director of the restaurant chain, chats with The Telegraph about the rebranding and reshaping.
Chowman seems to be on a roar. First, the expansion and steady rise through pandemic and now new logo launch. What prompted the rebranding of Chowman at this time point of time?
When we first made the Chowman logo more than 10 years back, I had wanted to create a chain of restaurants but I never thought I would create one at a national scale. When we were using this logo on various other platforms, in Calcutta and Bangalore, we found that there was some missing element... We started our national expansion project, and thought now would be the right time for a rebranding, as was also advised to us. Where do you plan to expand to next?
We plan to open in Hyderabad, Bombay, Pune, then Delhi, followed by Chandigarh. If we would have done the rebranding after we launched the outlets in major metro cities, it would have been difficult. So, we created a new logo now and launched our mascot as well. We have changed everything overnight — our menu, website, packaging, delivery bikes and others.
Is there a story behind the new logo?
The face that can be seen in the logo is something we had in our old logo as well but it was not a smiling face. I think anyone who eats from Chowman, loves Chowman, has a smile on their face when they get the food. So, we have converted the existing expression to a smiling one. That is the mascot as well — a smiling man of Chinese origin, selling chow.
What do you think the reactions of your customers will be, when they see the new logo?
I am sure they will love it because we have just launched the hoarding campaign and changed the menu card as well and the reactions have been very positive. They have loved the logo and I feel it is on a par with any international chain. Further on, let's see now how it goes.
What's next on Chowman's agenda?
We are going to adapt this Chowman logo in various other platforms and it is going to be the new face of Chowman.