Add some novelty to your Puja nom nom
With these four dishes from chef Xavier Joy Pramanik of Backstage and Motor Works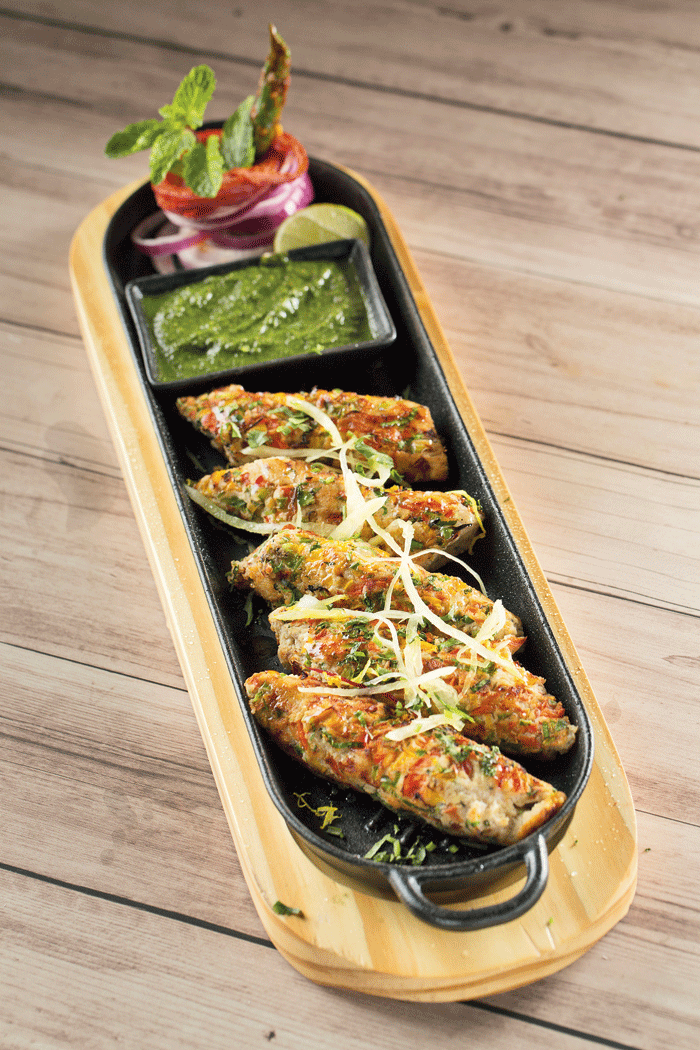 ---
---
Gilafi Paneer Seekh
Ingredients
Paneer, 350g
Mawa, 50g
Coriander leaves, 10g
l Green chilly, 5g
Green capsicum, 20g
Red capsicum, 20g
Yellow capsicum, 20g
Black pepper powder, 2g
Chilli flakes, 1g
White pepper powder, 3g
Green elaichi powder, 2g
Jeera powder, 4g
Chat masala, 4g
Javitri powder, 1g
Aamchur powder, 4g
Salt to taste
Black salt, 2g
Anik ghee, 20g
Bread crumbs, 20g
Amul butter, 40g
Method
Mix grated paneer with all ingredients and spices.
Put on a tandoori sheek and cook until it turns a golden colour.
Brush with ghee and butter.
Cut into five even pieces.
Serve with mint chutney, onion rings, mint leaves and lemon wedges.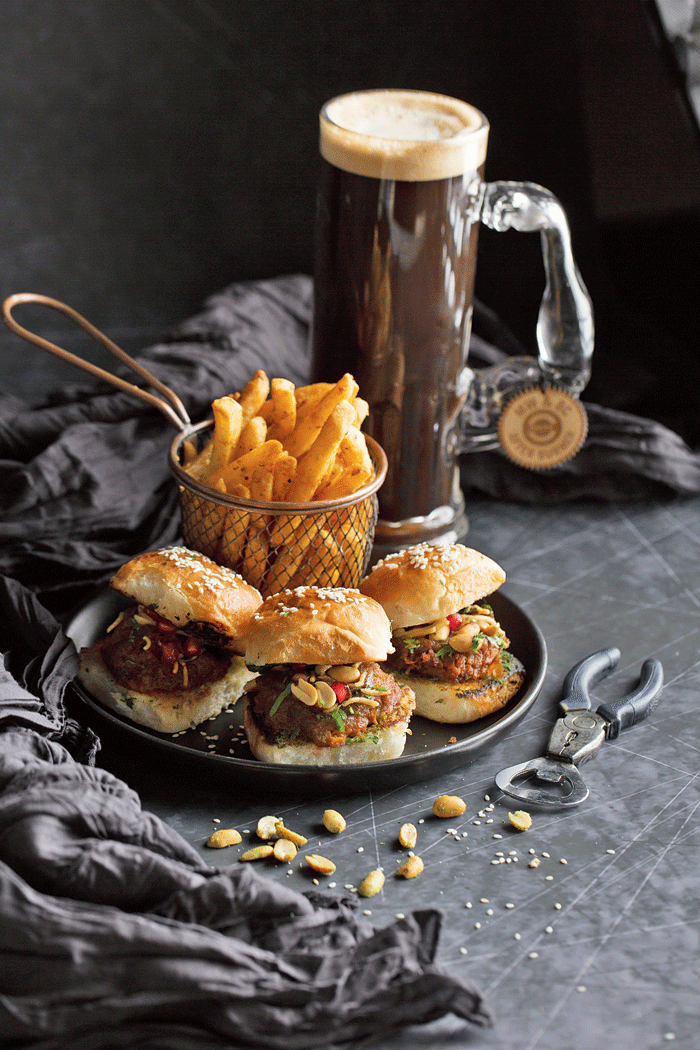 Surati Dabeli
Ingredients
Pao buns, three
Big potatoes boiled, 200g
Butter, 40g
Chopped coriander leaves, 10g
Jeera powder, 5g
Salt to taste
Haldi powder, 3g
Chopped onions, 50g
Deegi chilli powder, 3g
Green chillies, 5g
Chopped ginger, 10g
Chopped garlic, 15g
Kashmiri chilli powder, 4g
Garam masala powder, 2g
Peanuts, 20g
Mint chutney, 50g
Tamarind sweet chutney, 30g
Lemon juice, 20ml
French fries, 150g
Refined oil, 200ml
For the garnishing
Side salad, 80g
Bhujia, 30g
Method
Melt butter in a pan, add all the ingredients except the spices and saute until golden brown.
Next, add all the spices and cook well.
Finally, add the mashed potato and mix well.
Cut the buns into halves, toast them and apply chutneys.
Make a sandwich with the potato stuffing.
Garnish with bhujia, and serve with French fries and salad.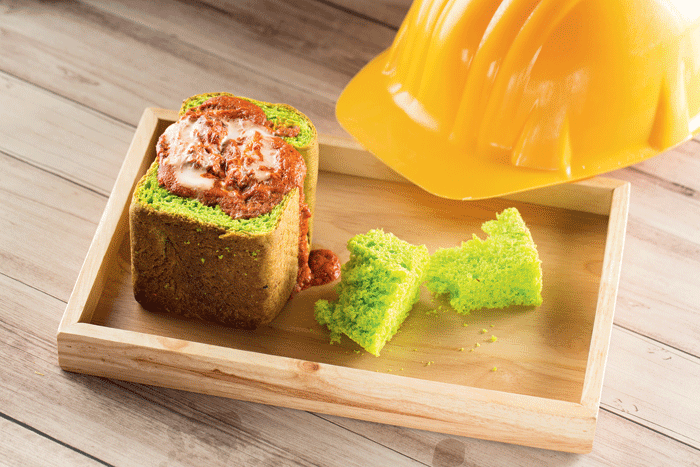 Chow Chow Bunny Chow
Ingredients
For the dal makhani
Bengal gram, 100g
Rajma, 50g
Ginger, 10g
Garlic, 10g
Amul butter, 50g
Amul cream, 50g
Tomato puree, 20g
Jeera powder, 1g
Red chilli powder, 2g
Kashmiri chilli powder, 3g
Salt to taste
Kasuri methi, 2g
For the bread
Maida, 250g
Yeast, 5g
Salt, 5g
Sugar, 5g
Oil, 12ml
Bread improver, 4g
Method
Soak Bengal gram and rajma overnight.
Put them in a deep pan and boil until soft and creamy.
Add all other ingredients and spices.
Finish with cream.
Make bread with bread ingredients. Let it cool.
Cut into half and scoop out the middle of the bread to make a cup- or bowl-like thing.
Fill the cup with sufficient dal makhani.
Garnish with cream and serve.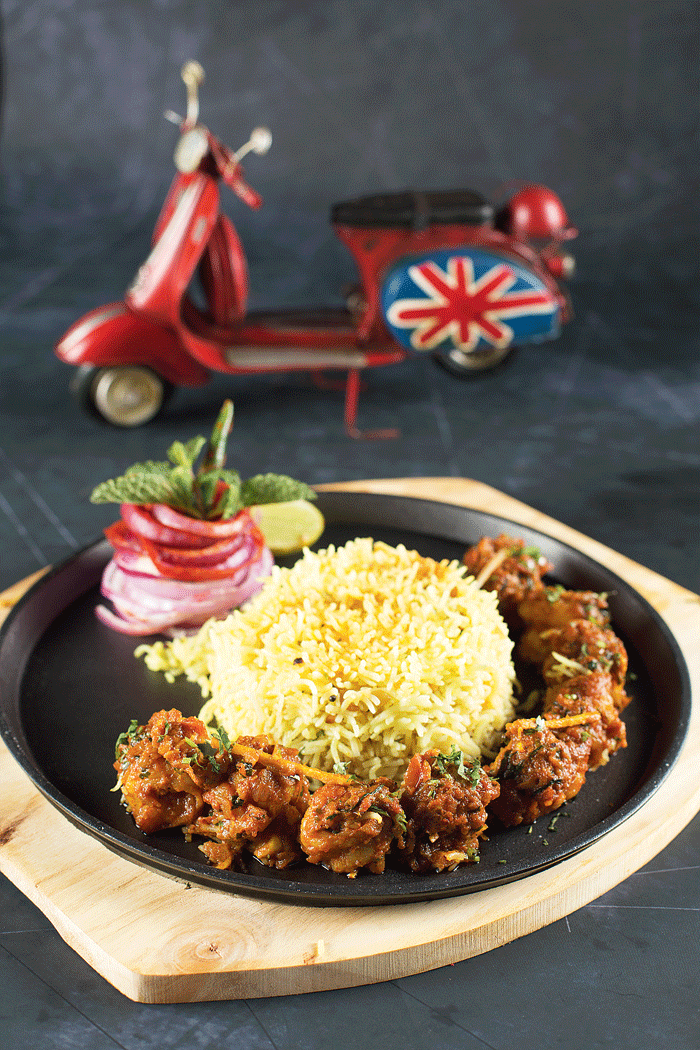 Tawa Jhinga Masala
Ingredients
For the masala prawns
Prawns 16/20, 350g
Big onions, 100g
Chopped garlic, 20g
Chopped ginger, 20g
Chopped green chillies, 10g
Coriander leaves, 10g
Ajwain, 5g
Anik ghee, 30ml
Tata salt to taste
Lemon juice, 20ml
Chat masala, 5g
Deggi mirch powder, 5g
Coriander powder, 5g
Jeera powder, 5g
Turmeric powder, 2g
For the rice
Basmati rice, 100g
Curry leaves, 3g
Mustard seeds, 2g
Anik ghee, 30ml
Saffron, 1g
For the garnish
Method
Clean the prawns properly.
Do a basic marination with salt, lemon juice and turmeric.
Heat a pan. Put ghee. Add onion, garlic and ginger. Saute.
Add marinated prawns and other spices. Cook until perfect.
Soak basmati rice and cook it. And mix with ghee, curry leaves and mustard seeds.
Serve rice and jhinga masala together.
Garnish with onion rings, mint leaves and lemon wedges.