The humming bug that has bitten one and all
The purported goal of 'National Humbug Day' is to encourage people to vent their frustrations in a controlled manner during the festive season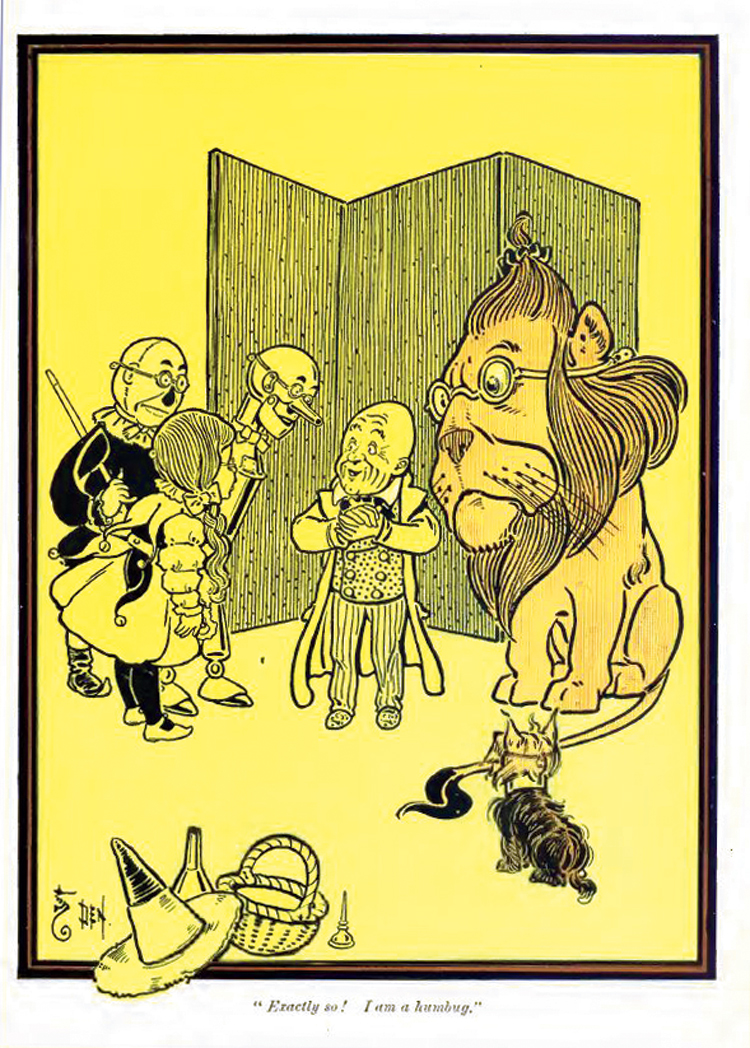 There is an entire day dedicated to humbugs in December
(Scanned from "The Wonderful Wizard of Oz")
---
Published 13.12.19, 06:09 AM
|
---
Readers will, in all probability, not remember Wilhelm Kroll, the German scientist, denouncing Gideon Morgenstern, an amateur anthropologist, as a 'humbug' in one of Professor Shonku's adventures. Yet, 'Bah! Humbug', Ebenezer Scrooge had uttered these words to dismiss Christmas, has helped the Dickensian character attain a degree of literary immortality.
Ironically, Kroll and Scrooge were accusing their adversaries of a similar transgression — deceit, the attribute that unites the humbugs of the world, real and imagined. During the Continental Wars, the falsification of bulletins from Germany led to the coining of the expression, 'This is from Hamburg', which was subsequently shortened to 'humbug', much to the consternation of Hamburgians. Even our very own Khushwant Singh had dreamt up an India sans humbugs, in the hope that the nation would then be able to rid itself of their chicaneries.
But humbuggery, in spite of its critics, is, evidently, winning this war. This year's UN human development index report states that thousands of people have been able to haul themselves up from grinding poverty in liberalized economies. Yet, the real cause of their distress — global inequality — remains entrenched in the capitalist order. In India, the Union home minister thought nothing of pinning the blame of Partition on the BJP's principal rival during discussions on a contentious, unconstitutional legislation, even though it is a recorded fact that the blood of the sectarian 'Two Nation theory' smears the hands of V.D. Savarkar, whom the BJP idolizes. But then history, in the BJP's hands, is humbug.
There is — isn't this apt? — an entire day dedicated to humbugs in December. But the purported goal of 'National Humbug Day' is to encourage people to vent their frustrations in a controlled manner during the festive season. Maybe the miserly Scrooge did have a point about excesses that taint modern religions.
Yet, the humbug's complicity can be far from simple. "How can I help being a humbug… when all these people make me do things that everybody knows can't be done?" observed the Wizard of Oz, who, the Scarecrow said, is 'nothing but a humbug'. The Wizard seems to be hinting that the desire to be deceived by the improbable, the illusory, and the spectacular could well be an innate, entirely human, urge. P.T. Barnum, the American impresario and showman, who gained fame and notoriety in equal measure by blurring the line between ethics and incredulity, had called himself the 'Prince of Humbugs'.
The Wizard has proved to be prescient. Humbugs reign only because we serve them as supplicants.