A death in the life of China
'The Suicide of Miss Xi' is brilliantly written, and the first chapter, detailing the death in the title and the shocking events that followed, keeps the reader turning the pages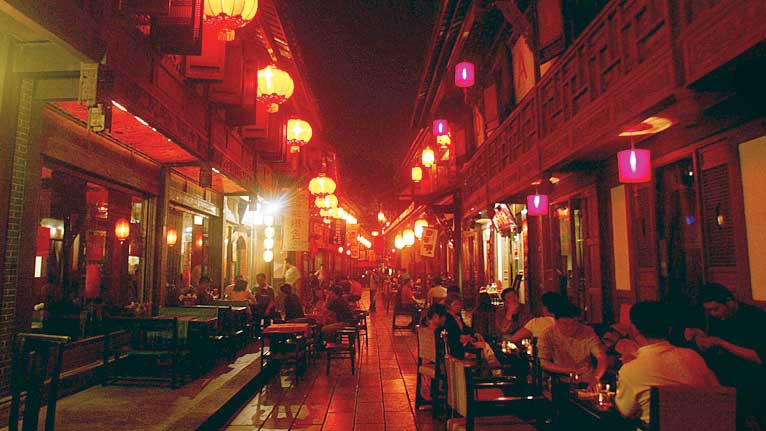 People sit outdoors at an ancient style bar in Chengdu of Sichuan Province, China.
Getty Images
---
Published 17.12.21, 01:25 AM
|
---
Book: The Suicide of Miss Xi: Democracy and Disenchantment in the Chinese Republic
Author: By Bryna Goodman,
Publisher: Harvard
Price: £31.95
In November 1922, the police raided the house of Tang Jiezhi, a journalist living in Shanghai's International Settlement. Tang was no ordinary journalist; his magazine, the Journal of Commerce, had become highly popular in China's biggest industrial city because of its lively style and progressive views. The era was one of political turmoil.  The last emperor had been overthrown in 1911, but China's young republic was in trouble, with parliament robbed of any power it might have had by the dominance of a succession of militarist leaders known as 'warlords'.  
Tang had been arrested as part of the scandalous events following the death of one of his young employees, a woman named Xi Shangzhen, who had hanged herself in one of his colleague's offices two months before. After her death, it emerged that Tang, despite his reputation as a progressive employer, may have contributed to the pressure on her both personally and economically; she had also made major losses on the stock market. The recriminations around her death grew and, eventually, public sentiment prompted the police to raid Tang's home and put him on trial for fraud. Although he protested vigorously, Tang was convicted and spent most of the decade in jail. When he was released, he found that life — and the scandal — had moved on. From being a glamourous, then scandal-ridden, figure, he ended up as a nobody. The historian, Bryna Goodman, has taken this tragic story and turned it into a fascinating and thoughtful analysis of the changing mores of a turbulent but lively period — the early 1920s — in China. She combines many of the themes that consumed the era. One was the importance of a new kind of economic environment, which enabled a capitalist economy that allowed for great fortunes to be made — and lost — but also encouraged groups, such as the new Chinese Communist Party, to demand greater social justice. It was a time when men and women started working together in offices, something that the Confucian past would have looked on with great disfavour. It was an era when the growth of mass media — newspapers in particular but also movies — enabled ideas of scandal and sexuality to shape a new public culture which hungered for sensationalism. And there were also ideas of a renewed China — one that would be truly democratic — in the air.
Goodman's book comes as part of a trend in modern Chinese history which re-examines the early twentieth century as a time when men and women became modern consumers as well as producers. Karl Gerth's China Made (2003) was a pioneering work that showed that consumption of goods shaped ideas of identity and patriotism in that era. Another book, Public Passions (2007), by the scholar, Eugenia Lean, much like Goodman's work, centres on a prominent death in 1935, in this case the shooting of a warlord by a young woman, an event which captivated the media of the time.
The Suicide of Miss Xi is brilliantly written, and the first chapter, detailing the death in the title and the shocking events that followed, keeps the reader turning the pages — something that cannot always be said of an academic book. However, this is very much a scholarly work for the Chinese Studies community. For instance, the May Fourth Movement is briefly explained as a nationalist event in 1919, but readers unfamiliar with Chinese history may need to check some of these references to understand their full significance. It is also a work that clearly places itself in the era of 1920s China before the nationalist government of Chiang Kai-shek had come to power.
But that does not mean it lacks significance for those interested in contemporary China. Suicide is a social problem that has persisted across all societies and periods of history, but some of the pressures on Miss Xi have eerie echoes in today's China. Economic pressures mean that life in cities such as Shanghai or Beijing are full of consumerist aspiration, but it can also mean that life seems precarious. In Miss Xi's day, scandalous stories were found in newspapers and illustrated with woodcuts. Now, they turn up on social media with pictures taken by camera phones. Today's China has been rocked by the #MeToo movement and the stories that have emerged there not only echo those in other countries but also tales from its own past. Modern life in China can be glamourous and full of possibilities that come from the infinite potential of its cities. But it can also drive those who find it hard to cope to take desperate steps. That's as true in the Shanghai — or Calcutta — of the 2020s as it was in the 1920s.