Books that help you stay fit
The best way to launch a new diet plan requires two things –– consultation with a nutritionist and reading up all about it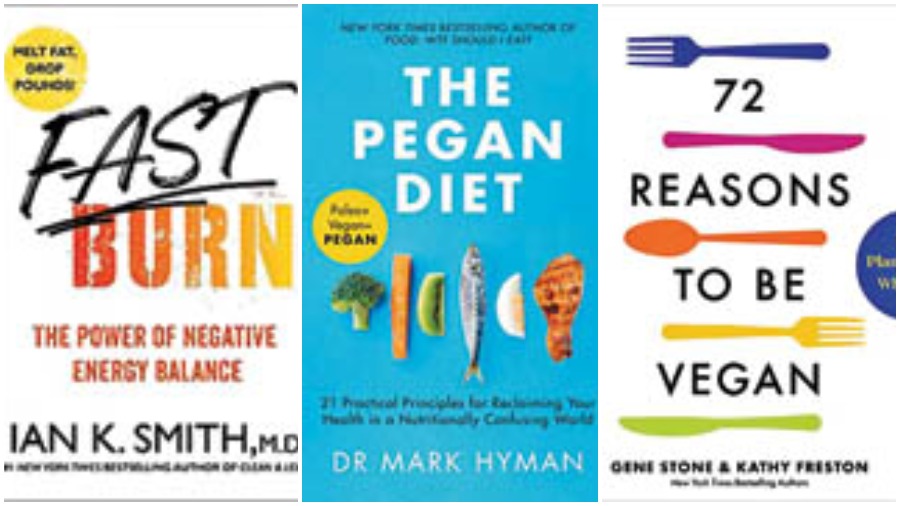 ---
Published 06.05.21, 02:24 AM
|
---
In times like this, it is important to stay fit and healthy. Following a healthy diet can be a dream for some. It is important not to fall for any random fad that one sees on social media and making a knowledgeable choice is the only way forward. What could be a better way to make up your mind than to read extensively about it? If you are confused about what diet is best and which one should you follow, here is a list of books to help you solve your problem, while also remembering that consulting your nutritionist has to be the most important step in your journey.
Fast Burn!: The Power of Negative Energy Balance by Ian K. Smith M.D.
Ian Smith gives a motivational diet plan in this book in order to burn fat. The idea is to imply a time-restricted routine eating and intermittent fasting for weight loss and physical transformation. The book not only talks about a healthy diet but also suggests simple and achievable exercises with both gym and out-of-gym options. Trying out this nine-week program while quarantined is sure to give you a boost of motivation towards your fitness goals.
The Pegan Diet: 21 Practical Principles for Reclaiming Your Health in a Nutritionally Confusing World by Mark Hyman
Choosing an appropriate diet can be difficult at times. That's why author Mark Hyman, MD, has come up with his unique Pegan diet, which includes meal plans, recipes and shopping lists. The book explains how to intake a paleo diet (good fats, limited refined carbs, limited sugar) and combine it with a vegan diet (fresh, healthy veggies). With 30 recipes and 21 rules, this diet is not only delicious but good for the mind as well as the body. We love how Dr Mark lists food that is also good for the planet with a bunch of recipes for those who are suffering from chronic diabetes.
72 Reasons to Be Vegan: Why Plant-Based. Why Now.by Gene Stone and Kathy Freston
Want to become a vegan but don't feel motivated to do so? Gene Stone and Kathy Freston compile 72 of the most important reasons to be vegan and all of them surely make for persuasive arguments. You might have heard or read about veganism but this book tells you why it is actually important. A must-read for everyone concerned about their health as well as the planet.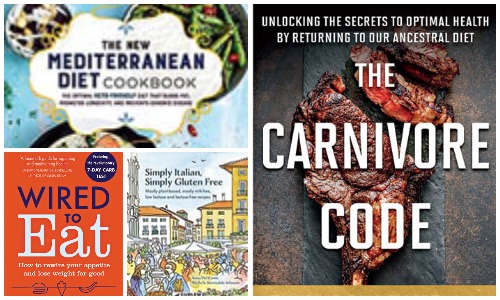 The New Mediterranean Diet Cookbook: The Optimal Keto-Friendly Diet that Burns Fat, Promotes Longevity, and Prevents Chronic Disease by Martina Slajerova, Rohan Kashid, Thomas DeLauer and Nicholas Norwitz
The Mediterranean Diet is one of the healthiest diets, well-known for its beneficial effects on curing heart disease, cancer and other chronic illnesses. This cookbook is your guide to the ultimate diet. It is important to maintain your health, especially during the times we are living in. And that's why this book is on the list. Improve your health while enjoying dishes such as Green Goddess Salad, Pancetta Wrapped Sea Bass Sheet Pan, Crispy Salmon Piccata, Fierce Meatball Zoodle Bolognese, Nordic Stone Age Bread and many more.
The Carnivore Code: Unlocking the Secrets to Optimal Health by Returning to Our Ancestral Diet by Paul Saladino
In a world where people have started preferring keto diet and plant-based foods, Paul Saladino comes up with his book Carnivore Code with an ancestral diet. His carnivore diet is scientifically proven to reduce inflammation, improve sleep, reduce joint pain, improve mental clarity, and help you lose weight. Get access to step-by-step guidance, sample meals and frequently asked questions. For all the meat lovers out there, this is the book to fall in love with!
Simply Italian, Simply Gluten Free: Mostly plant-based, mostly milk-free, low lactose and lactose-free recipes by Anna Del Conte and Michelle Berriedale-Johnson
The most prominent Italian cookbook writers, Anne Del Conte with expert Michelle Berriedale-Johnson have created some of the delicious gluten-free Italian recipes in this book. You can find recipes that are meat-free, milk-free, low lactose or lactose-free. And guess what? All of these recipes are a success! Having Italian is now easy for those who want to maintain a restricted diet.
Wired to Eat: How to Rewire Your Appetite and Lose Weight for Good by Robb Wolf
There are times when we just can't maintain a proper diet. What does it take to make it a success? US diet expert and author Robb Wolf explain how to change your eating habits, adapt to a good diet, lose weight and never gain it back! Yes, we usually focus on the part of losing weight but here he also talks about maintaining the weight loss. The book includes over 60 whole-food recipes and includes meal plans for the 30 Day Reset as well as for autoimmune and ketogenic diets.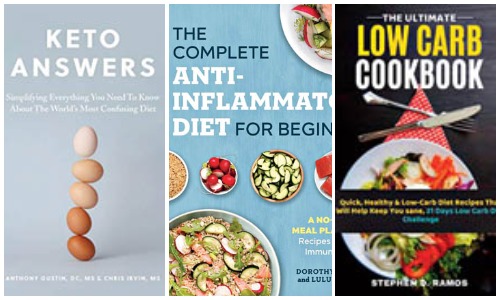 Keto Answers: Simplifying Everything You Need to Know About the World's Most Confusing Diet by Anthony Gustin and Chris Ivan
The best solution to all your doubts regarding the ketogenic diet. This book is all about battling health issues with the help of a proper keto diet. The book appeals to all, from a new dieter to a nutritionist.
The Complete Anti-Inflammatory Diet for Beginners: A No-Stress Meal Plan with Easy Recipes to Heal the Immune System by Dorothy Calimeris and Lulu Cook
For all those suffering from chronic inflammation, this book can be helpful. Author Dorothy Calimeris, with a registered dietician and nutritionist Lulu Cook, provides a list of easy-to-follow steps of an anti-inflammatory diet. Enjoy 75 healthy as well as delicious recipes with a two-week meal plan which also offers a budget-friendly shopping list. We admire the relatable, straightforward recipes and meal plans.
The Ultimate Low Carb Cookbook: Quick, Healthy & Low-Carb Diet Recipes That Will Help Keep You sane, 21 Days Low Carb Diet Challenge by Stephen D. Ramos
Enjoy scrumptious meals whilst maintaining a diet and burning fat. This book talks about low-carb diet with recipe details. There are 31 ways to make your low-carbohydrate diet useful with the 21 days low-carb diet challenge. We can't get enough of these recipes!