Dare to dream
Taramandal, written by Neel Chaudhuri and adapted-directed by Abhrajit Sen, brings stories of people whose lives criss-cross at ironic junctures in pursuit of their dreams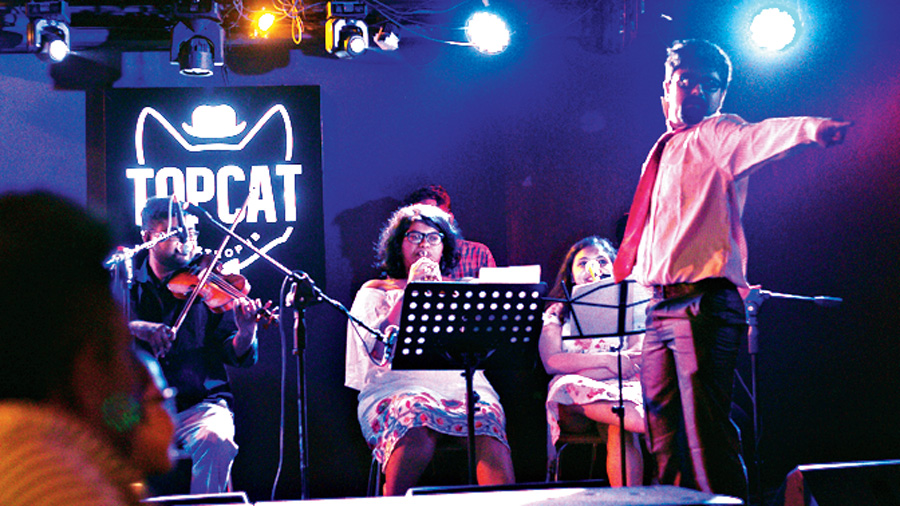 A moment from Taramandal.
Whole 9 Yards
---
Published 05.06.21, 12:31 AM
|
---
Taramandal, written by Neel Chaudhuri and adapted-directed by Abhrajit Sen, brings stories of people whose lives criss-cross at ironic junctures in pursuit of their dreams. In this café musical, presented by Whole 9 Yards, all the vignettes dramatically unfold in a café, which emerges as the fictional as well as the real space to make the situations more palpable. This design, undoubtedly, instils a sense of intimacy as the audience becomes a part of unexpected fragments from the characters' lives, as they meander on their own path. All the people we meet share stories of battles lost and won as they silence or nurture their dreams — a manager of the café secretly wishes to be an actor, two close friends  part ways to pursue their art, a character is trapped in the world of her author, a doctor is committed to save lives in the pandemic as he continues to suffer for his art, a small-town girl endures and resists to find her place as an actor in a big city and so many other stories that pulsate in each table of the café.
 This play makes a distinct attempt to set up a design such that the experience of eating and lounging in a café or pub is woven into the performance that spans for more than three hours. However, this form of performance intently reaches out to only a specific cross-section of people who have the affordability and access to pubs and cafes. The fascinating live music serves as a strong peg on which the stories are hung. Although some of the acts could have been a bit shorter in length, the actors pull it off with outstanding power.
 While writing a review for this play, I feel compelled to acknowledge each actor for letting the vulnerability of the characters touch the core — Deepta Chakraborty, Tanika Basu, Suhotra Mukhopadyay, Debopriyo Chakraborty, Monomita Chaudhury, Ananya Sen, Soumyadeep Chakraborty and Rayan. You have indeed left a lasting shadow.