Right on time
People's Little Theatre staged a comeback at the Academy of Fine Arts with 'Ebar Rajar Pala'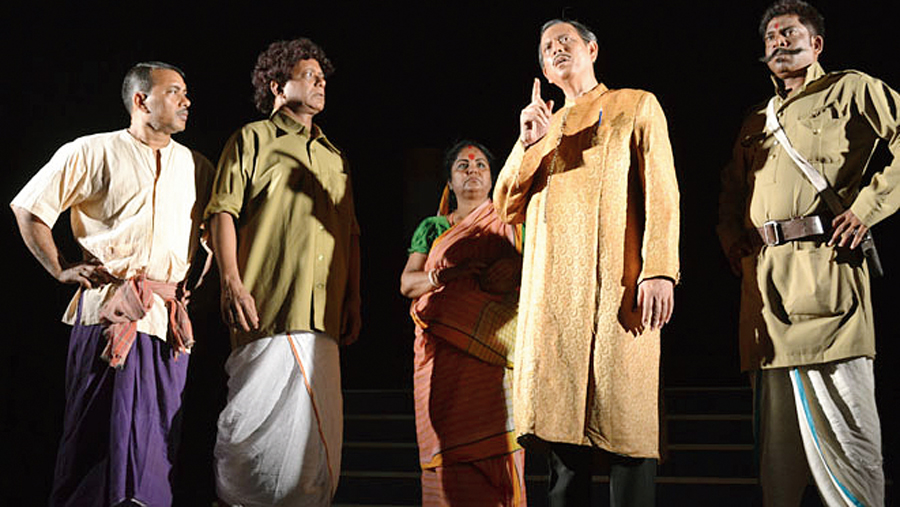 A moment from the play, Ebar Rajar Pala.
Dipankar Sen
---
Published 08.05.21, 12:29 AM
|
---
After remaining in withdrawal mode for some years, People's Little Theatre staged a comeback at the Academy of Fine Arts with Ebar Rajar Pala on March 29, 2021, Utpal Dutt's 92nd birth anniversary. Penned by Dutt and premiered under his direction in the 1970s, Ebar Rajar Pala had irked the then political administration enough to be banned. As a cautionary intervention, the current revival could not have been better timed, with Ebar Rajar Pala's thematic concern with tyranny playing out to an audience that would soon go on to vote in a critical election.
Dutt's striking ability to bridge the group theatre/jatra performative divide and to project the political concerns of the urban elite through the experiences of marginalized subalterns is fascinatingly encapsulated in Ebar Rajar Pala. Written at a time when Dutt was heavily into jatra, the play focuses on a troupe attempting to stage a jatra performance at the behest of a local raja in the colonial period. Curious turns of events lead to the jatra actor (Banku) playing king actually becoming king, and then unleashing a regime of unmitigated terror. The pacy first half of the play (afire with Dutt's signature verbal wit) has the actors flit in and out of their jatra characters, generating moments of meta-theatre.
The second half is more sombre; the darkness accompanying the affable Banku's transformation into a monstrous despot solidifies into the pitch-black horror of the silent, zombie-like discharge of duty by Gobindo, the assassin. The actors, led by the unfailingly brilliant Biswajit Sarkar as Banku, put on display a form of acting that transports the audience to a bygone era. The supporting cast performed with skilful application, with Jayashree Adhikary, Sujay Sinha, Souro Sen and Subrata Deb deserving special mention.
With the bitterly battled legislative assembly election over, let it remain recorded that Bengali theatre did live up to its calling of being responsive to its time, as exemplified through Ebar Rajar Pala and Mephisto (directed by Suman Mukhopadhyay) — two ideologically and structurally kindred recent revivals explicitly referring to Hitler to flag the fascist threat that now stands somewhat thwarted.