New tools for the non-proscenium
The lockdown-induced home confinement has compelled De, for the first time in his acting career, to consider the space inside his house as a potential performance arena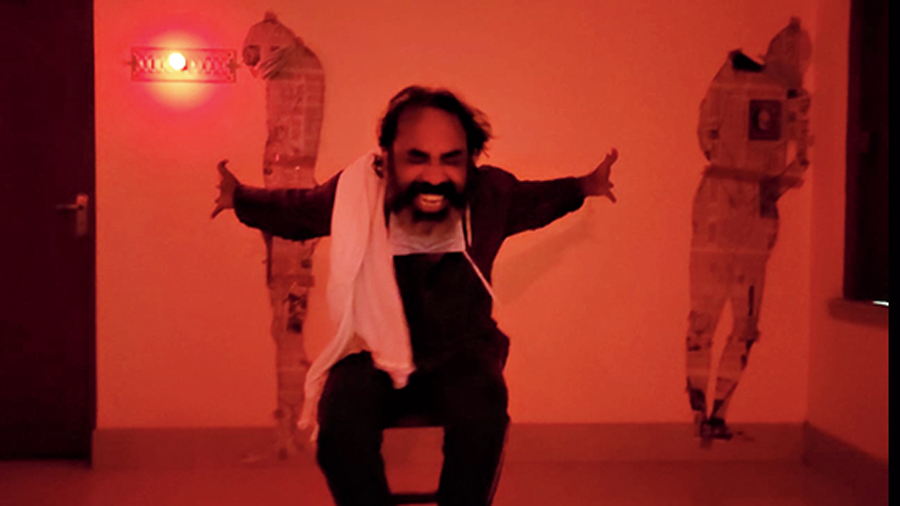 Loknath De in a moment from "Kichhu Sanglaap", performed at his home and produced by Mikh-o-raa.
Dipankar Sen
---
Published 19.09.20, 12:09 AM
|
---
Adversity, for all the harms it inflicts, brings out the urge to innovate and reinvent. In the months preceding the lockdown, Loknath De was busily taking the stage for a host of Calcutta theatre groups in big, proscenium productions. The lockdown brought his dream run to a frustratingly harsh halt. But Loknath De, refusing to be bogged down into despondent dormancy, has come up with Kichhu Sanglaap, a play conceptualized and performed by him and produced by Mukh-o-raa. This reviewer watched the performance in early August at De's house in New Barrackpore. 
The lockdown-induced home confinement has compelled De, for the first time in his acting career, to consider the space inside his house as a potential performance arena, and thus, to venture out of his comfort zone of proscenium-acting. This spirit of resilient, supple reinvention has to be the tool with which to negotiate the challenges thrown at an actor by the lockdown.
The premise of Kichhu Sanglaap is simple — an out-of-work actor addresses an ideal viewer to vent his anxieties, hopes and despairs concerning theatre. The moment of the play comes towards its close when a bare performance area, save an empty stool washed in red light and barely audible whispers marking the absent presence of an actor who has disappeared from sight, hauntingly evoke the sense of loss and desire of theatre people in the times of the coronavirus. Stringing together his own lines with fragments borrowed from Rabindranath Tagore, D.L. Roy, Shambhu Mitra and Bratya Basu, De focuses upon contemporary crisis through the lens of the past. 
Ironically, the allusive structure of this off-proscenium play begets a nostalgia-driven longing to return to the proscenium. But 'longing to return' is probably not an apt expression, because though outside the proscenium, Kichhu Sanglaap replicates in miniature the performative codes of the proscenium inclusive of set, lights, costume, props and, most significantly, the style of performance. Having taken the plunge of performing out of the (proscenium) box, De, the thinking, skilled performer that he is, will hopefully push his innovativeness that bit further in future to do full justice to site-specific performance.