New normal: Narrativizing domestic violence
THEATRE: With the coronavirus firmly entrenched in our midst, it is foreseeable that theatre, for some time to come, will be such — small, with rationed viewers and principally open air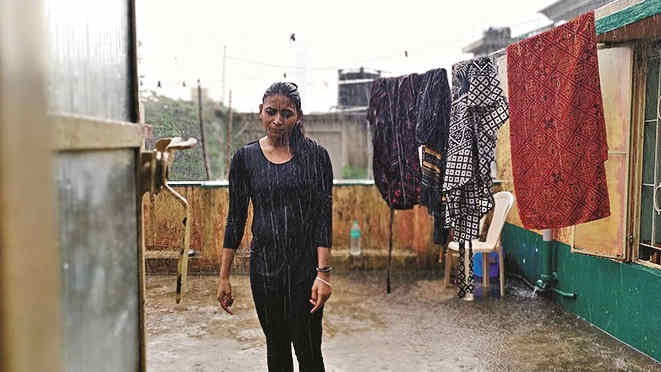 ---
---
On June 21, as a sultry afternoon melted into a rain-drenched evening, a rather nondescript roof of a South Calcutta apartment became the site of the making of theatre history of sorts, with Bondhu na Shotru? — arguably the first publicly-announced theatrical production in Calcutta during unlock — being performed on the rooftop. Created and performed by Priya Saha Roy (produced by Asikkhito), the performance is an unshackling of theatrical activity from lockdown-compelled dormancy.
Bondhu na Shotru? is significant because its mounting and presentation are tailored to suit the new normal. Being a solo act, it is a small production; the audience is limited to a handful; it is designed to be performed in open spaces. With the coronavirus firmly entrenched in our midst, it is foreseeable that theatre, for some time to come, will be such — small, with rationed viewers and principally open air.
Bondhu na Shotru? narrativizes a tale of domestic violence. In terms of content, the text is predictable to the extent of being clichéd, with the plotline chock-full of instances of machismo, physical abuse of the female partner, an irretrievable collapse of conjugality. Instead of exploring systemic social structures underlying domestic violence, Saha Roy is content presenting a random account of individuals. She also misses out on explicitly connecting her text to the phenomenal surge of domestic violence in India during lockdown. In performing her material, Saha Roy chooses a form in which the verbosity of the initial sections gives way to non-verbal performance as the play progresses. While this makes sound performative sense, given that Saha Roy is extremely adept in physical acting, the formal movement from word to gesture is not supported by an analogous movement in content.
The area where Saha Roy will need to put in much revisionist effort is, however, the challenge to incorporate within her performance aspects of the visual and sonic ambience of the space beyond the confines of the rooftop. Some of these aspects will never be under her control, which will make each performance of the play relatively free of the tyranny of the script and charged with unique immediacy.