Journey to the end
'Bilasi Bedana Nay' by Phinik Kanchrapara and directed by Kanak Mukherjee was staged at the Academy of Fine Arts on September 24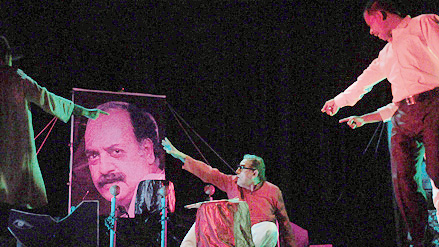 A moment from the performance of Bilasi Bedana Nay.
Anshuman Bhowmick
---
Published 09.10.21, 12:51 AM
|
---
Is Utpal Dutt, the revolutionary playwright and director of the 1970s, still relevant to our times? If the answer is affirmative, how would a playwright shaped by Dutt's propagandist methods respond to the world around us? Should he take a leaf out of Dutt's oeuvre? Would that go well with a 'group theatre' flagbearer now finding it difficult to swim against the tide?
Such uneasy questions were raised by Santanu Majumder in Bilasi Bedana Nay (picture). Produced by Phinik Kanchrapara and directed by Kanak Mukherjee, this 55-minute drama was staged at the Academy of Fine Arts on September 24. Majumder's expertise in dissecting the suburban life surfaced. The angst of a senior playwright (played by Mukherjee), now disillusioned with the current disposition, was conveyed through selected quotes from Dutt's works like Muktidiksha, Sanyasir Tarabari and Tiner Talowar in particular.
However, the drunken stupor that facilitated some inspired dramatization of scenes from the above plays, including the one in which Priyanath Mallick of Tiner Talowar returns to contradict the playwright, proved counter-productive. The flimsy set disappointed. Among the actors, Mukherjee held fort well. Amita Sen, essaying the part of Bilasi, a 1992 Bangladesh refugee now domiciled in India and running the household of the lonesome playwright, impressed in a demanding role.
The evening also saw the premiere of Bivhab Natya Academy's Thakur Thakbe Katakshan. Scripted by Sanjoy Sengupta and directed by Biplab Mukherjee, this 70-minute act is set in the fringes of Calcutta that are experiencing a realty boom. It deals with a hapless middle-aged couple finding it tough to resist the local goons and lumpen thugs.
The plight of senior citizens deserted by their children and relatives took centre-stage as the play evolved. A new survival strategy involving the homeless and the marginalized touched a raw nerve. Although the dramatization of the Puja season — the backdrop of the play — was impressive and the music score by Nagen Dutta, who passed away recently, left a mark, too many references to Rabindrasangeet and Tagore's poems sounded forced. The Bivhab actors never tried to outshine one another and that worked in their favour.