Grains of truth
Skirting past stereotypes as well as the exoticization of the region, 'Rice Eaters 101' brings together works of seven young artists from the Northeast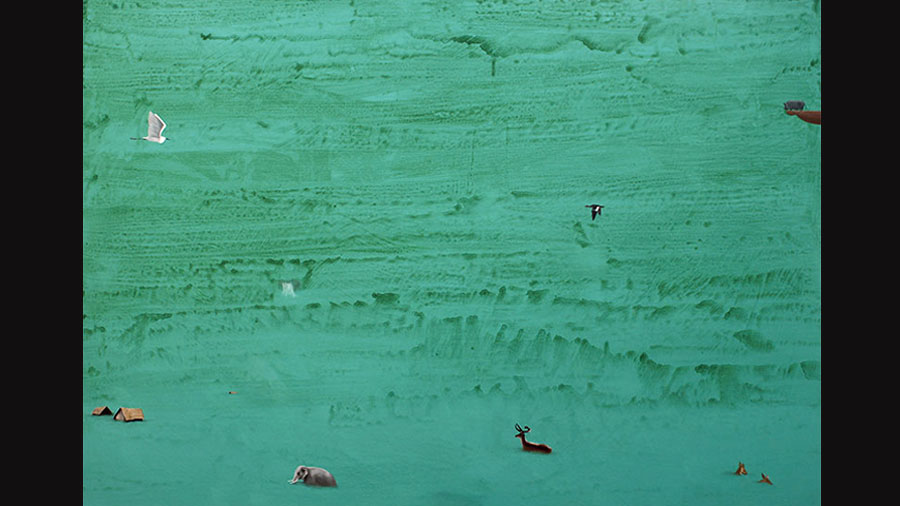 Aquarium by Abhijit Saikia.
Emami Art
---
Published 02.10.21, 03:19 AM
|
---
Food is integral to identity. But what this truism often overlooks is that food can be as diverse as identity. This heterogeneity is what the exhibition, Rice Eaters 101 - N.E. (organized by Emami Art), tried to highlight. The concept attempts to fight the derogatory attitude towards a particular geopolitical region — the Northeast — where rice is a staple diet. Skirting past stereotypes as well as the exoticization of the region, Rice Eaters 101 brings together works of seven young artists from the Northeast and presents their individual perspectives on lived reality.
Abhijit Saikia employs the jewel tones in which northeastern lakes and forests are popularly portrayed, but paints a picture of lands, people and animals drowning in the floodwaters that have become an annual feature there. Bazik Thlana, on the other hand, forgoes all colour in his cleverly-executed charcoal and acrylic works to create hauntingly barren, monochrome landscapes in his "Not Your Romantic Landscape" series.
Equally forlorn are the cement-grey patches of land and the dispossessed people who navigate it in Gopa Roy's mixed media works. In contrast, Madhab Das is hopeful about a future where man and beast can co-exist, shorn of the trappings of civilization. Manash Talukdar's intricate embroidery on canvas, too, envisages a future where nature flourishes in all its vivid hues, but his landscapes are completely free of human presence.
Naphisabiang Khongwir's mixed media works are a chilling reminder of how cheap life and labour are in the impoverished pockets of the Northeast. Rajdeep Das's pigment on leather canvases bring to the fore concerns about how market and mechanization are inching out indigenous art and craft practitioners to satiate consumerism.
The artists challenge the idea of somnolence and lack of productivity associated with rice eaters by holding up a mirror to ground realities that impede productive engagements.