Coveted space
Janardan Ghosh and his Oglam team members premiered Paramahansa: Ek Vyakulatar Goppo at the Char Mandir Ghat in Ariadaha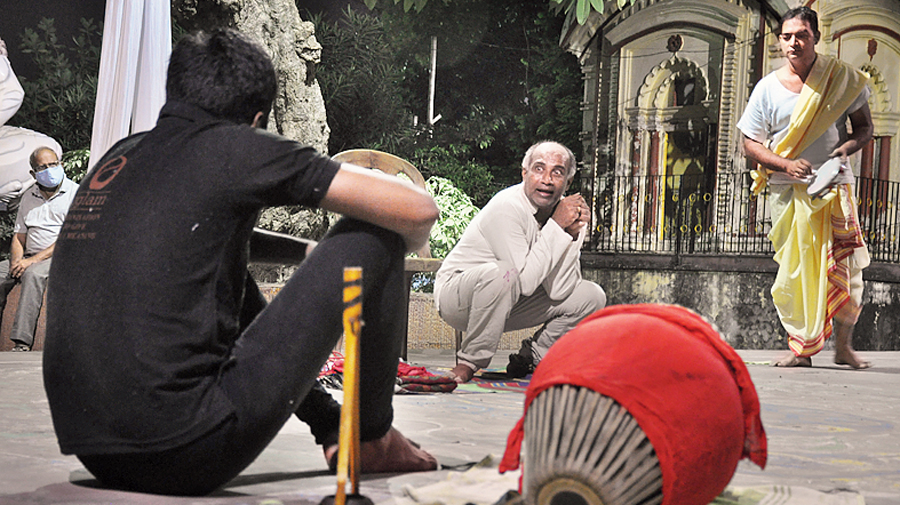 A moment from Paramahansa: Ek Vyakulatar Goppo [Onglam]
---
Published 14.11.20, 01:36 AM
|
---
Space seems to be the most coveted aspect of theatre in the time of the Covid-19 pandemic. As directors are all out to explore the road not taken, some significant developments are taking place on both sides of the river Hooghly. The 19th-century baganbaris and thakurbaris, with lush green lawns, sylvan shades and widespread ghats overlooking the river, are gaining acceptance. 
There are also those like Janardan Ghosh, with decades of experience in designing innovative theatre behind him, taking full advantage of the situation.
Ghosh and his Oglam team members premiered Paramahansa: Ek Vyakulatar Goppo at the Char Mandir Ghat in Ariadaha on October 18. With the evening fast approaching and a sparse audience settling on and about the steps, Ghosh was probing the story of a man — Ramakrishna Paramahansa, to be precise — who wishes to experience womanhood in a male body. Taking a cue from sambandhanuga bhakti sadhana that Paramahansa experimented with, Ghosh was trying to breach the binaries of gender politics through 'Katha Koli' — a storytelling method he has been developing lately. 
Although the focus was on narration, including an internal monologue interspersed with comments and a sizeable chunk elucidating the legend of Itu Puja, the spoken words were complemented by brief episodic breaks and acrobatic moves supported by the kathchampa tree under which the performance took shape. Elements of role playing were dealt suggestively and a woman took all the time to create an alpana — indicating another ritual act — on the floor. Towards the end of this 40-minute act, Paramahansa went a little overboard and referred to the recent attacks on women in India, leaving the narrative in the lurch. The accompanying music — live and recorded — flummoxed more than contributing to it. Surprisingly, Ghosh hardly related to the river, even when he went down the steps to the point of touching the water. 
Paramahansa is replete with elements of a spiritually fulfilling play. It should be staged two kilometres down south in the Panchavati gardens within the Dakshineswar Kali temple precincts and develop a more immersive bonding with the space.