Quest for revival
Pragya Cultural Centre, spearheaded by Jayasree Bhattacharyya, has embarked upon a unique project that is gradually shaping into a cultural renewal enterprise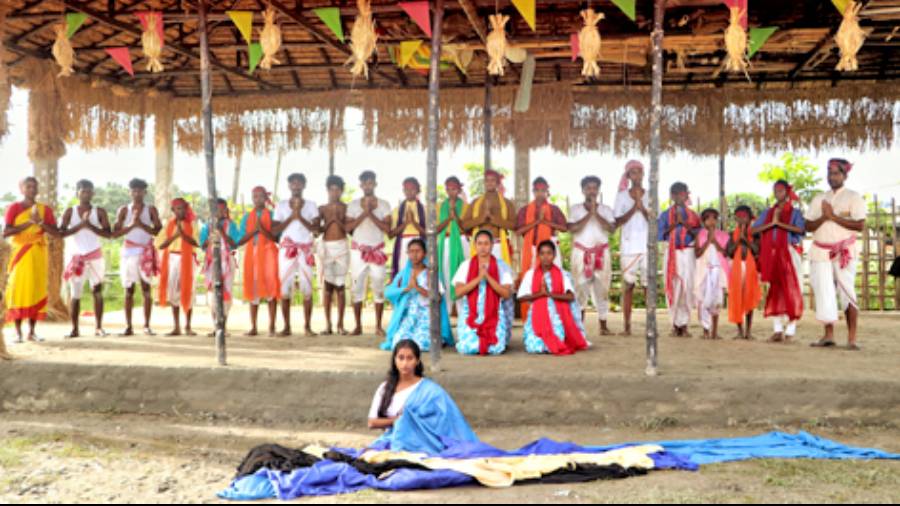 ---
Published 08.10.22, 03:43 AM
|
---
A cultural revolution is slowly unfolding in the East Calcutta Wetlands. This Ramsar site, otherwise in the news for urban infringements on a fragile ecosystem, happens to be the dwelling place of thousands of tribal people who settled along the Bidyadhari river basin about 200 years ago. The river has since turned into a nondescript canal that flows by dozens of lush-green villages whose inhabitants are slowly catching up with the urban ways of life. Pragya Cultural Centre, spearheaded by Jayasree Bhattacharyya, an alumnus of the National School of Drama, has embarked upon a unique project that is gradually shaping into a cultural renewal enterprise.
Ever since Basa — a performance space with a thatched roof — came up this summer next to Adibasi Bhatri Milan Sangha, Bhattacharyya's long-cherished dream of digging into the cultural memory of the villagers, and stitching together tales and anecdotes passed on through generations to stage short-length dramas is coming true. Every third Sunday of a Gregorian calendar month, the villagers of all age groups stage a cultural event loosely termed Basa-e-Baromasya. This reviewer caught the action in July and August and returned convinced about the necessity of the project. It involves short skits on the girl child's need for education. The earnest attempt to dramatise a typical Santhal marriage — starting from the matchmaking process to the community dance — was an eye-opener. Besides aiming at sensitising the non-tribal populace, such elaborate reconstructions of community rituals, complete with traditional costumes and song-and-dance routines, reinstate the cultural codes now on the verge of extinction. 
Bidyadhori — Ek Chaai Dhapal Aagun, the most ambitious of Basa presentations, is a structured drama in Bengali, embellished with aboriginal songs. Textually tied together by the veteran playwright, Soumitra Basu, this hour-long piece traces the migration tales and the legends surrounding the river. When it ends, reminding the audience about the subterranean presence of the lost river, one gets goosebumps. Live musical accompaniment by Swapan Sardar and his team along with inspired singing by Jayanti Munda lend authenticity to the production performed by a young cast. Bhattacharyya's creative use of the site makes this a model for such rejuvenation projects.