Latitude 28 gets into the 'Noosphere'
'Our latest exhibition calls attention to perspectives on the unprecedented rate of human development of our times, our rapidly evolving relationship with the world around us'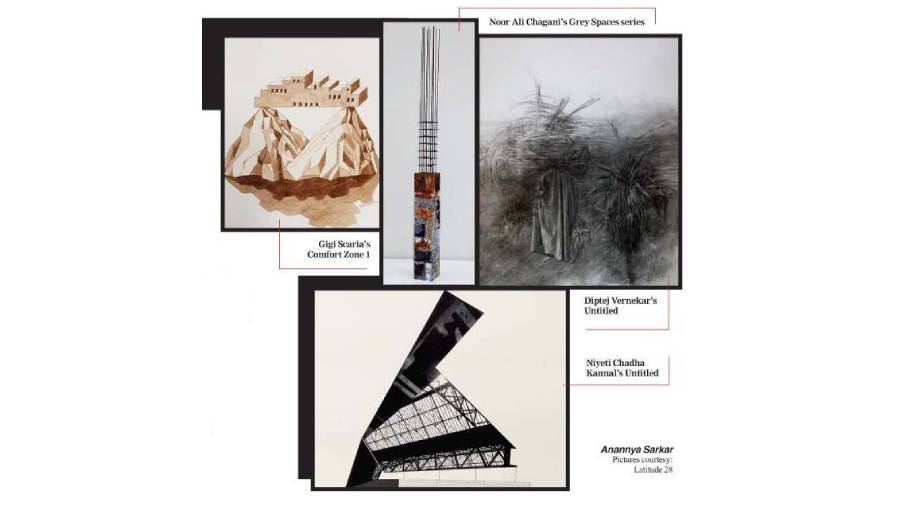 ---
Published 18.08.21, 12:19 AM
|
---
In a very timely exhibition, Delhi-based gallery Latitude 28 has put together the works of Diptej Vernekar, Gigi Scaria, Noor Ali Chagani and Niyeti Chadha Kannal, collectively titled Traversing The Noosphere, which is on till August 25.
Based on the idea that Russian mineralogist Vladimir Vernadsky postulated in his book, the "noosphere" is the conscious evolution that culminates into a sphere were interactions between nature and human beings are consciously balanced. In our present times that are fraught with the imminent troubles of climate change, Vernadsky's idea of noosphere is an optimistic theory being offered as a natural evolutionary progress of the species. "The existence of the sphere is indisputable, yet its nature and consequence for humanity is an exploratory angle of Traversing the Noosphere," says the dossier on the exhibition.
While Vernekar's works brings together "fragments of these disconnected verses, stitching them together into visual poems", Scaria's series draws from the continuous tussle between nature and human beings. Meanwhile, Kannal's works are "renderings on paper of the chance materialisations of architectural monstrosities" inspired by his lens-based flaneur around New York, London and Bangalore; Chagani's sculptures revolve around the concept of the absence of home and therefore, his quest for one. "We are in the middle of a pandemic which has monumentally changed our way of thinking. Our latest exhibition Traversing the Noosphere calls attention to perspectives on the unprecedented rate of human development of our times, our rapidly evolving relationship with the world around us and our changing sense of self in relation to the natural world. We are happy to show new works made during this period by Diptej Vernekar, Gigi Scaria, Niyeti Chadha Kannal and Noor Ali Chagani," said Bhavna Kakar, founder and director, Latitude 28.
The exhibition can be viewed on www.latitude28.com.
Pictures courtesy: Latitude 28