Evolving ties
In Ashavari Majumdar's work, Elegy for Kathak, presented at the ICCR, the dancer-choreographer acknowledges the sonic and kinetic impacts of modernity on the vocabulary of her form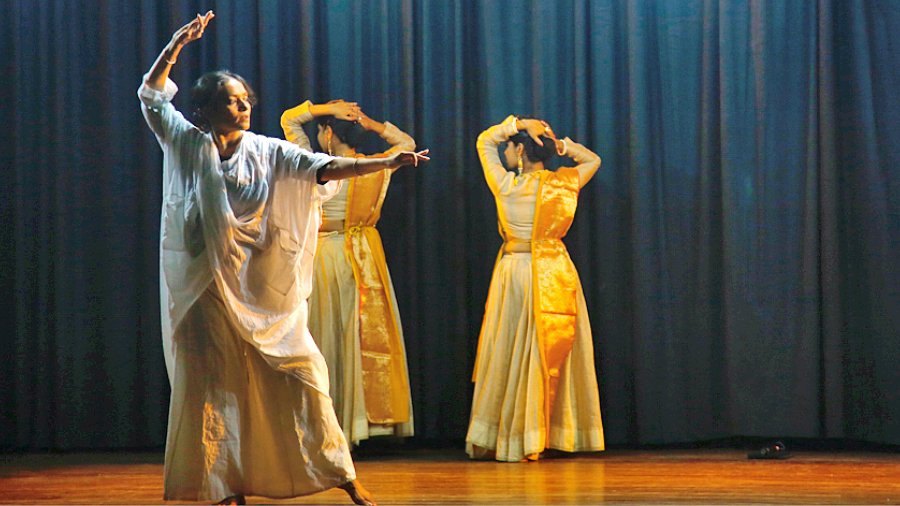 ---
Published 27.08.22, 03:28 AM
|
---
In a world vastly different from the one in which the Indian classical dances began to take shape, dancers now have their own narratives to engage with. As they experience displacement, migration, new modes of communication and technology, their art wants to negotiate with these transformative processes. While Kathak dancers of yore found it relevant to speak of balmy breezes, gopinis churning butter and flirting with Krishna while dancing to thumris, times are far too turbulent now to relate to these idyllic charms.
In Ashavari Majumdar's work, Elegy for Kathak, presented at the ICCR auditorium, for instance, the dancer-choreographer acknowledges the sonic and kinetic impacts of modernity on the vocabulary of her form. Even as she explores the possibilities of a new language within its framework, the muscle memory of her dancing body keeps pulling her back to her roots. Her relationship with the traditional thumri, "Kaun gali gayo Shyam", is one of nostalgia and loss. It becomes a metaphor for what has been irrevocably left behind.
The piece involving five dancers has the tactility of a deep, but not unconditional, bond with a once-well-loved idiom. Majumdar merges the traditional with the contemporary by breaking the syllables of her classical movement patterns and varying their speed to bestow new meanings upon them. This lends a strangely fragmented quality to her dance, which becomes an uneasy dialogue between the traditional and the modern.
A remarkable choreography of light designed by Abhyuday Khaitan creates independent imagery and an extraordinary series of installations. From dim spotlights to those of overwhelming brightness are orchestrated to flicker and crackle and, eventually, emerge as performers. But darkness is as important a protagonist as light in this work about the passing of a thing of fragile beauty to be replaced by the mundane solidity of the present. In the music by Sabyasachi Pal and the costume, there is a longing for the fading loveliness of tradition and all that it stood for.