Conjugal conundrum
THEATRE: This Sayak play has Meghnad Bhattacharya stepping aside as lead actor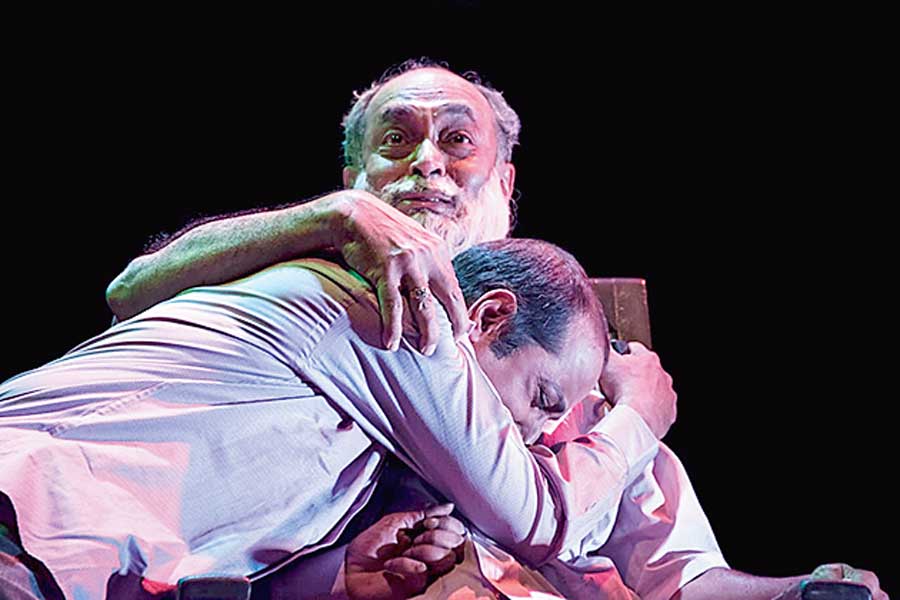 A scene from Atmajan by Sayak.
Pashupati Rudra Paul.
---
Published 14.01.22, 10:56 PM
|
---
As wave after wave of Covid-19 infections sweeps over the globe, running a theatre group is becoming increasingly difficult in downtown Calcutta — the shows have dried up; some members are reluctant to continue; the night curfew and other restrictions have seriously affected regular rehearsals. But Sayak, a leading Bengali theatre group from North Calcutta, seems to have worked out a survival strategy. It is focusing on less ambitious productions and trying out shorter plays. Atmajan, its latest full-length work, was staged on December 2 at the Academy of Fine Arts auditorium.
This reviewer is a regular at Sayak productions for more than four decades — ever since Dui Hujurer Gappo was staged. I do not remember experiencing any Sayak play without Meghnad Bhattacharya essaying the central role. With Atmajan, scripted by Ujjwal Chattopadhyay, Bhattacharya decides to step aside and focus on direction. The results are interesting.
 Atmajan starts on a rather unusual note for a Sayak drama. A wife (Rupsa Bhattacharya) has filed for a divorce and moved to her parents' house along with her teenage daughter (Marishi Chowdhury). Her decision is prompted by the husband's short-tempered nature and his obsessive attention towards the elderly father-in-law (Biswanath Roy), who is suffering from advanced geriatric problems. Tension mounts as a legal battle begins. However, the promise of delving deep into the conjugal crisis starts fizzling out. The subplot, involving the old man's female attendant (Indrajita Chakraborty) and her abusive husband, seems poised to underline the main plot, but it does just the opposite and the play moves towards a patchy reunion. The patriarch has the last laugh.
Bhattacharya keeps the production design simple, making optimum use of the downstage area and working out a zone out of nowhere, allowing minuscule shifts to change the locale. The primary cast performs mostly credibly. The veteran actor, Subrata Bhawal, impresses in the most original character penned by Chattopadhyay in recent years. The house physician who keeps quoting from the Sri Sri Ramakrishna Kathamrita is another unique character. On the downside, Saumik-Piyali designed a characteristically heavy set with an arched doorway and ornate interiors that are clearly out-of-place in what is meant to be a Jadavpur refugee settlement.