Akshita Gandhi's The Lockdown Series is an ode to Mumbai
The artist and philanthropist tells us about what the city means to her, her favourite artists and her dreams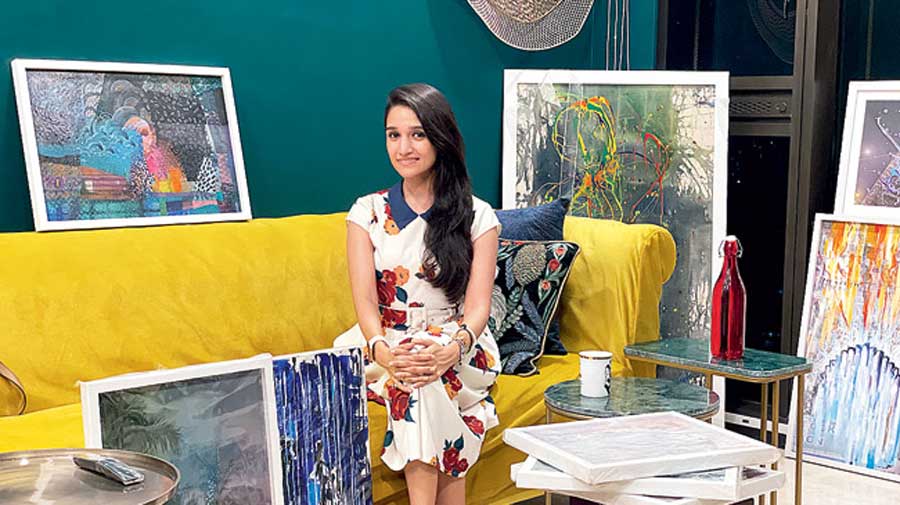 My process begins with taking photographs of a city, printing it on a canvas and then creating art over it. My journey began in Mumbai. I couldn't get enough of photographing certain parts of this beautiful city. After photographing the city, I print the same photograph several times. My lockdown series uses images from Mumbai before the lockdown changed our lives and the vibrant colours symbolise hope that we are all holding onto until this time passes. Mumbai is my jaan as it is to the millions that make it their home while this city beats — Akshita Gandhi
Sourced by Correspondent
---
Published 29.05.21, 02:27 AM
|
---
Mumbai girl Akshita Gandhi says the city is her "muse". And, in an ongoing online exhibition at New York's Gallery Perchée titled Architecture of The Elsewhere (on till July 15), Akshita has mounted The Lockdown Series that captures the Maximum City in different moods. In a t2 chat, the artist and philanthropist tells us about what Mumbai means to her, her favourite artists and her dreams.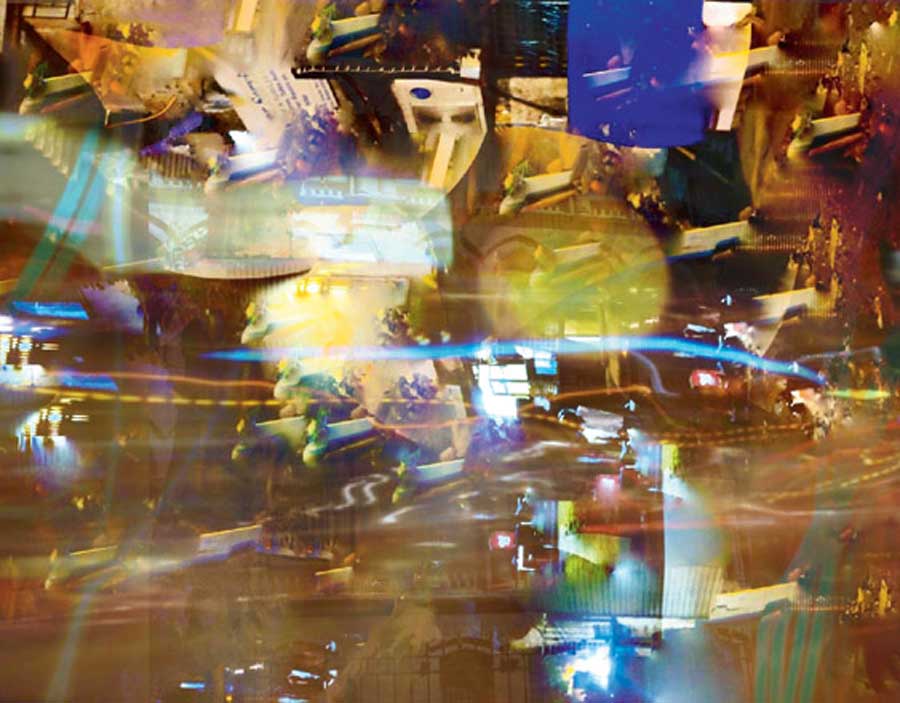 When did you put together The Lockdown Series?
I began creating the series last year during the lockdown. The artworks started coming together and taking form and shape earlier this year when the whole concept and technique became more coherent to me.
What do you love most about mixed media?
As an experimental artist, I love exploring various mediums. Mixed media is a technique that gives me the freedom to explore and not be tied down to a particular form. You are working on the same print on the canvas but reach a different conclusion each time. Working with different mediums is definitely more exciting for me and a great way to keep learning new techniques and enhancing my current skills.
Can you tell us about the themes?
My themes thus far have been inspired by literary, historical and social references amidst different cities and its urban landscapes. Art is a form of expression and usually tells a story, it's a narration of sorts but the common element has been fantasy and escapism. From creating works about Agamemnon's dream to finding your way back home through travel to the theme of "loving an eternity" inspired by Hermann Hesse's Steppenwolf, the commonality in all my work is magic. I'm currently working on a project called 'Time et Space' that explores the relationship between space that exists and time that is whimsical and fictional.
What does the city of Mumbai mean to you?
Every part of this city from its quaint lanes and thatched roofs, from its post-colonial identity to heritage architecture, deeply inspire me as an artist. Mumbai is my favourite muse. Mumbai has got to be the most eclectic mix we have. It's more than a city, it's an experience, it breathes and thrives with the dreams people from around this country bring with them. It's got tales of horror and success that is possible in this city like nowhere else in the world. Mumbai is my jaan as it is to the millions that make it their home while this city beats.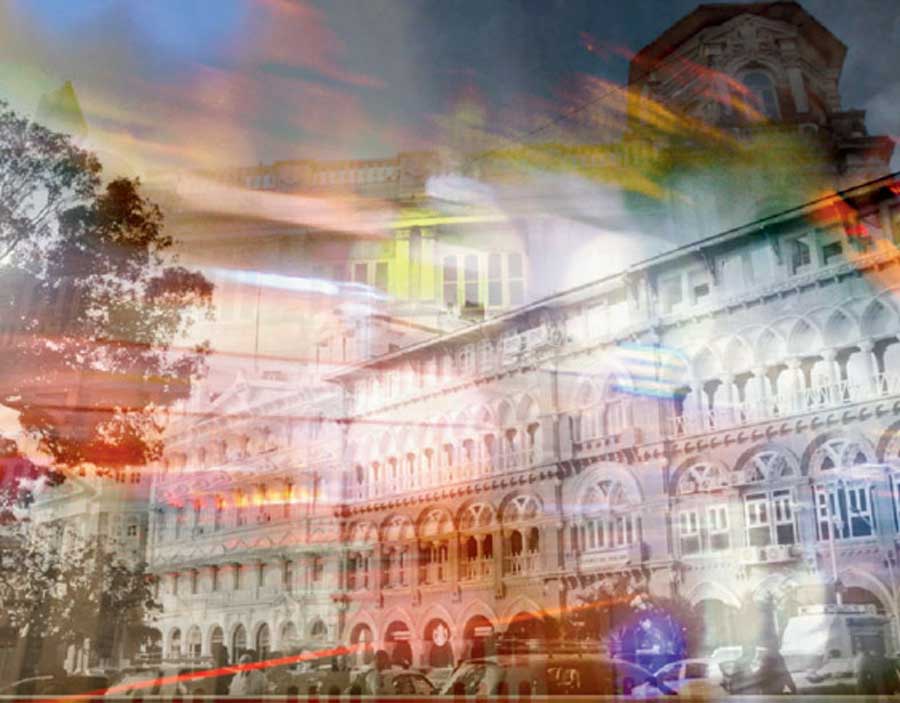 How has it been a part of your canvas over the years?
My process begins with taking photographs of a city, printing it on a canvas and then creating art over it. My journey began in Mumbai. I couldn't get enough of photographing certain parts of this beautiful city. After photographing the city, I print the same photograph several times. There's an image of Horniman Circle I kept working on and created nine different artworks from that one single photograph. Along with the mixed media, I have several photographs under the series, 'Sublime Fallacy' of just this city taken over the last six years. It's an integral part of my work and process.
Did you discover it in a new light in the lockdown?
Yes I did, it was quiet and scary, quite a contrast from the usual hustle and bustle of this city. My lockdown series uses images from Mumbai before the lockdown changed our lives and the vibrant colours symbolise hope that we are all holding onto until this time passes. I saw resilience and calm, the love and helpfulness of our society that brought us together as one. It's been a bittersweet time.
What artistic skills did you make time for to hone in the lockdown?
In the lockdown I began working with pour paints and created works that were entirely different from what I usually do and am still working with this medium. I also dabbled with digital art and explored the medium further. It was a happy experiment because it led me to my first digital solo show with a Miami gallery in 2020.
Who are your favourite artists?
Claude Monet is my all-time favourite artist. There's a sense of magic in his works and they leave you awestruck. Art evokes emotions and being able to evoke wonder in such a pleasant manner is exceptional. Alberto Giacometti is my favourite sculptor; the first time I saw them in person, I teared up. There was something so raw and real about them. He's a genius!
You studied both business and fine arts. Do you love one a little bit more than the other?
Just like the yin and yang coexist in equilibrium together, similarly I feel my passion with business and fine arts exist together in harmony. It's impossible to love one more than the other, both come to me naturally and in my mind work seamlessly together. I want to paint capitalism and build structures that require an artist's vision and have a great aesthetic.
Do you have a dream as an artist?
Yes! I think every artist has a dream. Mine is to leave a legacy behind wherein my art evokes pure joy through jubilant colours, continue spreading awareness about important social issues, create exceptional body immersive experiences for my audience and teleport them into another realm. And, of course, most importantly represent India in every corner of the world.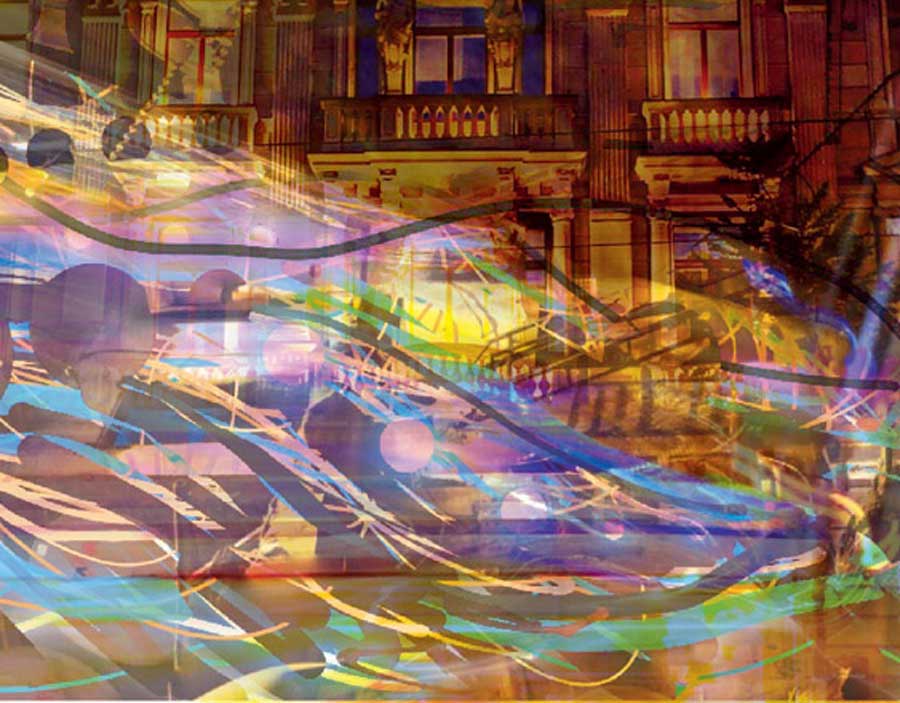 Quick five
Favourite gallery: Gallery Perchée in New York and Tao Art Gallery in Mumbai
Favourite city for an art connoisseur: New York
Favourite artwork collected: Classic Swiss postcards from Switzerland
I would like to paint: My dreams
A classic work of art: The Vitruvian Man by Leonardo da Vinci