Stock market surges as exit polls predict BJP win
There was a rub-off effect on the rupee as well which leapt to a two-week high at 69.74 against the US dollar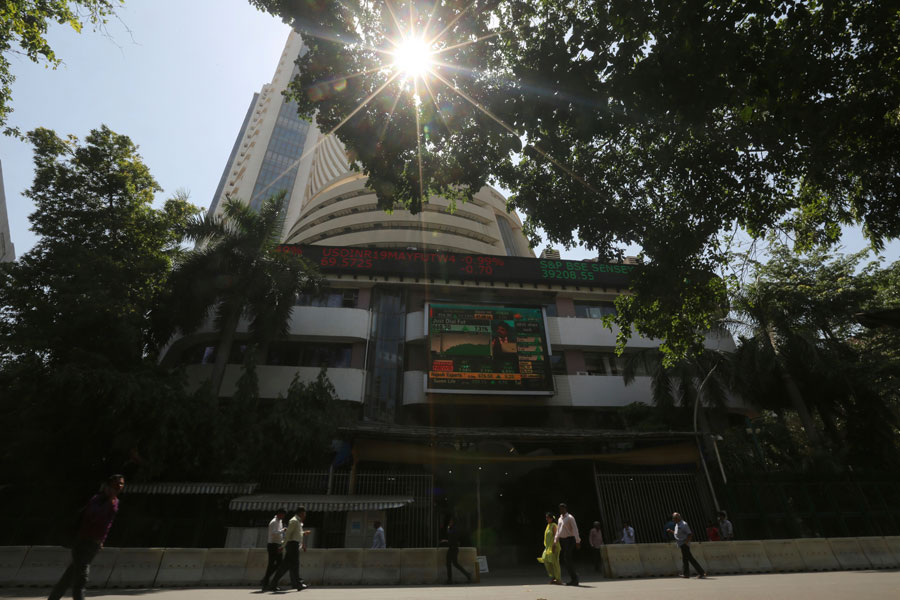 ---
Mumbai
|
Published 20.05.19, 10:03 PM
|
---
The mood on the markets turned euphoric on Monday as the Sensex vaulted 1,421.90 points to close at 39,352.67 points after a clutch of exit polls showed that Narendra Modi would win a clear mandate in the general election.
The 30-scrip bellwether recorded its biggest one-day gain in six years and soared to a high of 39,412.56 before investors started scooping up some of the gains.
The Nifty 50, the other closely watched gauge of the broader market, surged 421.10 points to record its biggest single-day gain in 10 years, closing at 11,828.25 points or up 3.69 per cent.
"The Nifty is just shy of its all-time high of 11,856," said Dhiraj Relli, MD and CEO of HDFC Securities.
After weeks of tension over the outcome of the general election, the exit polls triggered a stampede into stocks once again, ramping collective shareholder wealth by Rs 5,24,152.65 crore on the Bombay Stock Exchange.
The market capitalisation of all stocks listed on the BSE touched Rs 1,51,82,862.33 crore.
Sixty-six stocks on the BSE hit their 52-week highs. They include HDFC Bank, ICICI Bank, Titan, Kotak Mahindra Bank, Bajaj Finance and DCB Bank. At the same time, 151 counters sank to one-year lows — which means that investors will have to pick their stocks carefully during a volatile phase on the markets.
There was a rub-off effect on the rupee as well which leapt to a two-week high at 69.74 against the US dollar.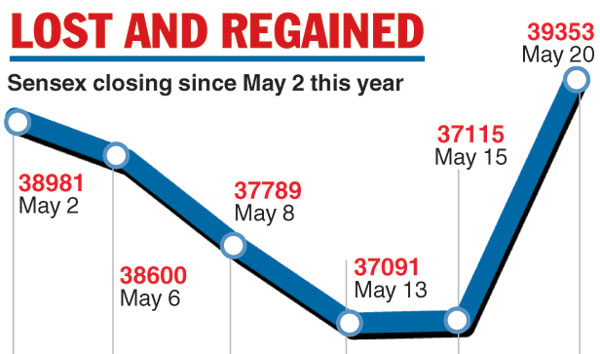 "It is quite rare to see that no one (in the Indian markets) is bothered about what's happening in the global markets and whether the US President has sent any tweet or not," said Sameet Chavan, chief analyst, technical and derivatives, at Angel Broking.
"The exit polls will be seen as a modest positive for the Indian stock market as it was largely factoring in the return of the BJP-led NDA government," Kotak Institutional Equities said in a research note.
"More outperformance lies ahead for the Nifty if the exit poll predictions are right," said brokerage CLSA while noting that the new government — given the strength of its mandate — may choose not to accord urgent priority to reviving the economy, which could act as a downside.
One reason for this could be the government's eagerness to quell concerns about agrarian distress and poor farm incomes which, if the exit polls are right, do not seem to have affected the BJP's vote share.
The pundits were still wavering on whether the Indian stock markets — which have lagged Asian peers for the greater part of the year —would once again start to see blowout returns for investors.
"If the actual results are a fragmented verdict, then equities could take a meaningful hit," a Morgan Stanley report said.