Russian crude to bridge Saudi gap
India signs a non-binding co-operation agreement with Russia that reiterated the interest of Indian companies taking a stake in the oilfields in the Russian Far East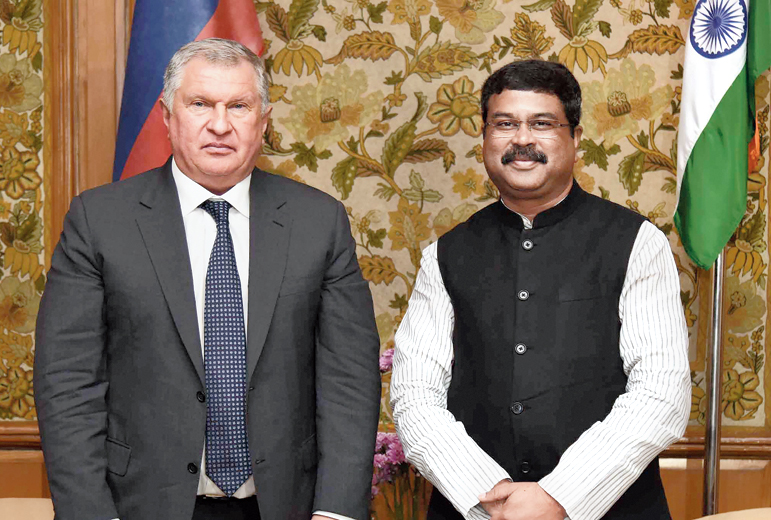 ---
---
India plans to increase crude imports from Russia to partially make up for the shortfall caused by the drone attack on the oil facilities of Saudi Arabia.
"We discussed elaborately to raise imports from Russia," oil minister Dharmendra Pradhan told reporters on Tuesday after meeting Igor Sechin, chief executive of Russian oil major Rosneft.
India on Tuesday signed a non-binding co-operation agreement with Russia that reiterated the interest of Indian companies taking a stake in the oilfields in the Russian Far East.
India imports a small quantity from Russia but is looking to bring more through a new navigation channel between Vladivostok and Chennai. "We are confident, we will have some deal," Pradhan said.
Imports from Russia in the last fiscal were just 2.5 million tonnes (mt) against total imports of 207.3mt. Pradhan said Russia produces 11.29 million barrels daily, of which 160,000 barrels per day are in excess.
The said the drone attack in Saudi Arabia had created a new situation in the global oil market.
"Officials of our oil marketing companies have discussed with Saudi Aramco officials. We have also spoken to the Saudi government at the diplomatic level. The Indian Ambassador is in constant dialogue with the Saudi authorities."
Saudi Arabia is the world's biggest oil exporter and the second-largest supplier of crude to India after Iraq.
Share in fields
During the meeting with Sechin, Pradhan renewed India's pitch for a consortium of Indian companies led by ONGC Videsh (OVL) taking about a 49 per cent stake in Russia's Vankor cluster oilfields.
India had expressed deep interest in oil and gas exploration in the Russian Far East during Prime Minister Narendra Modi's visit to Vladivostok earlier this month and Sechin's visit was a follow up of that, officials said.
During Modi's visit, Indian firms H-Energy and Petronet LNG had signed agreements to buy liquefied natural gas (LNG) from Russian gas producer Novatek on long-term contracts as also the possibility of picking up a stake in its LNG export projects in the Arctic. But a deal for stakes in the Vankor Cluster couldn't be signed.