Renault board meets after Carlos Ghosn's arrest
French minister says Ghosn not in a position to lead Renault group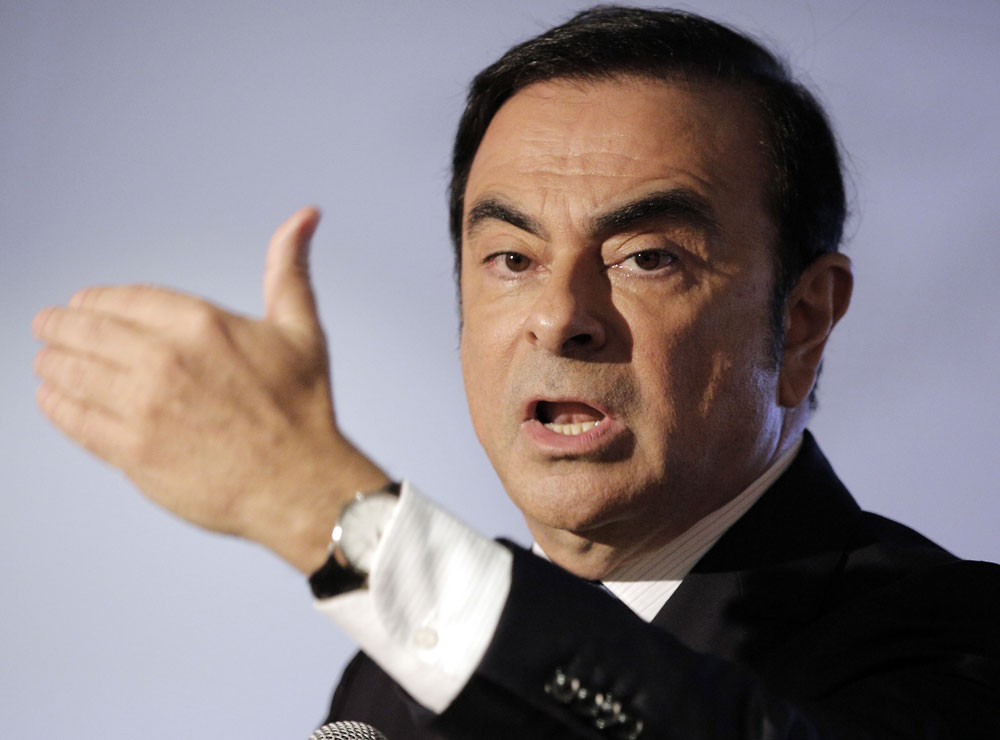 ---
|
Paris
|
Published 20.11.18, 08:09 PM
---
Renault's board of directors was holding an emergency meeting Tuesday to consider its next moves after its CEO Carlos Ghosn was detained in Japan amid allegations he misused assets of partner Nissan Motor Co. and under-reported millions of dollars in income.
Japanese prosecutors were considering Tuesday whether to file formal charges against Ghosn, Nissan's chairman.
The arrest of Ghosn after a whistleblower disclosed the alleged misconduct stunned many in Japan and France, where for years he's been a superstar among industrialists, known as a relentless cost-cutter and innovator — but who appears to have spent lavishly on himself.
Japanese prosecutors said they were holding Ghosn, 64, for allegedly collaborating to falsify securities statements and underreport $44.6 million in income from 2011 to 2015. A second Nissan executive, Greg Kelly, was also suspected of collaborating with him.
Ghosn runs Renault, Nissan and the Renault-Nissan-Mitsubishi alliance that he helped turn into the world's biggest car-seller last year, and both France and Japan want to keep it intact.
In France, Finance Minister Bruno Le Maire said authorities have examined Ghosn's tax situation in France but have found no wrongdoing.
Still, Le Maire said Tuesday he wants Ghosn replaced while he faces accusations in Japan. But he and Japanese Economy Minister Hiroshige Seko said in a joint statement that the alliance is 'one of the greatest symbols of Franco-Japanese industrial cooperation.'
They expressed 'their shared wish to maintain this winning cooperation.'
Le Maire told broadcaster France-Info that Ghosn is not in a position to lead the Renault Group because of the accusations. He urged the board to name a temporary leadership instead. France holds 15 per cent of Renault.
'It's extremely regrettable,' Japan's Chief Cabinet Secretary Yoshihide Suga told reporters. 'We will watch developments closely.'
There was no word from Ghosn himself. Prosecutors have refused to say where he was being held.
The prosecutors, who reportedly arrested Ghosn after questioning him upon his arrival by private jet at Tokyo's Haneda airport, have 48 hours from the time of Ghosn's arrest Monday to decide whether to press charges. They can hold a suspect for up to 20 more days per charge if they decide they need more time.
The scandal has thrown into question Ghosn's future as leader of the Renault-Nissan-Mitsubishi alliance, which sold 10.6 million cars last year, more than any other manufacturer.
Nissan's board was due to meet Thursday to consider dismissing Ghosn and Kelly. Earlier this year, Ghosn signed a contract that would have run through 2022.
Ghosn officially still leads the Renault-Nissan-Mitsubishi alliance as CEO and chairman.
Of French, Brazilian and Lebanese background, Ghosn also is a towering corporate figure in France, where Renault is one of the heavyweight industrial survivors. He has met repeatedly with the past four French presidents; no major economic event in France was held without Ghosn.
Ghosn's Lebanese heritage is a source of pride in Lebanon, and in Beirut the foreign minister, Gibran Bassil, issued a statement saying the Lebanese ambassador to Tokyo was told to look out for 'the model of Lebanese success abroad.'
He said the Lebanese Foreign Ministry would stand by Ghosn to ensure he gets a fair trial.
In Japan, where foreign executives are scarce and even the biggest corporate bigwigs tend to keep a low profile, Ghosn's status is more ambiguous.