RBI freezes Bandhan Bank CEO's pay
Action after Chandra Shekhar Ghosh fails to cut promoters' stake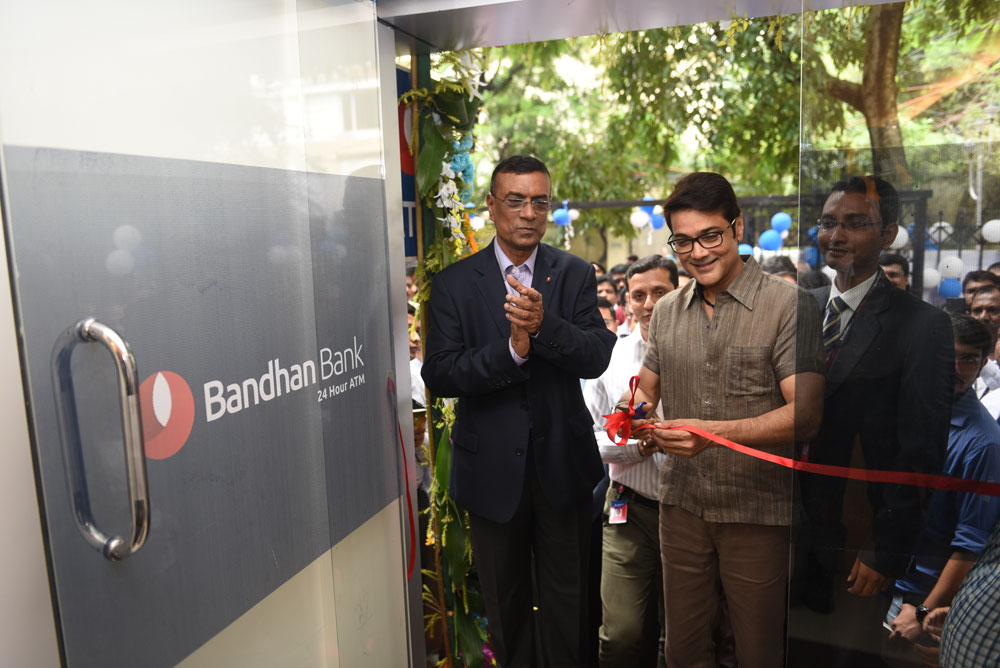 ---
|
Mumbai
|
Published 28.09.18, 08:14 PM
---
The Reserve Bank of India (RBI) on Thursday slapped a freeze on Bandhan Bank CEO and MD Chandra Shekhar Ghosh's remuneration and stopped it from expanding its branch network as punishment for failing to trim the promoters' stake to 40 per cent under a pre-agreed stake dilution formula.
Bandhan's promoters and linked companies hold over 82 per cent stake in the bank.
The promoter stake dilution was one of the conditions mandated by the RBI in its licensing guidelines for new banks in the private sector released in February 2013.
According to the guidelines, a promoter or promoter group will be permitted to set up a bank only through a wholly owned non-operative financial holding company (NOFHC). It had also stipulated that the NOFHC stake should be brought down to 40 per cent within three years of the date of commencement of the business of the bank.
Bandhan Bank won an in-principle approval from the RBI for setting up a universal bank in April 2014 and obtained the final nod in June 2015. The Calcutta-based lender started operations from August 2015.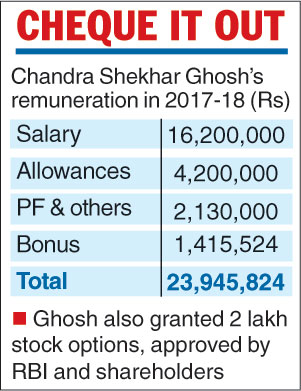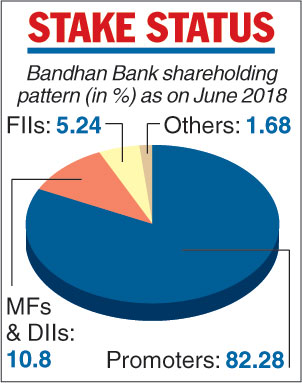 Ghosh had earned a remuneration of Rs 2.39 crore, an increase of 18 per cent over the previous year, according to the bank's annual report for 2017-18. The ratio of the CEO and MD's remuneration to the median employees' remuneration was 117:1, the annual report said. This means a median employee's pay at Bandhan Bank is Rs 17,055 per month.
Market circles say the RBI may also be sending a message to Uday Kotak, the promoter of Kotak Mahindra Bank, to pare his stake.
Sources said Bandhan Bank had plans to have 1,000 branches this year against its present 937. The bank will now have to seek the RBI's permission to do so.
In a regulatory filing with the bourses after market hours, Bandhan Bank said, "The RBI has communicated to us that since the bank was not able to bring down the shareholding of NOFHC to 40 per cent, general permission to open branches stands withdrawn and the bank can open branches with prior approval of the RBI and the remuneration of the MD & CEO stands frozen at the existing level till further notice."
The Bandhan Bank stock ended nearly a per cent lower at Rs 564 on the BSE.
The lender added that it was taking necessary steps to comply with the licensing conditions to bring down the shareholding of NOFHC.