Mukhesh Ambani reveals JioPhone Next, world's cheapest smartphone
Saudi Aramco chairman Yasir Othman Al-Rumayyan to join as independent director at RIL, says business tycoon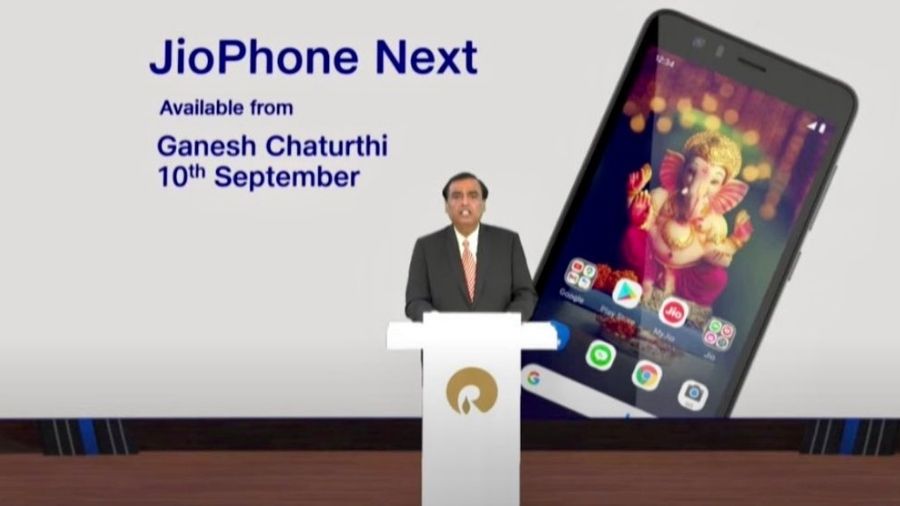 ---
New Delhi
|
Published 24.06.21, 04:07 PM
|
---
Reliance Industries Chairman Mukesh Ambani on Thursday announced 'JioPhone Next', a power-packed affordable smartphone that has been jointly developed by Jio and tech titan Google.
JioPhone Next will be available from September 10, and will be the most affordable smartphone globally, Ambani said while addressing RIL's annual general meeting.
The "extremely affordable" smartphone will have cutting-edge features, including voice assistant and language translation, among others, he said.
He further said Reliance Jio will use Google Cloud for 5G.
Last year, Google had announced an investment of Rs 33,737 crore for a 7.7 per cent stake in Reliance Industries' technology venture Jio Platforms. The tech giant had also teamed up on technology initiatives, including development of affordable smartphones for the price-sensitive, tech-savvy Indian market.
Among the other announcements made during the convention was Saudi Aramco chairman and head of the Kingdom's cash-rich wealth fund PIF, Yasir Othman Al-Rumayyan joining the board of Reliance Industries as an independent director in a precursor to a USD 15 billion deal.
Ambani, who had two years back disclosed talks to sell a 20 per cent stake in the company's oil-to-chemical (O2C) unit to Saudi Aramco, announced the appointment of Al-Rumayyan at the company's annual meeting of shareholders.
Harvard educated, Al-Rumayyan, 51, will replace Yogendra P Trivedi, 92, who has expressed desire to retire, Ambani said at the company's annual shareholder meeting.
On the sale of 20 per cent stake in the O2C business, he said the deal is likely to conclude this year.
"We look forward to welcoming Saudi Aramco as a strategic partner in our O2C business," he said.
Ambani also announced a Rs 75,000 crore investment in setting up four 'Giga' factories to make solar photovoltaic cells, green hydrogen, batteries and fuel cells over the next three years.
He said Reliance will set up 100 GW of solar power generating capacity.
"We plan to build four Giga Factories to manufacture and integrate all critical components of the new energy ecosystem: solar photovoltaic module factory, energy storage battery factory, electrolyser factory, fuel cell factory," Ambani said.
These four factories will involve an investment of Rs 60,000 crore.
"We will invest an additional Rs 15,000 crore in the value chain, partnerships and future technologies, including upstream and downstream industries. Thus, our overall investment in the new energy business will be Rs 75,000 crore in 3 years," he said.