Lockdown: Bulls see gold at Rs 65,000 per 10 gram
Domestic prices rise 17% so far this calendar year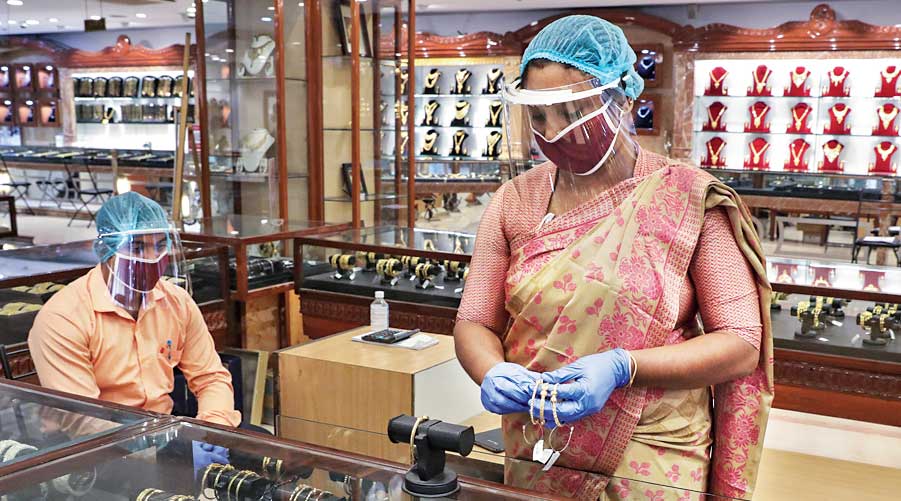 ---
|
Mumbai
|
Published 23.07.20, 02:32 AM
---
The lockdown has yanked the price of gold upwards, but its best days are still to arrive. Experts feel the yellow metal could hit the level of Rs 65,000 per 10 gram in the next two years given a lacklustre global economy and the possibility of trade wars.
Gold futures breached the Rs 50,000-mark on Wednesday and hit a record high of Rs 50,085 per 10 gram on the MCX. In the national capital too, the precious metal hit a new high in the spot markets.
"We have been bullish on gold for the last couple of years and the view has played out very well, and two quarters back in December 2019, we have revised our targets from Rs 42,000 per ten gram to Rs 65,000 per ten grams in 18-24 months. We continue to maintain this target as the fundamental backdrop that has driven gold over the last four months remains,'' said Kishore Narne, associate director & head, commodities & currencies, Motilal Oswal Financial Services.
Domestic gold prices track international rates and have gained 17 per cent so far this calendar year. International prices of the metal are now ruling at around $1856 per ounce.
Gold has outperformed all other asset classes in 2020. The Covid-19 pandemic has severely affected the global economy and this, combined with huge liquidity infusion by central banks, have led to investors chasing the safe haven asset. A weak US dollar (gold is generally inversely related to the greenback) has also helped.
The pandemic has also seen central banks cutting rates, raising worries on the inflation front. Demand for gold has risen as it is seen as a hedge against price rise.
Experts say there are other factors that will keep prices of the precious metal northward bound. With a vaccine a few months away and coronavirus cases expected to go up, it is felt that a recovery in the global economy will be delayed. There is also the possibility of protectionist policies and trade wars between nations —another factor favouring gold.
Experts said while the high prices of gold would affect consumer demand, investor demand is likely to remain strong.
According to Sriram Iyer, senior research analyst at Reliance Securities, international spot gold has broken above an important consolidation range of $1,820 per ounce and could move towards the all-time high of $1,920 an ounce.
"Fresh spike in Covid in the US and several other nations has definitely cast serious doubts on economic recovery. Moreover, US lawmakers could soon agree on a new stimulus package close to $ 1 trillion,'' he said. In India, Iyer observed, higher prices will dampen demand but price will move higher tracking overseas rates.
Nish Bhatt, founder & CEO of Millwood Kane International, an investment consulting firm, said: "The dream run for gold continues... Gold is trading at a 9-year high and silver at a 4-year high... We expect precious metals to trade firm until the number of global cases of Covid-19 is under control or a vaccine is introduced, which is still a few months away."