The report, which analyses key trends in institutional investments in the real estate sector over the last decade, said the pick-up in interest was due to factors such as policy reforms, stable macro-economic fundamentals and growing risk appetite of foreign and domestic investors.
"India's real estate sector is at an inflection point. While the investment scenario improved post the global financial crisis, there has been a surge in institutional investments since the beginning of the year 2014.
"The trend suggests that the market offers tremendous growth opportunities to foreign and domestic investors. Against the backdrop of an ongoing policy overhaul, rising investor confidence, enhanced transparency, gradual recovery in the residential segment, and an increasing demand for grade A commercial office space, the investment momentum is only expected to grow manifold from its current levels," Ramesh Nair, CEO and country head of JLL India, said.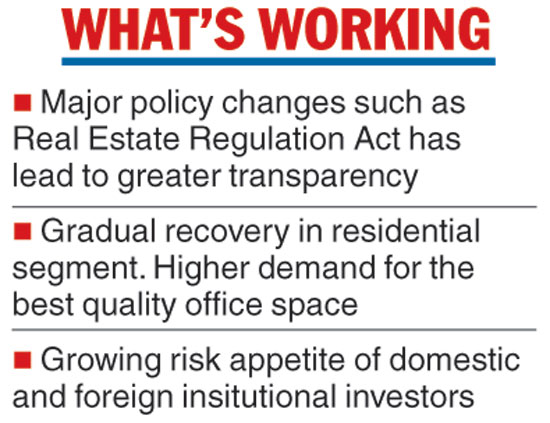 The Telegraph
Institutional investors are focussed on the long-term prospects of the Indian realty sector and they are expected to shovel $5.5 billion into the sector this year, the highest in nine years.
According to a report by JLL, the real estate professional services firm, realty has seen investments worth $4.2 billion in 2018. It pointed out domestic real estate has attracted nearly $30 billion of institutional investments from January 2009 till October 2018, with around $20 billion in 2014-18 alone compared with $9.4 billion in 2009-13.
The investors include family offices, foreign banks' real estate investment desks, pension funds, private equity firms and sovereign wealth funds.
Local banks have been the traditional lenders, and they invested $29 billion till March 2018. On the other hand, non-banking financial institutions (NBFIs) had outstanding credit of $40 billion during the same period. Within NBFIs, non-banking finance companies (NBFCs) played a dominant role with outstanding lending of $25 billion, while housing finance companies are the second highest lenders with $15 billion of credit until 2017-18.