India's GDP growth further slows to 4.1 per cent in fourth quarter
Downward revision was expected as omicron variant and start of Russia-Ukraine war hit Q4: Economist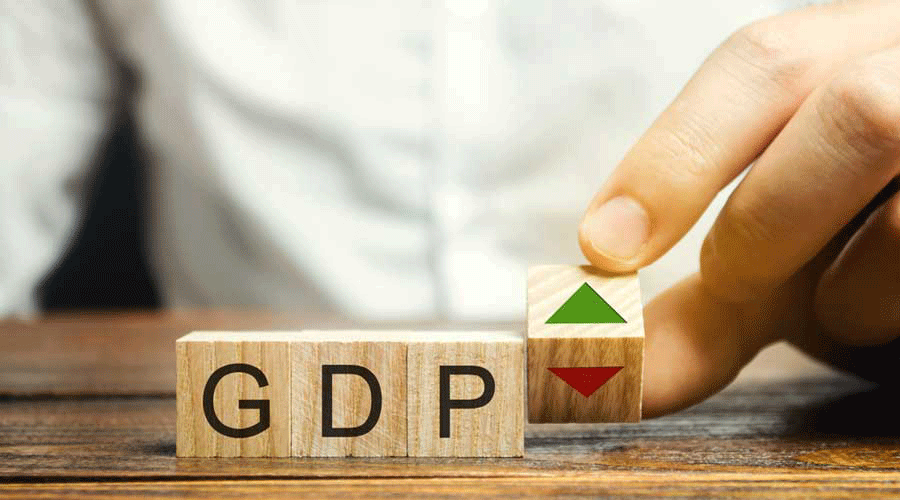 Representational image.
Shutterstock
---
New Delhi
|
Published 01.06.22, 02:44 AM
|
---
The Indian economy has started to stutter.
Growth in the fourth quarter of 2021-22 (January-March) slowed to a crawl at 4.1 per cent, reflecting just how enfeebled the economy had become because of weakening demand and a broad-based surge in prices that sent inflation to an eight-year high at 7.79 per cent in April.
The slowdown meant that the fourth quarter saw the lowest growth after 20.1 per cent in the first quarter (April-June 2021), 8.4 per cent in Q2 and 5.4 per cent in Q3.
During the fiscal year, GDP grew 8.7 per cent year-on-year compared to a contraction of 6.6 per cent in the previous — and propagandists for the Modi government were quick to trumpet this as the fastest growth in the past 17 years.
The statistical illusion is quickly busted when one compares the absolute real GDP figure with that in the pre-pandemic year of 2019-20.
The GDP in 2021-22 was estimated at Rs 147.36 lakh crore, just 1.5 per cent higher than the Rs 145.16 lakh crore achieved in 2019-20. The sobering truth is that the economy has just about overcome the negative impact of the pandemic. "The downward revision in the last fiscal's GDP growth was expected as the omicron variant and the start of the Russia-Ukraine war hit the last quarter. The Indian economy has grown by only 1.5 per cent above the pre-pandemic level (fiscal 2020), compared with the 1.8 per cent estimated earlier. However, the good part is that estimates for both private consumption and fixed investment estimates are a tad higher than before," said Dharmakirti Joshi, chief economist at CRISIL.
During the March quarter, agriculture grew at a pacy 4.1 per cent but manufacturing contracted 0.2 per cent. The services sector once again came to the rescue: trade, hotels, transport and communication expanded by 5.3 per cent while the financial services and real estate sector grew by 4.3 per cent.
Public administration, defence and other services, which represent government expenditure, grew 7.7 per cent during the March quarter, boosting overall economic growth.
Among other sectors, mining and quarrying grew 6.7 per cent and construction lumbered ahead by 2 per cent.
Real GDP grew to Rs 147.36 lakh crore from Rs 135.58 lakh crore in 2020-21.
Gross Value Added (GVA), which strips out the impact of subsidies and indirect taxes, grew 3.9 per cent year-on-year in the fourth quarter compared with a revised growth of 4.7 per cent for Q3 FY22. For the full year, it grew by 8.1 per cent as against a contraction of 4.8 per cent in the preceding year.
Nominal GDP for FY22 grew 19.5 per cent over a year ago to an estimated Rs 236.65 lakh crore.
"Inflation pressures will remain elevated…. However, the risk of stagflation, which is a combination of slow growth and high inflation, is low in India," said V. Anantha Nageswaran, chief economic adviser at the finance ministry.
The outlook for the economy doesn't look too good with the Reserve Bank of India's policymakers signalling that they are ready to sacrifice growth as they grapple with runaway inflation.
Earlier this month, the RBI raised the policy interest rate — the repo — by 40 basis points to 4.4 per cent in a surprise off-cycle intervention.
It is expected to raise rates again by as much as 50 basis points at a meeting early next month in a desperate attempt to cool prices.
The rupee has depreciated by over 4 per cent against the US dollar this year, sparking an imported inflationary pressure in the economy which has crimped consumer demand.
The per capita income (based on net national income) during 2021-22 was Rs 1.5 lakh per annum at current prices, up from Rs 1.27 lakh in 2020-21, showing a growth of 18.3 per cent. However, at constant prices, per capita annual income works out to be Rs 91,481, up 7.5 per cent from Rs 85,110 in FY21.