ICICI numbers stun Street
The private sector bank posted a standalone net profit of Rs 4,251.33 crore against Rs 654.96 crore in the same period of the previous year, a rise of 549%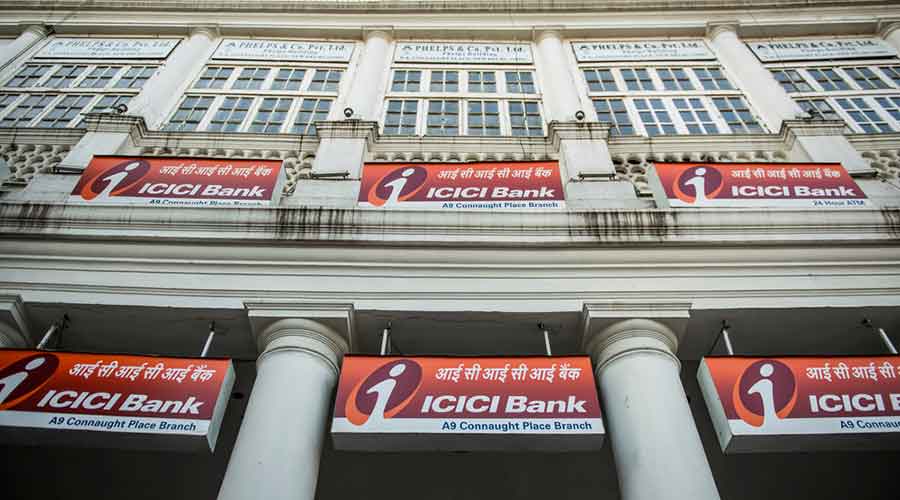 ---
|
Mumbai
|
Published 01.11.20, 12:26 AM
---
ICICI Bank saw its net profit jump over six times for the September quarter because of a lower base in the year-ago period even as provisions rose.
The private sector bank posted a standalone net profit of Rs 4,251.33 crore against Rs 654.96 crore in the same period of the previous year, a rise of 549 per cent.
The record profit exceeded analysts' estimates of a Rs 2,500-4,000 crore profit.
The bank's profits were hit in the corresponding period last year by a one-time tax adjustment. The profits in the second quarter of the current fiscal were also boosted by a one-time gain.
During the second quarter of this fiscal, the bank sold equity shares representing 2 per cent in ICICI Securities for a total consideration of Rs 309.83 crore. The sale resulted in a net gain (after sale related expenses) of Rs 305.01 crore.
Provisions, however, rose to Rs 2,995.27 crore against Rs 2,506.87 crore in the year-ago period. However, they were lower than Rs 7,593.95 crore in the preceding quarter.
Sandeep Batra, president of ICICI Bank, said the provisions made by the lender since March is more than adequate to cover any potential contingencies and during this quarter, ICICI Bank did not have to use the Covid-19 related provisions that were made.
He disclosed that collection efficiency is now almost at the pre-pandemic level.
On the one-time restructuring, Batra said while there could be some requests, the bank was not expecting a large number with the economy now showing signs of recovery. He, however, cautioned that there could be some Covid related impact in the next two quarters though 2021-22 will be a "normalised year".
During the period, ICICI Bank's asset quality improved with gross non-performing assets (NPAs) in absolute terms coming in at Rs 38,989.19 crore compared with Rs 40,386 crore in the first quarter of this fiscal and Rs 45,638.79 crore in the year-ago period.
The gross NPAs came in at 5.17 per cent against 5.46 per cent on a sequential basis. Similarly, the net NPAs stood at 1 per cent against 1.23 per cent in the same period.
ICICI Bank disclosed that the Supreme Court through its interim order on September 3 has directed that accounts which were not declared as NPAs till August 31 shall not be declared as NPA till further orders.
"The bank has not classified such borrower accounts as NPAs as on September 30, 2020. If these borrower accounts were classified as NPAs by the bank, the pro forma gross NPA ratio and net NPA ratio (based on customer assets), would have been 5.36 per cent and 1.12 per cent, respectively, as on September 30," it disclosed.
The lender pointed out that after the easing of restrictions, there has been a substantial month-on-month increase in disbursements across retail products.
Mortgage disbursements during the second quarter crossed pre-Covid levels and reached an all-time monthly high in September. Further, auto loan disbursements also continued to increase from June and have reached pre-Covid levels in September reflecting the rise in passenger car sales.
During the quarter, ICICI Bank saw its retail loan portfolio grow 13 per cent over the same period in the previous year and 6 per cent sequentially. Retail loans comprised 65.8 per cent of the total loan portfolio at September 30, 2020.
It added that disbursements across the rural portfolio have also crossed pre-Covid levels in the months of August and September even as credit card spends recovered to about 85 per cent of pre-Covid levels in September led by increased spends in categories such as health & wellness, electronics and e-commerce.