Higher cover for deposits
These legislations will be brought during the Winter Session of Parliament starting Monday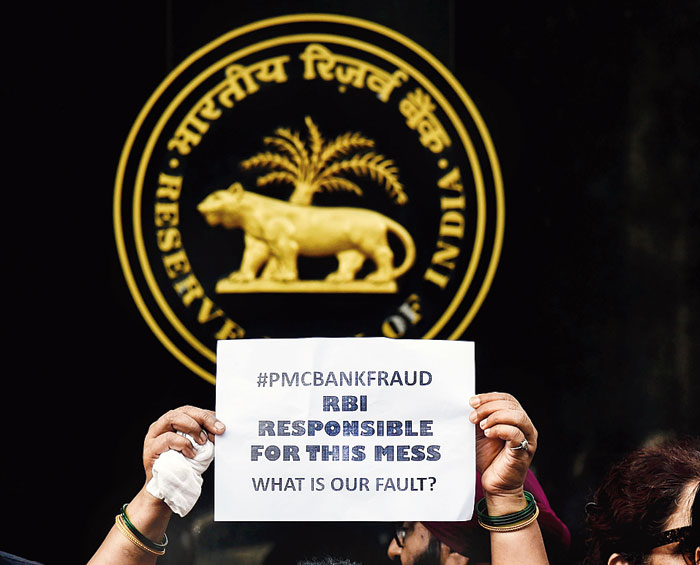 A PMC Bank depositor display a placard during a protest outside the RBI building in Mumbai
File photo
---
New Delhi
|
Published 15.11.19, 08:30 PM
|
---
Finance minister Nirmala Sitharaman said the government will bring in legislations to raise insurance cover on bank deposits from the current Rs 1 lakh and to regulate multi-state cooperative banks. These legislations will be brought during the Winter Session of Parliament starting Monday.
The legislations assume significance in the wake of the scam in the Punjab and Maharashtra Cooperative Bank, which has affected lakhs of customers who are facing difficulties in withdrawing their money because of restrictions imposed by the Reserve Bank of India.
At present, bank depositors get an insurance cover of Rs 1 lakh on their amount by the Deposit Insurance and Credit Guarantee Corporation.
The finance ministry will also approach the cabinet to approve amendments to ensure that cooperative banks are brought under the banking regulation act so that prudential norms are applicable to these banks too, Sitharaman said.
The government is also in talks with the Reserve Bank of India to see if the confiscated properties of the promoters of the Housing Development and Infrastructure Limited can be used to pay off the depositors of Punjab and Maharashtra Cooperative Bank, said the minister.
The finance minister also said the government has no plans to cut spending on welfare schemes and will encourage all the departments of the Union government to spend entire funds provided in the Budget.
Amid the weak economic numbers and series of steps taken by the government to boost growth, she said it was too early to say if the slowdown in the economy had bottomed out.
On the corporate tax cut and incentives for investments, Sitharaman said actual investments may take some time to materialise.
She said it is also a bit too early to say whether the government would be able to stick to the fiscal deficit target, given the lower-than-expected revenue collection. The divestment proceeds could probably be used to bridge the budget gap.