Govt approves setting up of a Development Finance Institution
The proposed legislation — the DFI was announced by finance minister Nirmala Sitharaman in the budget — will be introduced in the current session of Parliament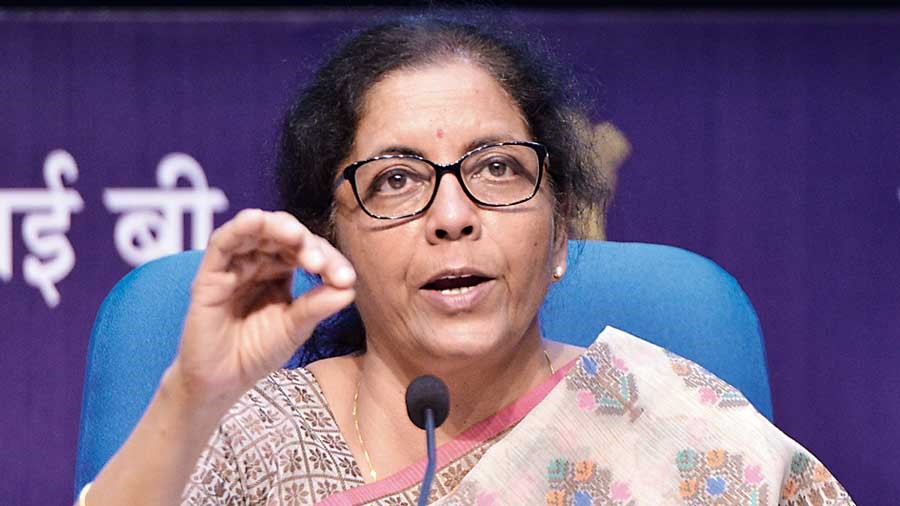 Nirmala Sitharaman.
File picture
---
New Delhi
|
Published 17.03.21, 01:23 AM
|
---
The government on Tuesday has approved the setting up of a Development Finance Institution (DFI) with an initial paid-up capital of Rs 20,000 crore enabling the entity to leverage the capital and raise as much as Rs 3 lakh crore to fund infrastructure projects.
The proposed legislation — the DFI was announced by finance minister Nirmala Sitharaman in the budget — will be introduced in the current session of Parliament.
"The Cabinet has cleared this bill, through which we will have an institution and institutional arrangement, which will help in increasing long-term funds," Sitharaman told reporters after the meeting of the Union cabinet.
"Through this, we expect to raise a considerable amount from the market,"she said.
The government expects marquee pension funds and sovereign funds to invest using the DFI route. The new entity will get tax benefits over a 10-year period.
The Indian Stamp Act will also be amended for the benefit of the financial institution. The government also plans to give the institution certain assurances which will reduce the cost of funds, the finance minister said.
Dibyanshu, partner at Khaitan & Company, said the tax benefits and stamp duty concessions for 10 years to the development FI should solicit interest from pension funds and sovereign wealth funds which are the key players in infrastructure.
The finance minister said the initial grant to the DFI will be Rs 5,000 crore and additional increments will be made with the upper limit of Rs 5,000 crore.
On speculation that infrastructure finance body IIFCL would be merged with proposed DFI, financial services secretary Debasish Panda said the new institution will start on a "clean slate". Once the institution is set up, its board will decide about acquisition or merger of other companies, he said.
"This is a very important initiative for bolstering the financing needs of the infrastructure sector. Relieving the banks of the asset-liability mismatch inherent in bank lending to infra, this institution should be enabled to provide long term capital to the sector," Soumitra Majumdar, partner, J. Sagar Associates said  
"On the liability side, it should be permitted to access all forms of long-term capital, domestically as well as internationally. The bank needs to be manned by finance and sector experts, for effective monitoring of the projects," Majumdar said.
Sitharaman said initially the new institution would be government-owned, with its stake being cut gradually to 26 per cent.
The DFI will have a professional board. It will have 50 per cent non-official directors and would be empowered to appoint and remove wholetime directors.
Market-driven emoluments would be given to managing directors and deputy managing directors of to attract "best" of talents, Sitharaman said.