Rangarajan pitches for 33% investment rate for sustained growth
In order to achieve a $5 trillion economy, the policymakers would have to factor in an 8-9 per cent rate of growth over a five-year period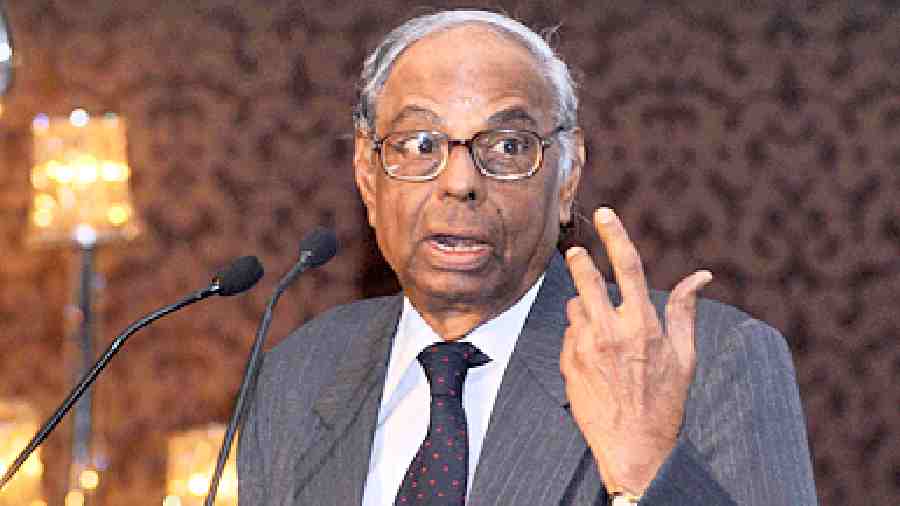 Rangarajan offers useful tips
File Picture
---
Calcutta
|
Published 19.09.22, 03:26 AM
|
---
C. Rangarajan, former Reserve Bank of India governor and chairman of the Madras School of Economics, has said the investment rate must be scaled up to 33 per cent of GDP for sustained growth.
The gross fixed capital formation as per cent of GDP at current prices (under the 2011-12 data series) has seen a decline from 33.2 per cent in 2010-11 to 28.8 per cent in 2019- 20. In the first quarter of 2022- 23, it was at 29.2 per cent.
"To achieve higher growth, we must get back the investment rate to 33 per cent," Rangarajan said adding that the focus of the policymakers must be on achieving a growth rate of 7 per cent and scale up to 8-9 per cent.
"The first quarter numbers that have come for the current year is much less than what people had expected. I do not think that the rate of growth of the economy in 2022-23 will be more than 7 per cent," he said while delivering the Samar Kanti Paul memorial lecture at the Ramkrishna Mission Institute of Culture on Saturday evening.
The GDP growth in the first quarter of 2022-23 was 13.5 per cent, well below the RBI's expectation of a 16.2 per cent rate of growth of the economy. The central bank, however, has retained the GDP growth projection for 2022-23 at 7.2 per cent.
Rangarajan said the investment has to come from the private sector. While public sector investment, particularly in infrastructure may "crowd in" rather than "crowd out" private sector investment in crisis years, it cannot be a permanent solution.
He further said that in order to achieve a $5 trillion economy, the policymakers would have to factor in an 8-9 per cent rate of growth over a five-year period.
While becoming the fifth largest economy globally is an impressive achievement, India must have a minimum of $12,695 per capita income to be classified as a developed country, and that will take more than two decades of strong growth, according to Rangarajan.
"India's future growth path cannot be unidimensional. We need a strong export sector, both for goods and services. We also need a strong manufacturing sector both with a view to meet domestic demand as well as provide employment," he said.
Rangarajan advocated maintaining the ongoing hawkish stance by the Reserve Bank of India to tame inflation and expected that the rupee will strengthen with resumption of capital inflow.
The 90-year-old veteran economist said that the policymakers should keep in mind the aggressive stance taken by the developed countries in raising their policy rates.
India cannot afford to be very slow on that front, he said. The RBI may consider another 50 basis point rise in interest rates after inflation data rose above the central bank's tolerance limit in August.